Five takeaways from Indiana's loss to Wisconsin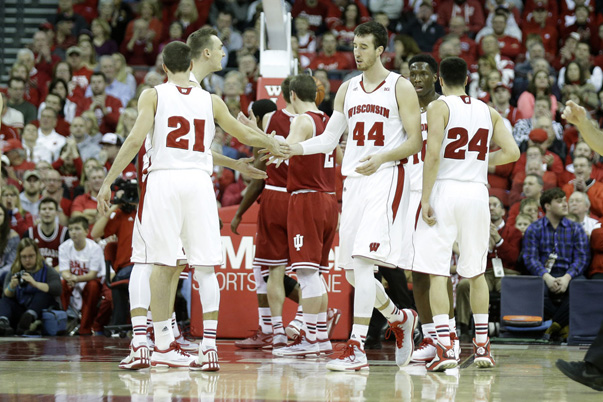 Indiana fell to 16-7 overall and 6-4 in Big Ten play on Tuesday night with a 92-78 loss to No. 5 Wisconsin at the Kohl Center. It was the third loss in four games for the Hoosiers.
Here's a look at five takeaways from the loss to the Badgers:
· Wisconsin runs prove too much to overcome: It wasn't that Indiana failed to compete or respond to adversity against Wisconsin, but the Hoosiers allowed two scoring runs that had a major impact on the final outcome.
The first run, a 9-0 spurt by the Badgers to start the contest, put IU in an early hole which it actually dug out of to take a brief lead at 13-11 on a Robert Johnson 3-pointer. That didn't last long as Wisconsin quickly moved ahead 24-16 and ultimately led by that same margin at halftime.
The second half would start out the same as the first for Indiana, but the second run by Wisconsin put the game out of reach by the under-16 media timeout. After six quick points by the Badgers, Tom Crean attempted to stop momentum with a 30-second timeout, but the run continued to 13-0 and by the time Indiana scored in the second half, the Badgers led by 21. The lead would balloon to 32 points before a late IU rally.
"We got off to a slow start, we got it right back where it needed to be, and then we just didn't have the same activity and aggressiveness that we needed to have to start the second half," Crean said in his postgame press conference.
· Indiana's defense shredded by league's best offense: The Hoosiers have had some poor defensive games this season, including 1.31 points per possession allowed at Ohio State, 1.25 points per possession allowed at Purdue and 1.22 points per possession allowed to Louisville at Madison Square Garden.
This defensive performance, however, was worse than all of those by a fairly significant margin. Wisconsin scored 1.42 points per trip and the free throw line was a big part of it, as the Badgers hit 28-of-31 attempts from the line.
Wisconsin is now averaging 1.29 points per trip in Big Ten games and owns the nation's best adjusted offensive efficiency according to KenPom.com.
· A balanced scoring effort: As difficult as it was defensively for Indiana trying to slow down Wisconsin, the Hoosiers did manage to post the second best offensive performance by a Badgers opponent this season. Only Duke (1.30 points per possession) has fared better than the Hoosiers, who amassed 1.20 points per trip and shot an effective field goal percentage of 60.5.
And Indiana did so without James Blackmon Jr., who sat out following an ankle injury suffered in the second half of the Rutgers game. How did Indiana do it? Balance.
Five different Hoosiers scored in double figures, led by Nick Zeisloft with 17 points. Indiana also hit 13 of its 24 attempts from behind the 3-point line and had four different guys (Zeisloft, Yogi Ferrell, Robert Johnson and Collin Hartman) make triples.
· Frank Kaminsky deserves all of the recognition he gets and then some: It's not often that we chime in with a takeaway on the opposition, but in the case of Kaminsky, it's more than merited.
The 7-footer spent three seasons in Madison as a relative unknown (his first season was as a redshirt), but the graduation of Jared Berggren prior to last season presented the opportunity for Kaminsky to step into the lineup and he responded with an All-American season.
He's even better as a senior. He currently leads the KenPom.com player of the year race by a nice margin. Kaminsky is not only an efficient scorer, but he's also an elite defensive rebounder and solid shot blocker. Couple that with his ability to pass, get to the foul line and rarely turn it over and he's a nightmare matchup that deserves all the praise he receives.
· Indiana needs to get healthy soon: This probably isn't a game where the presence of James Blackmon Jr. or Hanner Mosquera-Perea would have made a major difference simply because the Badgers are the class of the league and it's not really close.
But as the Hoosiers prepare for the final eight regular season games, five of which will be played in Assembly Hall, getting the roster to full strength is pivotal. Indiana has struggled to defend the paint without Mosquera-Perea and while Zeisloft stepped in nicely offensively for Blackmon Jr., the Hoosiers need the versatile offensive skillset of their star freshman down the stretch.
In his postgame comments, Crean sounded optimistic that Blackmon Jr. would be ready to go on Sunday against Michigan and both the radio and TV broadcasts had encouraging things to say about the progress of Mosquera-Perea, who seems to be ahead of schedule in his rehab.
(Photo: Mike McGinnis/Getty Images North America)
Filed to: Frank Kaminsky, Hanner Mosquera-Perea, James Blackmon Jr., Wisconsin Badgers