Notebook: Hoosiers have 'work cut out' against Wichita State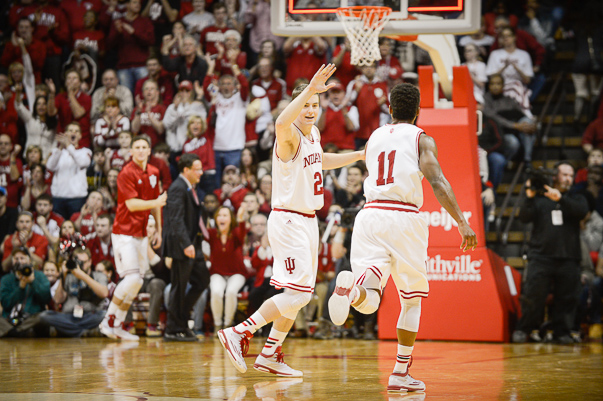 Just a couple hours after the Hoosiers found out they would be facing Wichita State in their 2015 NCAA tournament opener, several players had the chance to react to the draw.
One player who took particular interest in the match-up was junior Nick Zeisloft. Just last season as a sophomore at Illinois State, Zeisloft played the Shockers twice during their undefeated regular season.
And he has made sure his teammates know Friday's game will not be an easy one.
"They're a great team," Zeisloft said. "Well-coached, very tough, physically and mentally. I mean, I think coach (Tom Crean) has told us they're one of the winningest programs in the past three years from a winning percentage wise, and they went to the Final Four a few years ago, and I've played them several times. They're very good.
"We have our work cut out for us, but we're very excited we have them, as well."
The Hoosiers were made well-aware of Wichita State's success over the past three years. During the 2012-13 season, the Shockers made it to the Final Four and lost to the eventual national champion, Louisville. Just last season, they finished the regular season undefeated and lost to eventual NCAA tournament runner-up Kentucky in the second round.
And this season, several significant contributors from those previous teams have made another big impact. The Shockers are 28-4 heading into Friday's second-round game in Omaha.
"They've got a couple of bona fide stars in (Ron) Baker and (Fred) Van Vleet," Crean said. "And the bottom line is they've got a bunch of other guys that really know how to play and that make each other better constantly."
While they did not yet go into a full examination of Wichita State on Sunday night, the Hoosiers were already aware of the challenges the Shockers pose. They said the Shockers are physical. They will fight on the glass. They can play inside and outside.
But that's exactly what the Hoosiers expect. It's the NCAA tournament, after all.
"I mean, it's the NCAA tournament, so it's probably going to be a crazy game," Yogi Ferrell said. "I expect it to be hard-nosed, going against one another, grinding out. I'm just excited to play."
Crean: "We're not going to win on the experience game"
Just two years ago, Crean sat in the Georgia Dome and watched Wichita State nearly defeat Louisville in the Final Four of the NCAA tournament.
On Sunday, he reminisced on just how good that team was — one that beat Pitt, Gonzaga and Ohio State in March. And then he compared that team to this year's Shockers squad, which has three leftover significant contributors from that team in Baker, Van Vleet and Tekele Cotton.
"It's funny watching those guys now; they're just a little bit bigger, but they have the same type of game, and their game was pretty good then," Crean said. "We're not going to win on the experience game. We've got to win on making sure we play as mistake free as possible and yet play to our strengths."
Because the Shockers are so experienced, Crean said, he has noticed that they don't make many on-court mistakes. They don't turn the ball over — their 15.2 percent turnover rate ranks No. 8 in the nation — several players have high assist-turnover rates — and they rank in the top 60 in the nation in both offensive and defensive rebound percentage.
What that means for the Hoosiers is that the margin of error will be even smaller than usual on Friday, Crean said.
"We don't want free and loose to turn into sloppy and inconsistent because sometimes that can have — the biggest thing you've got to watch for this time of year is getting out of character," he said. "It doesn't matter if it's young or old. It's a lot easier to do it when you're young, but sometimes it happens when you're older.
"You cannot go into this tournament with anything less than playing the most simple brand of basketball that works for you."
Hoosiers "on a belief" Mosquera-Perea will play on Friday
Indiana forward Hanner Mosquera-Perea continues to rehabilitate a re-aggravated knee injury suffered during Thursday's win over Northwestern, but Crean said on Sunday he expects the 6-foot-9 starter to be available for Friday's game against Wichita State.
"We're definitely on a belief that he's going to be back," Crean said. "So certainly Friday helps a great deal. Would Tuesday have helped? That to me, I don't know. We don't have to worry about that now. But hopefully later in the week he's definitely going to keep making the progress that he's making."
Initially, the Hoosiers feared Mosquera-Perea's injury to be much worse than it was. The Colombia native screamed in pain on the floor after 7-foot Alex Olah fell into his right knee, and he had a heavy limp after sustaining injury.
But by the next day, Mosquera-Perea was walking without much of a limp at all. Since he was wearing a brace at the time of the injury, it ended up not being a significant one.
And although the Hoosiers did not practice him on Sunday, they expect him to be available for their NCAA tournament opener.
"It certainly could have been a lot worse, and the way it looked, it was a lot worse," Crean said. "But it ended up not being that way, which is very fortunate for hi  to not have to go through another trek like that, and for us."
Filed to: 2015 NCAA tournament, Hanner Mosquera-Perea, Wichita State Shockers