Notebook: Indiana believes Michigan is just as dangerous despite injuries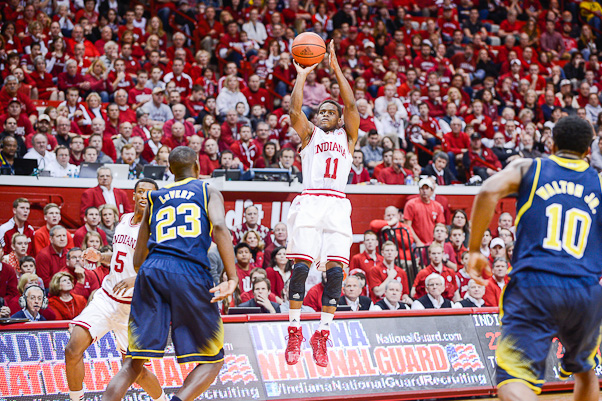 After losing so many of its leading players from last season, from Nik Stauskas to Jordan Morgan to Glenn Robinson III, Michigan came into the 2014-2015 season riding the coattails of junior Caris LeVert and sophomore Derrick Walton Jr. — its only two returning starters.
Yet midway through this season, the Wolverines have had to learn to adjust to life without both LeVert and Walton.
LeVert was declared out for the remainder of the season with a left foot injury suffered in a game against Northwestern. Walton, although Michigan coach John Beilein is hopeful he will return at some point this season, also has a foot injury and has not played since Jan. 24.
But Indiana still regards the Wolverines as having a "tremendous system," one that has not changed from those injuries. And heading into Sunday's game against Michigan in Assembly Hall, the Hoosiers are on high alert.
"They're missing some players but they're not missing their coach, they're not missing their staff, and they're not missing their system," Indiana coach Tom Crean said. "And when you have that, you've got a chance to be very successful.
"So we have great respect for what they are doing, great respect for our battles with them over a period of time, and we are excited to play."
The Wolverines, much like the Hoosiers, had plenty of changeover during the offseason. Beilein, like Crean, brought in six freshmen — yet only two were rated higher than three stars in 6-foot-7 Kameron Chatman and 6-foot-9 D.J. Wilson. Wilson has missed the majority of the season with a knee injury.
When LeVert went down, he was the Wolverines' leader in scoring, assists and rebounds. Walton was one of only three double-digit scorers and had started every game this season.
Since then, although the Wolverines are just 1-2, the results have included a 58-44 win over Nebraska and an overtime loss to Michigan State in East Lansing. That hasn't surprised the Hoosiers, at all.
"I think in the long run it would definitely help them with getting some other guys in who probably wouldn't play as much," Indiana junior Yogi Ferrell said. "That would give them some extra minutes going and and down the road, have better confidence."
Indeed, the injuries to both LeVert and Walton have allowed two freshmen — 6-foot-6 Aubrey Dawkins and 6-foot-4 Muhammad-Ali Abdur-Rahkman — to have increased opportunities as their replacements in the starting lineup. Dawkins, the son of Stanford coach Johnny Dawkins, has recorded career highs in both assists and minutes played since LeVert's injury. Abdur-Rahkman, who was a 2-star recruit according to the 247Sports Composite, is averaging 12.7 points, 3.3 rebounds and 1.0 assists in an average 35.3 minutes per game in his past three outings.
All that has done is give the Wolverines more confidence, Crean said — much like how freshmen starting guards James Blackmon Jr. and Robert Johnson have sparked the Hoosiers.
Sunday's game will feature much different personnel compared to last season's two match-ups. But the story remains the same, Crean said.
As long as they are led by Beilein, he believes the Wolverines will remain dangerous.
"Because they have such a great coach, they just respond to it," Crean said. "You take great players out of any line-up, it's going to affect them. But they have great spacing. So when you have great spacing and guys who can make those shots in-between the spacing and you have the ability to do multiple things offensively, like John does, that gives you an opportunity all the time.
Blackmon set to play against Wolverines, Crean won't rule Mosquera-Perea out
Although Crean did not explicitly say it during his press conference on Saturday, Blackmon Jr. is expected to play against the Wolverines. He told CBS Sports' Jon Rothstein on Saturday morning that Blackmon will play after missing Tuesday's game against Wisconsin with an ankle injury.
"James has definitely gotten better," Crean said. "I don't know if I'd go and say 100 percent, but he's gotten better."
Crean also did not rule junior Hanner Mosquera-Perea out against the Wolverines, either. The 6-foot-9 Hoosiers forward has not played since Ohio State on Jan. 10 after suffering a knee injury during a practice.
Before his injury, Mosquera-Perea had started all 16 games for the Hoosiers — producing 7.4 points and 5.0 rebounds per game.
"Hanner is getting closer," Crean said. "Hanner has not gone up and down the court yet, as far as full court scrimmaging and things of that nature, so we'll see how that goes. But he's definitely getting a lot closer.
"For me to tell you that he'd be ready to go tomorrow, I couldn't tell you that yet today but he's definitely getting closer."
Filed to: Hanner Mosquera-Perea, James Blackmon Jr., Michigan Wolverines