News and notes from Tom Crean's weekly radio show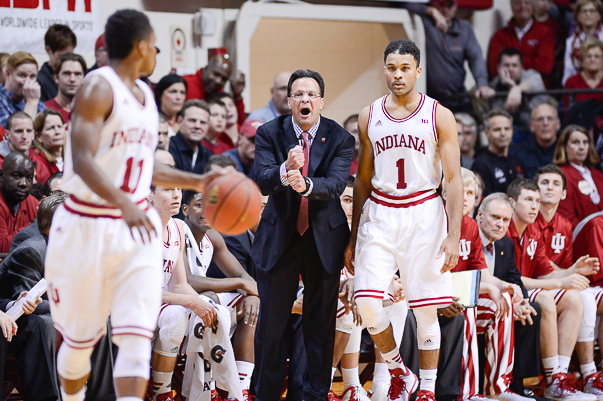 On Monday evening, Indiana coach Tom Crean spoke at his weekly radio show hosted by Don Fischer and recapped the Hoosiers' win over Maryland and loss to Ohio State, while also looking ahead to Wednesday's game at Purdue.
Below are news and notes from what the Hoosiers' coach had to say:
— Firstly, Crean reflected on the Hoosiers' 89-70 victory against Maryland, saying the result showed how good they can be "when everything is going right." Crean also commended his team on how they were able to take away things from the Terrapins bigs, especially in the second half — as first half leading scorer 6-foot-9 Jake Layman was held to just two points in the final 20 minutes.
— After going 7-for-32 on 3-pointers in the Hoosiers' first five Big Ten games, junior Yogi Ferrell went 13-for-19 on 3-point attempts in Indiana's two games this past week. Crean said Ferrell shooting 3-pointers before and after practices in the leadup to the Maryland game helped get his shooting confidence back — that the net only got bigger from there. Crean also mentioned that it appears Ferrell has been the biggest beneficiary of having 6-foot-7 Collin Hartman as a starter, as it gives opponents yet another shooter to cover and one less defender to guard Ferrell.
— Since the Hoosiers' trip to Montreal, one of Crean's biggest priorities in coaching his team has been producing guard rebounds. The harder the block-outs are, the more guard rebounds there will be. But on Sunday against the Buckeyes, the Hoosiers didn't grade out high in that category, Crean said. He said the Hoosiers have to also understand the sheer importance of rebounds — and how that affects their transition offense, as well. "If a guy is not a participant in the rebounding on the defensive end," Crean noted, "It's gonna be hard to play him."
— As Crean further analyzed the Hoosiers' 82-70 loss to Ohio State on Sunday, he mentioned costly turnovers and not doing a good job of getting control of freshman D'Angelo Russell's game ultimately doomed them. He said the Hoosiers knew they couldn't guard Russell straight up — that they had to help and "do different things" — but that any changes they tried to make weren't effective. And that gave the Buckeyes confidence and, in turn, easy baskets. Crean said it wasn't Russell's scoring that killed the Hoosiers, either — it was his 10 assists that each led to open shots.
— Crean said the Hoosiers simply aren't a team that can play opponents one way due to their size — especially on defense — and that they have to vary the way they play during games to be competitive. The Hoosiers haven't had many issues with that during practices, but against the Buckeyes the communication was not there, Crean said, as they tried to switch defenses within possessions. At the end of the day, the Hoosiers were looking for someone to not let Russell pick them apart — and that didn't happen. "We've got to be better than that," Crean said. "… Guys on the court have got to be more mature than that."
— When asked about the Hoosiers' performance on Sunday, Crean said there "definitely" could have been a hangover from the Maryland game. He also noted one could say same thing about the Terrapins — as they had to come back from a double digit deficit to beat Northwestern at home. "Young people are no different than anyone else," Crean said. "There's so much emotional energy and you've got to keep replenishing it." He repeated what he has said many times before — that the Hoosiers have to keep learning how to deal with things when they go well and when they don't and that they have to control their own momentum. Scoring helps, Crean said, but stops turn into easy baskets. And the better they are defensively, he noted, the easier the offense will be.
— Junior Hanner Mosquera-Perea is targeted for a mid-February return, Crean said on Monday. "Looking at the schedule, I think anything before Minnesota (Feb. 15), Purdue (Feb. 19), would be a big bonus," he said. "And I would hope it wouldn't go much past that. Maybe we'll know more later on in the week." He said there is not much Mosquera-Perea can do as he deals with his knee injury other than maintaining a "Collin Hartman" mindset of doing whatever he can do and controlling everything he can control — such as maintaining his strength level and building his body even as he is not allowed to participate in conditioning.
— The Hoosiers continue to monitor freshman Robert Johnson after he injured his knee while slipping on a loose folder during the Hoosiers' loss at Ohio State on Sunday. Crean said he doesn't anticipate the injury is serious — after all, Johnson returned to the game, Crean said — but the Hoosiers will "follow the doctor's lead." The biggest takeaway, though, is that it is "unfortunate that it happened," Crean said.
— Looking ahead to the Hoosiers' game on Wednesday at Purdue, Crean said the Hoosiers' adjustment to the Boilermakers might be as big as the Boilermakers' adjustment to the much smaller Hoosiers. But Crean said he wouldn't even be surprised if Purdue coach Matt Painter tries to play 7-foot A.J. Hammons alongside 7-foot-2 Isaac Haas against the undersized Hoosiers frontline. Crean said if the Hoosiers try to guard the post in a single way, they will struggle on Wednesday — and that they will have to not give the Boilermakers easy baskets. The Hoosiers will also have to make adjustments in game based on who Purdue tries to play, Crean said — something they struggled doing against Ohio State.
Filed to: Hanner Mosquera-Perea, Robert Johnson, Tom Crean