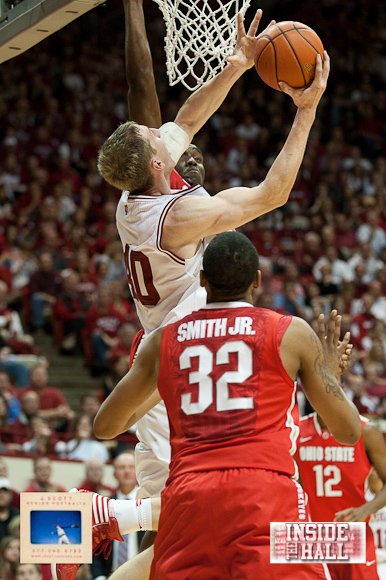 Jared Sullinger might have won the statistical battle with Cody Zeller on Saturday night in Assembly Hall, but it was Indiana who walked off Branch McCracken Court with a 74-70 victory over Ohio State.
Sullinger, the heavy preseason favorite to win the Big Ten Player of the Year, finished with 15 points and nine rebounds, but was limited in the first half with two fouls.
And a big part of that foul trouble was the presence and craftiness of Zeller, who bounced back from what he called a "bad game" on Wednesday at Michigan State.
"He's a good basketball player. Very creative around the rim. He's strong," Sullinger said of IU's prized freshman. "A lot of freshmen don't come in strong and ready to play in Big Ten basketball. It's a very physical conference as you can see today. There was a lot of banging, a lot of physicality down low and even on the perimeter."
Zeller finished with 14 points and four rebounds before fouling out with 2:24 remaining.
"Give him all of his respect. He played one hell of a game," Sullinger added.
CROWD A FACTOR SANS STUDENTS
The decibel levels didn't measure up to IU's 73-72 thriller over No. 1 Kentucky on Dec. 10, but the home court advantage of Assembly Hall was still fully in tact.
"They were responsible not only for some baskets, but also for some stops. The building was electric," Tom Crean said. "The Hoosier Nation is so incredible. To have that kind of energy in the building without the student here obviously due to break was awesome."
The atmosphere was a factor in the eyes of Sullinger, too, who compared it favorably to "Phog" Allen Fieldhouse in Lawrence, Ks.
"It had the same effect as Kansas," the Ohio State sophomore said. "Even though I was sitting on the sideline. You walk off the floor, they hang a L on you and your ears are ringing because the fans are so loud. Hoosier Nation was very loud today and they gave a very good home court advantage."