Notebook: No defense for IU's latest loss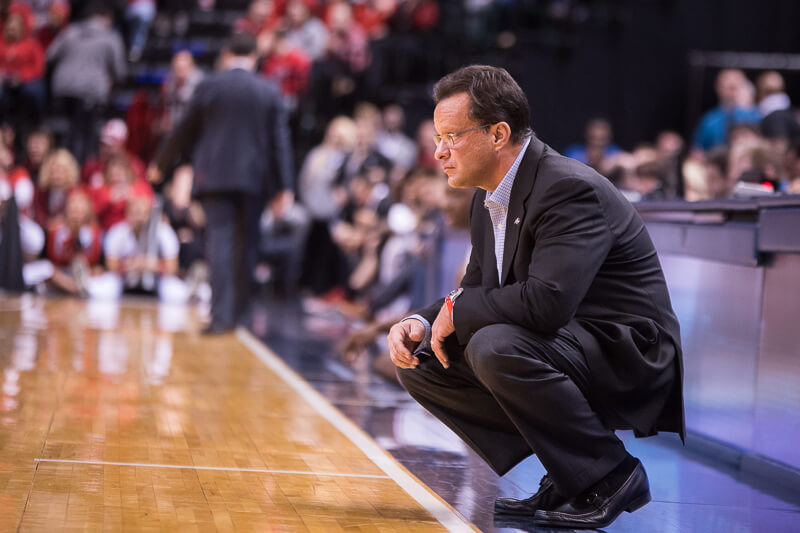 ANN ARBOR, Mich. – The Michigan Wolverines pounced on a lethargic and out-of-sync Indiana Hoosiers defense on Thursday night at the Crisler Center.
The end result was a 90-60 blowout loss for Indiana in a game where the Hoosiers allowed Michigan to score 1.54 points per possession.
"They got very comfortable," Crean told reporters after the game. "We didn't switch aggressively. We had some tough matchups tonight. They create some of that. But switching aggressively and being up on the ball and understanding what we're trying to take away is important. We didn't do as much of that. They were far too comfortable shooting the ball."
Indiana (14-7, 4-4) had already shown glaring defensive issues this season. Michigan (14-7, 4-4) just magnified them.
Every over-help was met by a wide open three. Failure to get back after turnovers, of which Indiana had 16, led to wide open layups. Anytime an Indiana switch created an advantageous matchup for Michigan, the Wolverines pounced.
"It was definitely a lack of aggressiveness, and there's no excuse for it," Crean said. "And I don't have one."
For a team that came into Ann Arbor riding a three-game winning streak, it's hard to comprehend what led to a night like this.
"(We have to be) more prepared," said Josh Newkirk. "Just being more prepared mentally and locking into the game and just warming up right."
Sure, Indiana's offense was adequate. The Hoosiers shot 54.5 percent from the floor, hit seven threes and scored 26 points in the paint. Those numbers aren't spectacular, but combined with above average defense, they're usually good enough to win.
Pair it with one of the worst defensive performances by a major conference team in a decade, and it leads to a 30-point loss.
Even racking up consecutive stops was a near impossible task for Indiana on Thursday.
In fact, only four times all game did the Hoosiers stop Michigan from scoring on consecutive possessions, with only one of those coming in the first half. The other three all came in the final 12 minutes, when the game had already been decided. And of those, two occurred only because of Michigan missing free throws.
It wasn't just the defense, either. It was a lack of the right mindset, effort, focus, communication and hustle. All of the buzz words that have been brought up again and again by players and coaches were out in full force once more following the team's seventh loss of the season.
"It just starts with our mindset," Thomas Bryant said. "There's no excuses. We just have to go out and execute better. It falls on us. We have to go out there and execute."
Blackmon's streak ends
Prior to Thursday, James Blackmon Jr. had played 65 games in an Indiana uniform, starting in all but one. Not a single time had Blackmon finished a contest without putting up at least one attempt from deep.
In his first game in Ann Arbor as a Hoosier, the streak came to an end. (Blackmon did not play in last year's game in Ann Arbor). In 33 minutes, Blackmon hit two of three shots, all coming from inside the arc.
"(Blackmon) put himself in some bad situations in the corner," said Crean, who quickly placed a qualifier, "But our screening was a joke. It was more us. I'm sure they'll feel good about it, all that type of stuff. But it was more us than anything else."
Priller ruled eligible
The Tim Priller eligibility issue has come to an end. Priller was in uniform and on the bench in Ann Arbor.
Priller had not traveled with the team for the two previous Big Ten road games. According to the university, Priller had been ruled ineligible due to a progress-toward-degree issue, which the university was appealing.
"It was resolved today," Crean said of the matter.
Priller has not played since December 19th, when he logged two minutes of action against Delaware State.
Filed to: Michigan Wolverines