Hoosiers get back to basics in preparation for Illinois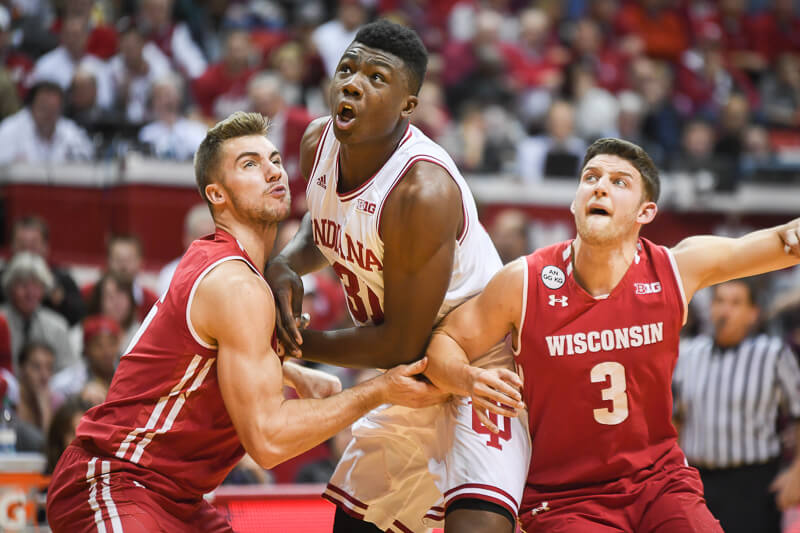 Having lost three straight and failing to beat a major conference foe in more than a month, Indiana is doing all it can to prevent a fourth consecutive loss.
That means it's back to basics for the Hoosiers, who looked lost at the start of Tuesday's loss to Wisconsin, falling behind by double-digits before many fans had made it to their seats.
"We just need to go out there with the right mindset,'' Thomas Bryant said Friday. "We go over all the personnel and the coaches give us all that we need to know. Now we just have to go out there and execute it."
The buzzwords came at light speed when Crean spoke to the media Friday, using terms like 'urgency,' 'energy,' and 'awareness' while talking about the team.
"We need to be engaged more with each other," Crean said. "That's the accountability and those types of things that just come in countless times during the game. That's what we have to do to improve and to become much more consistent."
That accountability, Crean says, needs to be there at all times.
"Accountability takes some time," Crean said. "We've had it sometimes, but until you have it consistently, you really don't have it."
For their part, the players seem to understand the message Crean is sending.
Like after the loss on Tuesday, when Juwan Morgan admitted they didn't come out ready to play.
"It starts with us," Bryant said. "It doesn't start with the coaches. It starts with us. We have to hold ourselves accountable more often on the court."
Back to basics also means maintaining confidence on the court in the face of growing pressure.
"I feel that we have a lot more confidence going into this game than we did with others," Bryant said. "A lot of us are holding each other accountable more. We're really well prepared for this one."
Missing Hartman
Tom Crean yearns for the day that Collin Hartman is medically cleared to play again.
"Everytime Collin Hartman opens his mouth in a film room or in practice, you realize just how much you miss him on the court," Crean said. We would be so much further ahead with him on the floor."
The lone senior on a young roster, Hartman suffered a knee injury before the season even began.
Although he has not ruled out a return this season, with each passing game, the likelihood of a comeback slims.
For Crean, Hartman's absence on the court is most felt when it comes to his leadership.
"This is what (the rest of the team) just hasn't gotten to yet," Crean said. "There is a safety that you have with certain guys. It's not about talent and it's not about trust. They make you feel safer on the court. They move, make the game easier for (others) with cutting, ball movement, reminders. It's countless things. They're not obvious."
Filed to: Thomas Bryant, Tom Crean