Collin Hartman undergoes knee surgery, timetable for return unknown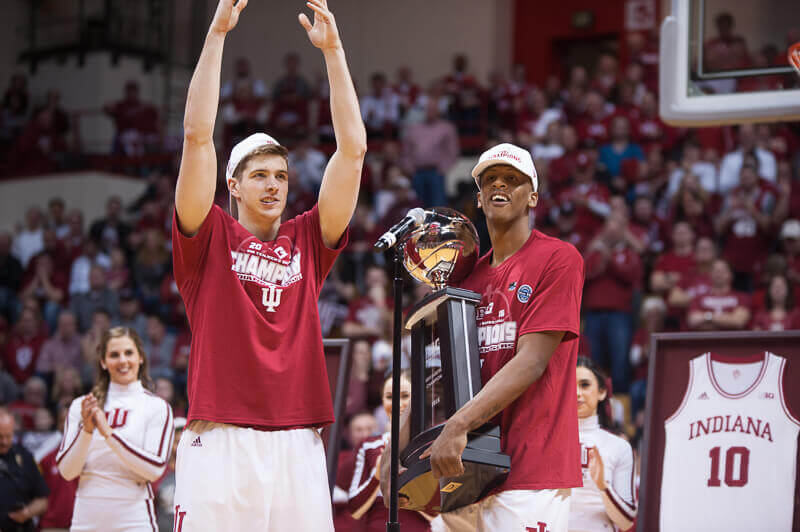 Indiana senior forward Collin Hartman underwent knee surgery to repair damage in his left knee, the program announced on Wednesday evening.
Here's the full statement released by IU:
Collin Hartman successful left knee surgery to repair damage from an injury sustained last week in a non-contact drill. His rehabilitation begins immediately and it is too early to determine a timetable for his return."
Tom Crean also released the following statement: "Any time you see one of your players go down to injury, it tears you up as a person and as a program — even more so with it's someone like Collin Hartman who has been a huge part of our success and is in his senior year. We all look forward to helping him recover and rehabilitate."
Hartman, who started 24 games as a junior, averaged five points, 3.1 rebounds and 1.7 assists in 21.9 minutes per game last season. He shot 35.8 percent from behind the 3-point line.
The 6-foot-7 senior played several games at the end of last season with a fracture in his wrist, an injury he suffered in Indiana's 72-69 loss to Michigan in the Big Ten tournament in Indianapolis.
It was initially believed that the wrist injury would require offseason surgery, but Tom Crean said in June that the wrist was put in a cast and did not require a procedure.
Following Hartman's freshman season at Indiana, he suffered a torn ACL in his right knee after planting his knee wrong in a drill. As a result of that injury, Hartman missed Indiana's trip to Montreal in August of 2014. He returned as a sophomore to play in 32 of Indiana's 34 games.
Prior to his junior season, Hartman missed practice time with a rib injury. The Cathedral product is the only senior on Indiana's roster for the upcoming season.
Indiana can begin practice for the 2016-2017 season on Friday.
Filed to: Collin Hartman