Five takeaways from Indiana's loss at Michigan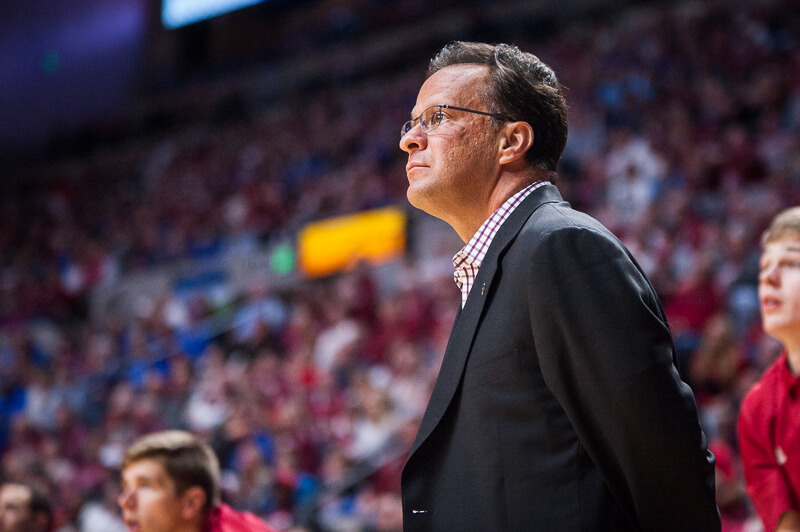 Indiana didn't come out ready to play and was blown out by Michigan, 90-60, on Thursday night at the Crisler Center. The loss dropped the Hoosiers to 14-7 overall and 4-4 in the Big Ten.
Here's a look at five takeaways from the loss to the Wolverines:
· Indiana has the worst defense in the Big Ten: Whether you want to look at adjusted defensive efficiency for the entire season or just look at numbers for conference play only, Indiana's defense is the worst in the conference.
Thursday's performance dropped Indiana all the way down to 153rd nationally in adjusted defensive efficiency, according to Ken Pomeroy's stats. Only two Hoosier teams under Tom Crean have been worse: The 2008-2009 team that only won six games and the 2015 team that squeaked into the NCAA tournament as a No. 10 seed.
So, what's the answer to fixing the issues?
There doesn't appear to be one. It's late January. The conference schedule is nearly at the midway point and the Hoosiers have given up more than 1.14 points per possession in six of their eight games. Indiana playing adequate defense this season is the exception, not the rule.
· The Hoosiers showed no fight: A narrow loss on the road, like the one Indiana took earlier in the month in College Park, is nothing to be ashamed of.
What happened Thursday night is a different story. This performance should sound off the alarms. Indiana was on its heels from the opening tip and stayed there all night. This was a complete 40-minute beatdown.
Coming off three straight wins, Indiana had built some positive momentum. It only took about three minutes for the Wolverines to wash it all away. Michigan opened a 16-4 lead early and never relented. The Wolverines hit 3s, scored at the rim, converted second chance points and scored off of Indiana's turnovers.
And unlike other losses where Indiana started out slow and battled back, Indiana never made this game competitive. There was no fight. The result was the third worst Big Ten loss in Tom Crean's nine year tenure in Bloomington.
· Open 3s are (readily) available against the Hoosiers: How are teams scoring so easily against Indiana? It starts on the perimeter.
Coming into league play, Indiana had one of the better 3-point percentage defenses in the country. It turns out those numbers were inflated by playing inferior competition.
In four Big Ten losses, opponents are shooting 48 percent (37-of-77) from deep against Indiana. That isn't just teams getting hot and making tough shots. It's a lack of purpose in defending the perimeter.
There have been nights where Indiana's offense has been good enough to overcome its shortcomings defensively. But when Indiana isn't scoring at an elite level, it has little to fall back on.
· Blackmon Jr. disappears after brilliance against Michigan State: James Blackmon Jr. carried Indiana in Saturday's 82-75 win over Michigan State.
On Thursday in Ann Arbor, it was hard to tell Blackmon Jr. was even on the floor. For the first time in his Hoosier career, he didn't attempt a 3-point shot.
Blackmon Jr. has been one of the best guards in the Big Ten all season, but didn't play like it in the loss. The junior from Marion finished with just four points and committed four turnovers in 33 minutes.
· Indiana is in serious danger of missing the NCAA tournament: As of today, Indiana is still included in nearly every NCAA tournament projection.
But with just four conference wins with 10 to play, it's fair to start asking where the wins are going to come from to keep Indiana in the field when the bracket comes out on March 12.
Indiana still has six road games remaining and included its four home games left are Penn State, Purdue, Michigan and Northwestern. The Hoosiers are now 1-3 in road games and 2-5 in total away from Assembly Hall. Is Indiana going to be able to win more than another game away from Bloomington?
With home losses to Nebraska and Wisconsin already on the books, Indiana can't afford another misstep in Bloomington.
The Hoosiers still control their own destiny and will probably get into the field if they can win at least nine conference games. Anything less than that could put Indiana on the outside looking in for the second time in four seasons.
Do you believe #iubb will make the NCAA tournament?

— Alex Bozich (@insidethehall) January 27, 2017
Filed to: Michigan Wolverines