Five takeaways from Indiana's win over Michigan State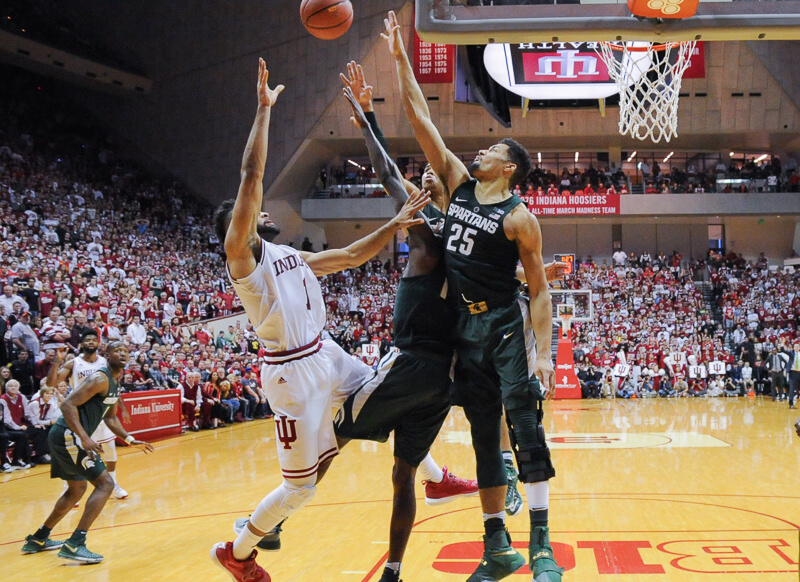 Indiana won its third straight game – an 82-75 triumph over Michigan State – on Saturday afternoon at Simon Skjodt Assembly Hall. The win improved the Hoosiers to 14-6 overall and above .500 in Big Ten play (4-3) for the first time this season.
Here's a look at five takeaways from the win over the Spartans:
· James Blackmon Jr. carries Indiana: This was a great team win for Indiana. Numerous guys contributed, the Hoosiers took care of the ball, played really good defense for the first 25 minutes and again guarded well to close the game.
But looking at individual performances, this is the best game James Blackmon has ever played in an Indiana uniform. Blackmon came out firing in the game's opening minutes and never slowed down. He hit difficult, contested 3s. He finished at the rim over length. And he played very solid defense nearly throughout.
Blackmon's line was outstanding: 33 points (11-of-16 from the field, 5-of-6 from the line), four rebounds, an assist and two turnovers in 36 minutes.
For an Indiana team that plays, out of necessity, several guys who are offensively challenged, Michigan State knew that Blackmon was going to be on the attack all afternoon. And they still had no chance at stopping him.
· Take care of the ball and good things happen: After Wednesday's near debacle at Penn State where Indiana couldn't hold on to the ball (23.8 turnover percentage), the Hoosiers reversed course on Saturday.
Indiana had a season-low nine turnovers and a season low turnover percentage of 14. It was a major reason the Hoosiers put 1.27 points per possession on a defense that came in surrendering .91 in Big Ten games.
"I was disappointed in our defense in the first half but I was impressed with Indiana's offense," Michigan State coach Tom Izzo said. "They dribble drove us, bullied us and they did a good job. It was boys against men."
Taking care of the ball better with more regularity will be a key to winning games away from Bloomington. Indiana still has seven league games on the road, beginning with a pair this week at Michigan and Northwestern. Neither of those teams are particularly strong at forcing turnovers, so Indiana's chances for success will depend largely on taking care of the ball.
· Robert Johnson scores 17, slows down Miles Bridges: For the first time since Indiana's NCAA tournament win over Chattanooga in March, Robert Johnson didn't have a turnover in Saturday's win.
He was 6-of-12 from the field, including 3-of-5 on 3-pointers, and added four rebounds and an assist in 30 minutes.
But as good as Johnson was offensively, his defensive effort on Miles Bridges was more important. Johnson started out on Bridges and forced him to take difficult, contested shots for much of the game. Bridges went just 4-of-17 from the field and finished with 13 points.
With OG Anunoby out for the season and Juwan Morgan still out with a left foot injury, Johnson shut down one of the Big Ten's most versatile wing players. And it was a major reason Indiana won its third straight game.
· Early minutes for McRoberts now paying off: The minutes for Zach McRoberts earlier in the season were met with plenty of skepticism. Indiana's lineups in the Nebraska game, several of which included McRoberts, were questioned in this very space.
But with all of the injuries, McRoberts is now an essential piece to Indiana's success. He only scored three points, but he played 32 minutes, which is 13 more than he'd played in any game this season. But he took care of (no turnovers) and moved the ball (three assists), hit the boards (five) and had two steals and a block.
"He serves his teammates," Tom Crean said postgame. "He's one of those guys that he wants to make them better and sometimes he's got to be reminded that he's pretty good too. But he's very, very valuable to them. I was sold when I watched him get better this summer, when I watched the work that he put into his body to gain the weight that he did after he tried out."
· Defense starts strong, but struggles in second half: Indiana's defense was a major issue in its first four Big Ten games. IU's best defensive performance in that 1-3 span was holding Maryland to 1.14 in a loss.
The Hoosiers were better against Rutgers (.77) and Penn State (1.05), but those teams are offensively challenged. Saturday's first half performance was encouraging from a defensive perspective as IU held Michigan State to just one point per possession.
The second half was a different story as Michigan State scored 1.44 points per possession and grabbed 56.3 percent of its missed shots for 18 second chance points.
But Indiana buckled down late.
After Kenny Goins brought the Spartans to within four with a dunk at the 5:03 mark, Indiana didn't allow another field goal until Miles Bridges hit a 3-pointer with 20 seconds remaining. Over that span of 4:43, Michigan State missed six shots and scored just five points, all on free throws.
Filed to: James Blackmon Jr., Michigan State Spartans, Robert Johnson, Zach McRoberts