Big Ten Power Rankings: January 23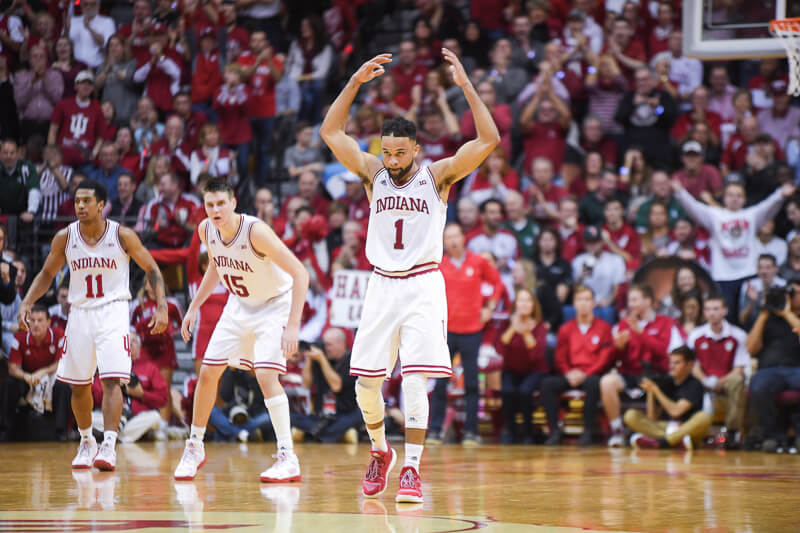 The Inside the Hall Big Ten Power Rankings are back following a thrilling fourth week of conference play that saw several game-winning shots, including one that gave Rutgers its first Big Ten win of the season.
Here's a look at where each team stands:
14. Rutgers (12-8, 1-6; 0.84 points per possession, 1.03 points per possession allowed; KenPom – 134, Sagarin – 131, RPI – 137) (Last Week: 14)
Last year, it took Rutgers until the final game of the regular season to record a conference win. The wait wasn't nearly as long this time around, as a Corey Sanders putback with one second remaining gave the Scarlet Knights a victory over Nebraska. Not enough to move up in the power rankings, but it's certainly progress.
13. Illinois (12-8, 2-5; 1.02 PPP, 1.14 PPP allowed; KenPom – 72, Sagarin – 71, RPI – 49) (Last Week: 13)
It's gone from bad to worse for the Illini, who are now in the midst of their second three-game losing streak of the season. There is no shortage of issues with Groce's team, with many of the problems centering around the defense. Illinois has allowed opponents to shoot 58 percent from inside the arc in conference play, far worse than any other team in the Big Ten (the next closest is Iowa at 53.5 percent).
12. Nebraska (9-10, 3-4; 1.07 PPP, 1.08 PPP allowed; KenPom – 87, Sagarin – 89, RPI – 67) (Last Week: 10)
The Cornhuskers are 0-3 since it was announced that 6-foot-7 sophomore Ed Morrow would be out indefinitely with a foot injury. The latest two losses, against lowly Ohio State and Rutgers, were nearly identical. Nebraska held the lead in the final seconds in both games, but an inability to get a stop did them in.
11. Iowa (11-9, 3-4; 1.00 PPP, 1.11 PPP allowed; KenPom – 90, Sagarin – 76, RPI – 112) (Last Week: 9)
The Hawkeyes' season has gone downhill since downing Purdue, following up the upset win with two straight defeats. Iowa had the lead over Maryland with just over three minutes remaining in Thursday's contest, but 10 late points from Melo Trimble doomed the Hawkeyes.
10. Penn State (11-9, 3-4; 0.93 PPP, 0.96 PPP allowed; KenPom – 79, Sagarin – 78, RPI – 71) (Last Week: 7)
Pat Chambers' club looked lifeless on Saturday, losing by 25 points in West Lafayette. The road doesn't get any easier from here as Penn State travels to Madison on Thursday to play Wisconsin.
9. Ohio State (12-8, 2-5; 1.01 PPP, 1.09 PPP allowed; KenPom – 58, Sagarin – 52, RPI – 84) (Last Week: 12)
The Buckeyes have rebounded from an 0-4 start to conference play, winning two of their last three. Thad Matta's Buckeyes still have a long way to go if they want to reach their potential, but they're trending in the right direction.
8. Michigan (13-7, 3-4; 1.13 PPP, 1.16 PPP allowed; KenPom – 43, Sagarin – 39, RPI – 69) (Last Week: 11)
Sophomore D.J. Wilson has been the key to Michigan's recent improvement, especially on the defensive end. Wilson swatted four shots over the last two games, helping the Wolverines hold consecutive opponents below 1.10 PPP for the first time since the conference season began.
7. Michigan State (12-8, 4-3; 1.04 PPP, 0.96 PPP allowed; KenPom – 52, Sagarin – 40, RPI – 41) (Last Week: 5)
A winless week for the Spartans has left coach Tom Izzo befuddled. Michigan State now enters a pivotal home stand, needing to pull off wins over Purdue and Michigan to remain in the Big Ten title hunt.
6. Minnesota (15-5, 3-4; 0.97 PPP, 0.97 PPP allowed; KenPom – 38, Sagarin – 38, RPI – 18) (Last Week: 6)
On the verge of defeating Wisconsin for the first time since 2014, the Minnesota offense went cold down the stretch, scoring just three points in the final five minutes of regulation before falling in overtime. The Gophers have played the second toughest schedule in the conference but will get a temporary reprieve – four of their next five games are against teams ranked no better than ninth in this week's edition of the rankings.
5. Indiana (14-6, 4-3; 1.16 PPP, 1.10 PPP allowed; KenPom – 30, Sagarin – 24, RPI – 73) (Last Week: 8)
Indiana had a 2-0 week, exploiting the top two defenses in the conference despite playing with a depleted frontcourt. The Hoosiers now enter the most difficult portion of their schedule with momentum, but whether that carries over to road games against Michigan and Northwestern remains to be seen.
4. Northwestern (16-4, 5-2; 1.10 PPP, 0.99 PPP allowed) (KenPom – 31, Sagarin – 32, RPI – 34) (Last Week: 4)
With each successive win, the Wildcats keep making history. On Sunday, Northwestern topped Ohio State in Columbus for the first time in 40 years. But questions remain regarding Northwestern, who have yet to face the conference's elite. A brutal back-end of the schedule will see the Wildcats face Purdue (twice), Maryland, Indiana (twice) and Wisconsin.
3. Maryland (17-2, 5-1; 1.08 PPP, 0.97 PPP allowed; KenPom – 44, Sagarin – 42, RPI – 21) (Last Week: 3)
Led by an all-around effort from freshman Justin Jackson, the Terrapins dispatched the Hawkeyes in Iowa City and improved to 3-0 in Big Ten road games. The next road test for Maryland? A Saturday trip to Minneapolis where the Terrapins were shocked a season ago.
2. Purdue (16-4, 5-2; 1.11 PPP, 0.97 PPP allowed; KenPom – 12, Sagarin – 12, RPI – 27) (Last Week: 2)
The Boilermakers took full advantage of two home games against inferior competition, thrashing Illinois and Penn State at Mackey by a combined 48 points. Caleb Swanigan continues to be a machine on the defensive boards, where he's grabbed 33.9 percent of available rebounds in conference play (No. 1 in the Big Ten, per KenPom).
1. Wisconsin (16-3, 5-1; 1.12 PPP, 1.00 PPP allowed; KenPom – 10, Sagarin – 11, RPI– 25) (Last Week: 1)
Behind a career-night from sophomore Ethan Happ, the Badgers prevailed in their 200th meeting with Minnesota. After surviving close calls against Michigan and Minnesota, the Badgers will undertake the softest three-game stretch you could ask for, ending the month with games against Penn State, at Rutgers (at Madison Square Garden) and at Illinois.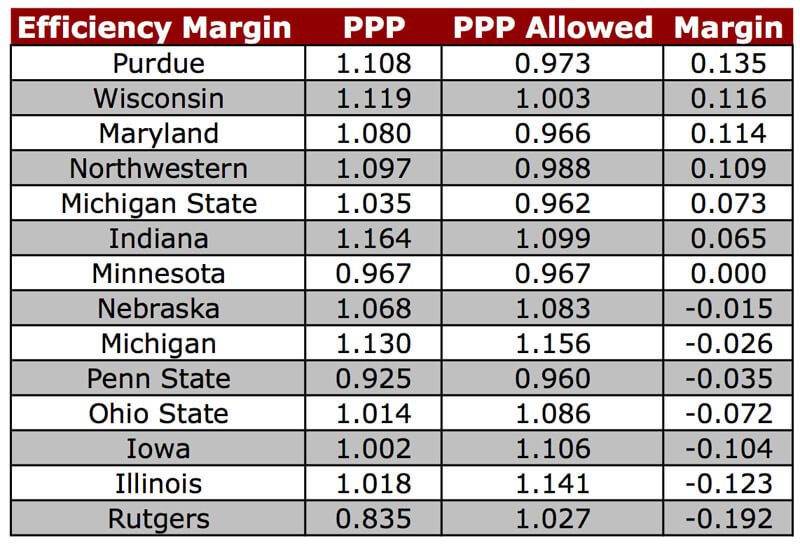 Filed to: Big Ten Power Rankings