What to Expect: Michigan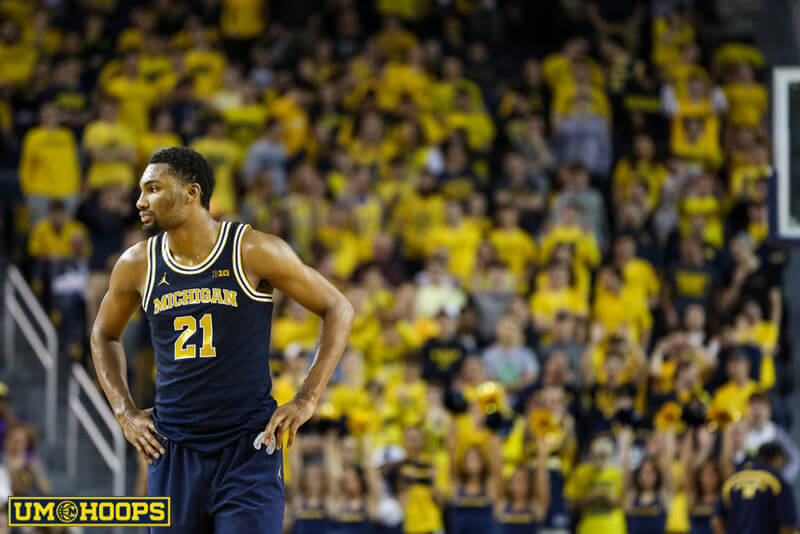 Indiana is back on the road on Thursday for a meeting with Michigan at the Crisler Center. The Wolverines are 13-7 overall and 3-4 in Big Ten play.
The game will be broadcast at 9 p.m. ET on ESPN2 with Rece Davis and Jim Calhoun on the call:
Is Indiana ready to turn a corner? The Hoosiers have won three straight games for the first time since December. And despite being ravaged by injuries, Indiana played one of its better games of the season on Saturday against Michigan State. The Hoosiers dominated the Spartans for about 25 minutes before holding on late for their fourth league win.
But winning on the road is a different animal altogether.
Indiana still has seven Big Ten road games remaining and five of them (Michigan, Northwestern, Minnesota, Iowa and Ohio State) will have a major say in where Indiana finishes in the conference standings. What stands out about those five? Ken Pomeroy's model gives the Hoosiers a 40 percent or better chance of winning in each of those games.
The Hoosiers can probably squeak into the NCAA tournament if they win out at home and win just one more road game. But if Indiana wants to really beef up its resume, the Hoosiers need double digit conference wins. That means winning a few more away from the friendly confines of Assembly Hall.
Thursday's tilt in Ann Arbor looks to be a golden opportunity, at least on paper.
Michigan has two home losses this season (Virginia Tech and Maryland) and has several narrow wins. Among them: Texas by 3, Furman by 6, Penn State by 3 and Nebraska by 6. Indiana's last three trips to the Crisler Center have resulted in a one-point win (2013), a four-point loss (2014) and a 13-point win (2016). Indiana has always played well against Michigan under Tom Crean.
This is a critical game for both programs. Michigan is at a bit of a crossroads with a losing record in league play and several difficult road trips remaining. And Indiana has a date with surging Northwestern on Sunday following Thursday night's tilt in Ann Arbor.
MEET THE WOLVERINES 
Michigan had an impressive start to the season. The Wolverines won their first four games, including neutral court contests against Marquette and SMU in New York. Since then, Michigan is just 9-7 and every win has come at home.
Despite the underwhelming play over its last 16 games, Michigan is one of the nation's most talented offensive teams.
The Wolverines are balanced with four players averaging in double figures. Senior wing Zak Irvin is the team's leading scorer at 14.5 per game. Michigan runs much of its offense through Irvin, but his efficiency in league games hasn't been great. He's a respectable 51.4 percent on 2s in Big Ten games, but just 25 percent on 3s. His assist rate (19.1 percent) is 18th in conference play.
Joining Irvin as one of Michigan's key cogs is senior point guard Derrick Walton. The 6-foot-1 guard has battled injuries the past two seasons, but has played in all 20 games this season. Walton is hitting 44 percent of his 3s in Big Ten games and is averaging 12.6 points per game overall. He's also the best Wolverine in terms of getting fouled. Walton's free throw rate (FTA/FGA) is 41.3 percent in league play and he's hitting close to 90 percent from the line on the season.
It's been a difficult season for junior guard Muhammad-Ali Abdur-Rahkman. His shooting numbers are down across the board, but he's been a little bit better in league play. Abdur-Rahkman is hitting 45.5 percent of his 3s (5-of-11) and 46.9 percent on 2s in Big Ten play. For the season, he's averaging 7.8 points per game.
Junior forward Duncan Robinson is coming off the bench this season after starting for the majority of last season. The 6-foot-8 Robinson is a 3-point specialist. He's taken 87 shots from distance this season and is connecting on 40.2 percent.
Freshman point guard Xavier Simpson could see spot minutes off the bench. He's a very good defensive player, but isn't much of a threat offensively at this point in his career. Simpson is just 2-of-11 from the field in Big Ten games.
Junior wing D.J. Wilson, who has a redshirt season available to use, has emerged as one of most improved players in the conference. Wilson is fourth on the team in scoring at 10.7 points per game and first in rebounding at 6.4 per game. At 6-foot-10, he's an incredibly difficult matchup. Wilson is hitting 43.8 percent of his 3s and 62.9 percent of his 2s. His offensive rating is 13th nationally.
Sophomore center Moritz Wagner has taken the minutes of Mark Donnal and hasn't looked back. The German big man is more foul prone than most of his teammates, but has been terrific otherwise. Wagner can put the ball on the floor and also shoot from the perimeter (44.6 percent on 3s). He's not a great rebounder or shot blocker, which can make him vulnerable against physical big men, but he does an excellent job of getting to the line. Wagner's free throw rate (FTA/FGA) is 10th in the Big Ten and he's knocking down nearly 85 percent of his attempts.
TEMPO-FREE PREVIEW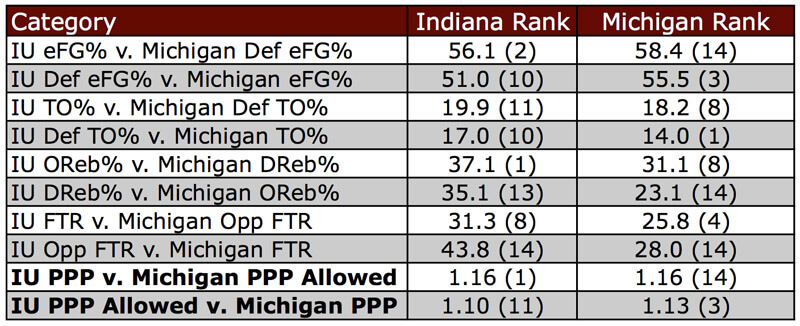 Fans of elite offense may be in store for a show on Thursday night. Michigan and Indiana are two of the three best offensive teams in the Big Ten.
Defense, however, is another story. Indiana is 11th in the conference in terms of points per possession allowed and Michigan is 14th.
Like most John Beilein coached teams, Michigan takes care of the ball, plays a deliberate pace and doesn't pursue offensive rebounds. The Wolverines also don't commit (or draw) many fouls while Indiana is last in the league in opponent free throw rate. If the whistle is tight, that could favor Michigan.
Given the slower pace, taking care of the ball is of great importance for Indiana. The Hoosiers are coming off their best game of the season in terms of turnovers and turnover percentage and given the fact that Michigan isn't a team that applies a ton of pressure, there's not much of an excuse to turn it over against the Wolverines.
WHAT IT COMES DOWN TO
These are two of the most difficult teams in the Big Ten to figure out on a game-to-game basis. Michigan had some really good wins early, but hasn't beaten a team ranked higher than 69 in KenPom since Nov. 18. Indiana is also unpredictable with wins over Kansas and North Carolina and losses to Fort Wayne and Nebraska.
Ken Pomeroy likes Michigan by 1 and gives Indiana a 44 percent chance to win. The Sagarin ratings have the game as a toss-up. And the Vegas line, which opened at Michigan by 1, sits at Michigan by 2 as of late Wednesday afternoon.
While not essentially a "must-win" for either team, this is a key spot for both programs. Michigan has a road trip to East Lansing this weekend and a loss to Indiana might be the first step to a 3-6 Big Ten record.
And Indiana, which is riding the momentum of a 3-game winning streak, needs road wins to make up for its early blunder against Nebraska.
(Photo credit: Dustin Johnson, UMHoops.com)
Filed to: Michigan Wolverines