6-Banner Sunday: Indiana improves to 14-4 with win over Purdue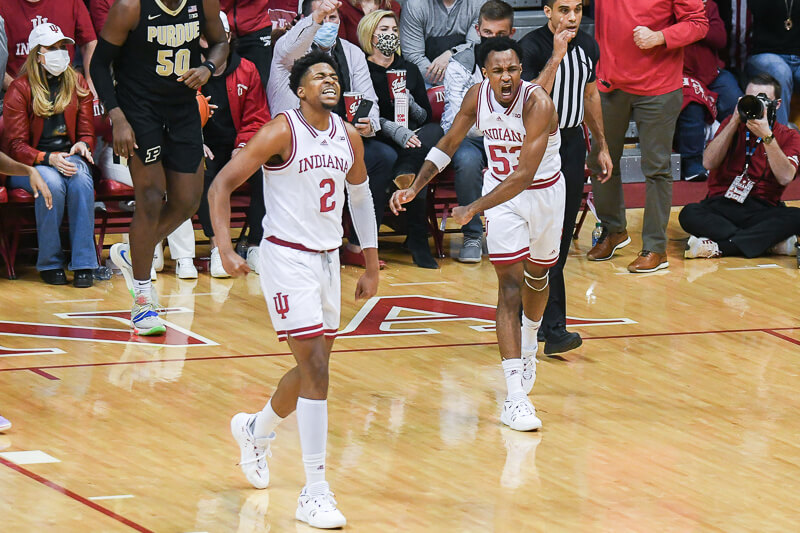 6-Banner Sunday is Inside the Hall's weekly newsletter in partnership with The Assembly Call. More than 8,000 Indiana fans receive the newsletter each week. In addition to appearing each week on the site, you can also opt to receive 6-Banner Sunday by email. A form to subscribe via email is available at the bottom of this week's 6-Banner Sunday.
Welcome to another edition of 6-Banner Sunday, a joint production between The Assembly Call and Inside the Hall where we highlight the five most essential IU basketball stories of the past week, plus take a look at how the other IU sports programs are doing.
The Hoosiers broke both a long road losing streak and more importantly a long drought against arch-rival Purdue. They have another chance to end several years of futility against Michigan today. Off the court, Andy Bottoms' Bracketology and Miller Kopp's latest Vlog were published this week. As usual, we will conclude with our look at how other IU sports are doing as positive results against the Boilers extended beyond men's basketball.
• IU gets signature win over Purdue
• Hoosiers knock off Nebraska for first road win of the season
• IU takes on Michigan today
• Andy Bottoms' bracketology
• Miller Kopp vlog
• Hoosier Roundup
Banner #1 – IU gets signature win over Purdue
In seven tries former IU coach Archie Miller never beat the Boilers. Overall, the Hoosiers had not beaten the Boilermakers in the last nine games they faced off. However, it took Woodson one attempt to end the streak and beat what is arguably the best Purdue team in at least a decade. This Boiler team features its typical two great centers surrounded by elite shooters. However, the Boilermakers are in the top five nationally because they also feature Jaden Ivy who is a projected high draft pick and has a complete game both inside and outside.
On Thursday though none of this mattered as IU used a vintage Assembly Hall atmosphere and career game from Lafayette, Indiana native Rob Phinisee to pull out a thrilling 68-65 win and improve to 14-4 on the year and 5-3 in the conference.
IU built a solid nine-point halftime lead behind Phinisee, but the Boilers rallied in the second half behind Ivey to take a 65-63 lead with just over a minute left. With under 20 seconds remaining, Phinisee hit a corner three-pointer off an inbound pass for a 66-65 advantage. Then Trayce Jackson-Davis who had been in foul trouble all night came up big in the final seconds forcing a tough floater from Ivey that was long. Jackson-Davis then hit two free throws to push the lead to three and Ivey's tying three-pointer at the buzzer rimmed out and Hoosier Nation celebrated as the students stormed the court.
After the game Purdue coach Matt Painter and Woodson spoke, Inside The Hall had a photo gallery, Ryan Corazza wrote a Minute After and Film Session, Alex Bozich had Five Takeaways, Grace Ybarra penned a column about the fans and atmosphere, Tyler Tachman had a feature on Phinisee, and Assembly Call had their postgame show recapping the win.
Banner #2 – Hoosiers knock off Nebraska for first road win of the season
Before ending the Purdue losing streak, IU reversed more futility earlier this week when they knocked off Nebraska 78-71 for their first win outside the State of Indiana in nearly a year.
Afterward, Woodson spoke, Corazza had his Minute After and Film Session, Ybarra Five Takeaways, Tachman a column, and Assembly Call their postgame show.
Banner #3 – IU takes on Michigan today
With the road and Purdue losing streaks now a thing of the past, IU will look to end another negative today when they take on the Wolverines at 3:30 pm on CBS in Assembly Hall. The Hoosiers have lost eight straight to Michigan having not won against them since 2016. The Wolverines are off to their worst start in several years at just 8-7 overall and 2-3 in the conference. However, they are still dangerous and possess two of the Big Ten's best players in Hunter Dickinson and Eli Brooks as well as several highly-touted freshmen.
Bozich wrote What To Expect and Hoosier center Michael Durr spoke with the media about the contest. Also, this week's Podcast On The Brink previewed the game with Dylan Burkhardt of UMHoops, and IU will wear retro uniforms from their 1987 championship team.
Banner #4 – Andy Bottoms' Bracketology
Assembly Call bracketologist Andy Bottom's released his latest tournament bracket last week.
This was done before the win over Purdue and Bottoms had IU as a 10 seed in Fort Worth taking on recent mid-major darling and seven-seed Loyola Chicago. Overall the bracket has eight Big Ten teams getting in as the Hoosiers are joined by Illinois, Iowa, Michigan State, Minnesota, Ohio State, Purdue, and Wisconsin.
Banner #5 – Miller Kopp vlog
IU forward Miller Kopp released a couple more vlogs recently about his fellow teammates.
In the latest editions, he talks with his fellow Hoosiers Phinisee and Jordan Geronimo. As he has done in several recent videos, Kopp asked each player a series of questions and interviewed them.
Banner #6 – Hoosier Roundup
It was not just men's basketball beating Purdue, as the Hoosiers went 4-0 over their arch-rivals this week with victories in Women's Basketball and Swimming and Diving as well.
• No. 6 Women's Basketball had both highs and lows this week. The high came last Sunday when they knocked off the Boilers in an overtime thriller despite being shorthanded to remain a perfect 6-0 in the conference. I was at the contest and wrote a column about the game for the Assembly Call Community (subscription required). Also, the Doing The Work Postgame Show commenced with Kathy Amos and Jeff Marlow after the game. Off the court, it was a week of not-great news. First off, IU star center Mackenzie Holmes had knee surgery and according to coach Teri Moren on the Big Ten Network, she will be out until at least late February. Also, COVID has hit the program hard and they had their games against Michigan State and Iowa postponed last week. However, in better news, the latest edition of Assembly Call's show with Grace Berger was recorded and both Berger and Ali Patberg received recognition.
• Swimming and Diving swept Purdue as the No. 5 men's team and No. 13 women's team both picked up victories. Also, several Hoosiers received weekly awards from the Big Ten.
• No. 11 Water Polo opened with three victories and named their team captains.
• Men's Tennis beat Toledo and Bellarmine to open the season.
• Track and Field competed at the Gladstein Invitational.
• Wrestling fell to Michigan State before knocking off Maryland for their first conference win of the season.
• Football named their new defensive line coach to replace the departed Kevin Peoples.
• Men's Soccer announced its recruiting class for next fall.
• Women's Soccer released their upcoming spring exhibition schedule.
Thanks for your continued support for The Assembly Call and Inside the Hall. We'll be back next weekend with a new roundup.
Now go enjoy yourself a 6-banner Sunday.
Aaron (Ari) Shifron
Assembly Call Contributor
Filed to: