Rob Phinisee, the kid from Lafayette, is the hero for Indiana in thrilling win over Purdue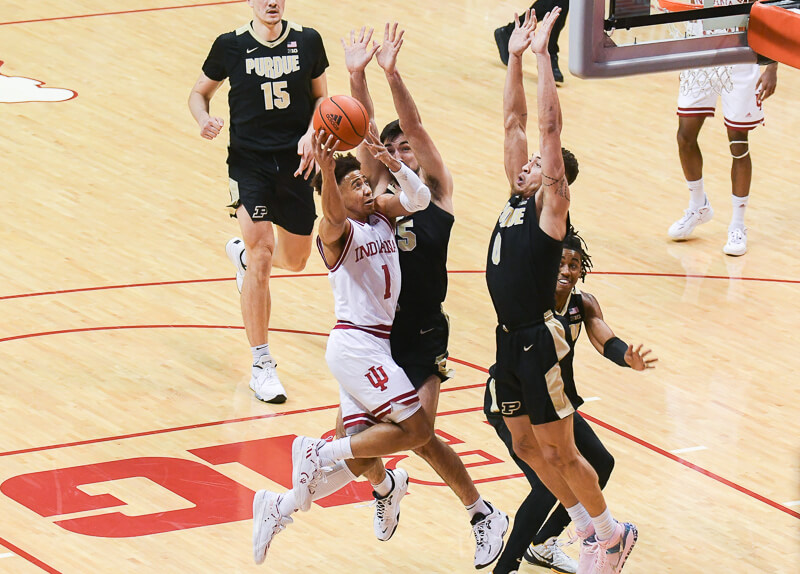 The kid from Lafayette, Indiana had done it. There he was, surrounded by a mosh of bodies, arms holding up phones, some donning suit jackets, others in a color of crimson, smiling faces, mouths open. There was joy, euphoria. Trayce Jackson-Davis was there too, raising Rob Phinisee's arm, then picking him up, holding him into the air with the help of others. Then Phinisee was above the crowd, waving his arms upward, his jersey being tugged by those around him.
For all that he has been throughout his career, the kid from Lafayette had done it.
"Just a surreal experience I won't forget," Phinisee said. "I just love my teammates, and I love Indiana University."
The court storming was because of what happened minutes earlier. Indiana was down by two with 19 seconds left. Off the inbounds pass under the basket, Phinisee came curling toward the corner. He caught the ball in rhythm, rose up and let it fly as he watched it soar through the air.
The ball dropped through the net.
On the next possession, Indiana got a stop. Then Jackson-Davis hit two free throws. Then one final stop.
The final score: Indiana 68, Purdue 65.
Phinisee's shot helped Indiana end its well-documented losing streak to Purdue, which started back in 2017. IU-Purdue is a heated, passionate rivalry, but one that had become one-sided over that period. For nine consecutive games, Indiana fell to its rival. For the last four years, there was frustration, fans were fed up. After Indiana's win over Nebraska on Sunday, head coach Mike Woodson said "don't remind me of that," when the program's recent shortcoming against Purdue was mentioned.
On Thursday, Indiana's win came somewhat against the odds. Yes, it helped the game was at a raucous Assembly Hall, but Purdue was also ranked No. 4 in the country. And then less than six minutes into the game, Indiana's third-team All-American Trayce Jackson-Davis picked up his second foul and sat the remainder of the half. In total, he only played 11 minutes and scored four points. That required others to step up. Xavier Johnson played arguably the best game of his IU career with 18 points and zero turnovers. Michael Durr provided a huge lift off the bench. Trey Galloway, Jordan Geronimo did the same.
And then there was Phinisee, who scored a team-high 20 points, hitting four of his seven three-pointers to go along with four rebounds and four steals. He almost single-handedly kept Indiana in the game in the first half after the Hoosiers got off a slow start, scoring 17 points. Then he finished the job. The kid who grew up in Lafayette, the neighboring city to Purdue's home of West Lafayette, was the hero.
"I thought tonight he was on a mission, boy, and it was nice to see," Woodson said after the game.
The fact that it was Phinisee hitting the game-winner, in many ways, makes this story full come circle. Phinisee says a lot of his family went to Purdue. Growing up, Phinisee says he went to Purdue games and thinks he went to one or two IU-Purdue games. He remembers watching Jajuan Johnson and Robbie Hummel play for Purdue. But he said his mother never pushed him to be a Purdue or IU fan.
"I was just a basketball fan when I was a kid," Phinisee said.
Phinisee attended McCutcheon High School in Lafayette, roughly a 15 minute drive from Purdue's Mackey Arena. Then he got on the radar of college programs. His first offer was from Indiana when Tom Crean was still the head coach. Purdue offered him later. He said he took vists to Purdue, Butler, Ohio State, Xavier and Louisville. In the end, though, he chose Indiana after Archie Miller had taken over. With his commitment back in 2017, he became the first scholarship recruit for Indiana from Lafayette since 1948.
"It wasn't as bad as everyone makes it seems," Phinisee said about the reaction of those in Lafayette. "I still get a lot of love from Lafayette, a lot of Purdue fans. The main thing they say is, whenever Purdue and IU play, they'll root for me but they'll never root for IU."
Phinisee's somewhat tumultuous career at Indiana has coincided with the team's struggles against Purdue. Phinisee has been through a lot over the last four years: a concussion as a freshman; an abdominal issue, strep throat and ankle injury as a sophomore; he fell out of the starting lineup for a period during his junior season and Miller was fired following the team's disappointing 2020-21 campaign. The potential Phinisee showed as a freshman never seemed to fully come to fruition.
All the while, the losses to Purdue continued. When Phinisee was a freshman at IU, the Hoosiers had already lost its last three games to Purdue. Indiana lost two more when Phinisee was a freshman. Then two more as a sophomore, including Bob Knight's return to Assembly Hall. Then two more as a junior. Entering Thursday, Phinisee had never beaten Purdue.
Before Thursday's game, though, Phinisee and Woodson had a conversation. Woodson described it as a "beautiful conversation," but declined to give any more detail. Phinisee, though, explained it more, saying "he told me just if no one else in your corner that he is in my corner."
It speaks to the relationship Phinisee has built with Woodson since he took over as head coach. Phinisee earlier described Woodson as an "O.G.," an endearing term for someone who's authentic. Woodson constantly urged Phinisee to shoot more.
"I sat down with everybody that decided to stay, and I told Rob, 'hey, what happened in the past is in the past, man,'" Woodson said. "I'm telling you, you can shoot it. You can do your thing, man, and it's okay to be good. It's okay to be great. I told him tonight in the locker room, regardless of what anybody says, I'm always going to be in your corner."
It showed late in the game on Thursday. During a timeout with 50 seconds left, Woodson says Phinisee asked for a play to be run for him. It almost worked. Phinisee had an open three but missed. The ball, though, was tipped out by Purdue. On the next play, Phinisee hit the 3-pointer to put Indiana up by one.
"Coach Woodson, from the jump he knew I struggled last year," Phinisee said. "He has been saying all the time that he's going to keep believing in me and keep instilling confidence in me. I played my heart out today, played with the heart on my sleeve tonight."
What comes next for Phinisee and Indiana is unknown. But the losing streak to Purdue is over. The kid from Lafayette, Indiana had done it.
Filed to: Mike Woodson, Rob Phinisee