The Minute After: Purdue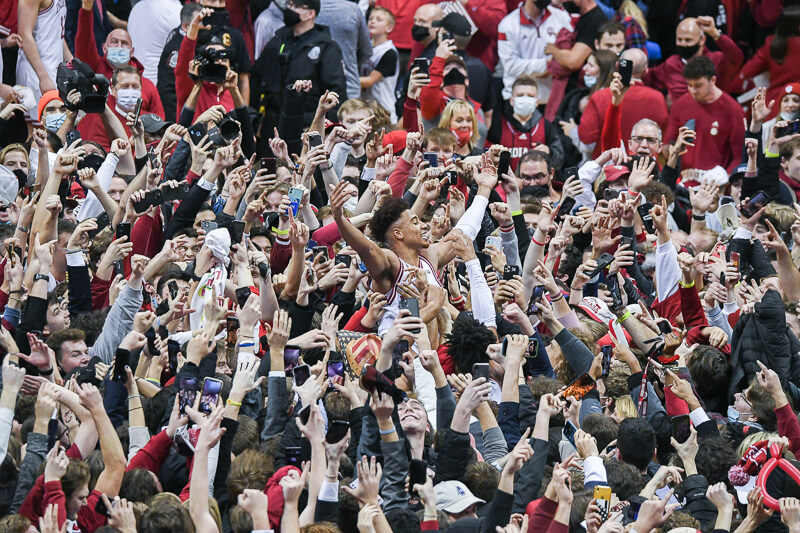 Thoughts on a 68-65 win against the Boilermakers:
Big Shot Rob at it again. Purdue goes down, the nine-game losing streak with it. For a night, the demons have been exorcised, and all is well with Indiana basketball. A cathartic win for Hoosier Nation, indeed.
Whew. Deep breaths, all.
We must start with Rob Phinisee. Yes, it has been a lackluster season in many respects for Indiana's senior point guard from Lafayette. But Mike Woodson believed. The fan base has been desperate for the best version of Phinisee to show up more consistently, still quietly believing, too.
"He's had a tough go at it in the past," Woodson said Thursday. "I'm just trying to get him to forget what happened in the past. You're playing for Coach Woodson now, and Coach Woodson loves you and I'm in your corner and I'm saying it's okay to go do your thing, because I see something maybe in him that he probably doesn't see in himself. I've just got to keep helping him. I think he can help us in the long run as we continue this journey."
What a quote. What a performance.
With Trayce Jackson-Davis out due to foul trouble in the first half and Indiana off to a rough start, Phinisee came in and played the game of his life. From the jump, he was active and engaged and gesturing to the crowd to turn up. His 3-pointer was dropping. He was getting into the lane and scoring. He brought the pressure on defense. By the time the dust settled in the first half, Phinisee had scored 17 points (7-of-10) and racked up four steals, three rebounds and a blocked shot.
An early eight-point lead for the Boilermakers turned into a nine-point lead for Indiana at half, Phinisee leading the charge and playing with the utmost confidence.
Purdue made its run in the second half as Jaden Ivey poured in 19 points after the break and Indiana didn't really have an answer. IU's offense down the stretch started to resemble the Nebraska game, dribbling and dribbling and dribbling the clock out with Jackson-Davis sidelined, just hoping to hold on. Purdue got the lead at 65-63 after Indiana lost Mason Gillis on an inbounds play.
It was another here-we-go-again situation.
But out of a timeout, Indiana drew up a play for Phinisee to shoot a go-ahead 3-pointer on the left wing. Just his second shot of the half, it didn't fall. But after Purdue couldn't corral the rebound, Indiana retained possession and drew up another 3-pointer for Phinisee, this time in the right corner. A tough shot a bit on the run, he splashed it home to put the Hoosiers back in front.
Jackson-Davis, a non-entity in this one up to this point because of foul trouble, then stopped an Ivey runner off a drive on the right side, grabbed the rebound and was fouled. He hit both free throws to put IU up three. Ivey's desperation 3-pointer at the buzzer missed, the crowd storm, Woodson emoted and that was that.
Plenty of other bright spots in this one. Indiana's defense held Purdue to under a point per possession (.98), the first time that's happened all season for the Boilermakers. Indiana's other point guard, Xavier Johnson, had a great game in his own right, scoring 18 points (7-of-17). The Hoosiers turned the ball over just three times all night.
But this one belongs to Rob Phinisee and Mike Woodson. Indiana over Purdue again, finally, thanks to the love, thanks to the confidence.
Filed to: Purdue Boilermakers, Robert Phinisee