'I'm tired of losing to them': Exhaustion turns to exuberance for fans as IU knocks off No. 4 Purdue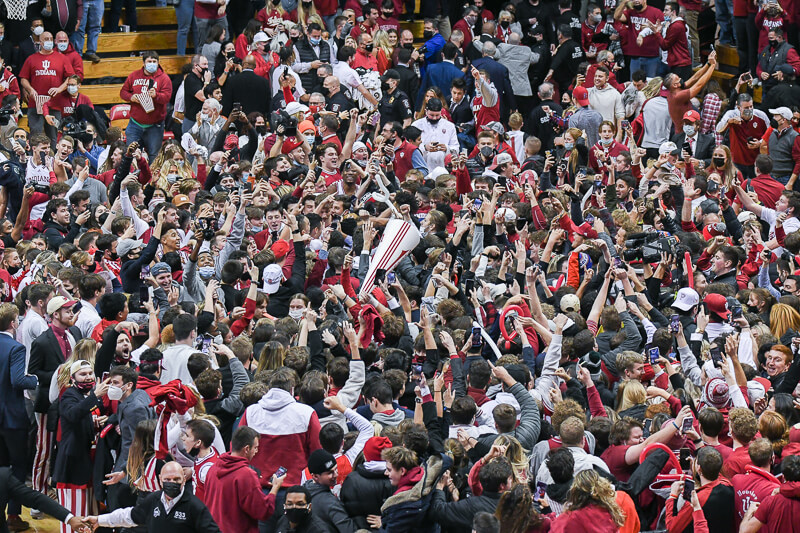 The group got to Assembly Hall at 11 p.m. Wednesday to set up their six-person tent at the foot of the Assembly Hall side door. Eight Indiana University seniors piled in under a bunch of blankets, passing the freezing night with Domino's delivery and Fornite on the TV they set up inside.
What they had in store was almost 20 hours of waiting in the cold. But that wait didn't compare to the one they've been doing all of college — the day Indiana finally beats Purdue.
These seniors saw the Matt Haarms tip-in over Juwan Morgan. They saw Bob Knight's illustrious return darkened by another loss to Purdue with Gene Keady in the front row. Then they missed an entire season in the student section due to the COVID-19 pandemic.
What they hadn't seen was Indiana beat its biggest rival. The last time the Hoosiers beat the Boilermakers was Feb. 20, 2016 — when current seniors were still sophomores in high school. Thursday served as a chance to break the skid, so lining up early to secure front row seats wasn't a problem.
"It's our senior year so we wanted to camp out for one night," senior Alec Cummings said. "Hopefully we win, or else it was a long, cold night for nothing."
The wait paid off with front row seats.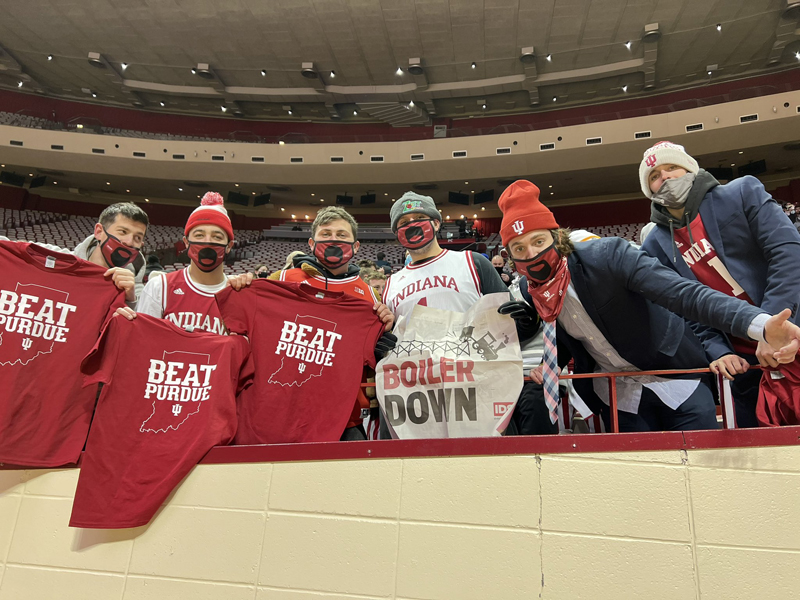 They lifted their arms in the air each time Lafayette native Rob Phinisee pulled up for another 3-pointer. They jumped with each one that sunk through — including a crucial one to give Indiana a one-point lead with just 17 seconds to play.
They stood quietly as Trayce Jackson-Davis sank two free throws after missing his previous two attempts a minute before. Five seconds left, Indiana was up by three.
They held their breath as Purdue's Jaden Ivey pulled up for a final chance to send the game into overtime.
They watched as the shot spun off the rim. They were among the first to storm the court.
After nine-consecutive losses: Indiana 68, Purdue 65.
"Every time I go home, people always talk trash to me. I just finally needed to get one," Phinisee said.
The Dunkin' that Dane Fife brought those in line helped fuel an energetic crowd. The fans wanted to alter the game, and they did.
The crowd was rowdy from before the tip, cheering for as little as a Purdue misstep or as much as a Race Thompson dunk. The noise had an effect.
Indiana forced 10 Purdue turnovers in the first half — including a travel by Zach Edey on the Boilermakers' opening possession.
"We weren't able to do simple things, their hands were very active," Purdue head coach Matt Painter said.
Anytime Purdue tried to build momentum — even by taking foul shots — Indiana's crowd did its part. Cream and crimson balloons waved behind the basket in a sea of candy stripes and suits. Ten of Purdue's 17 free throws attempts clanked off the rim, with Edey accounting for half of those misses.
"The environment had a lot to do with it. I think we lost our poise there," Painter said. "We get a flagrant foul, we start to foul unnecessarily, we're not stepping off to get a catch and be strong."
On a night when Jackson-Davis played eleven minutes, the bench stepped up — but the crowd stepped up, too.
That's why they were the first to celebrate Indiana's first win over Purdue in almost six years on the court with the players.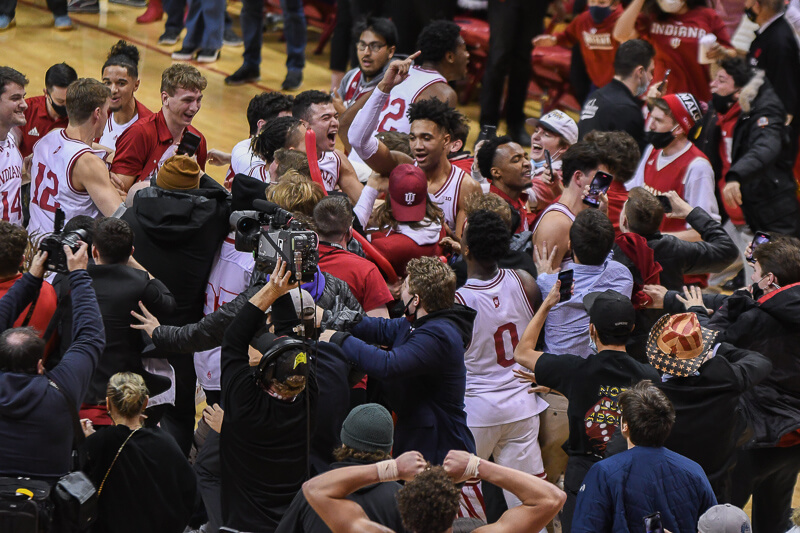 While standing in line eight hours before, freshman Madison Mitchell said she didn't know what to expect, but couldn't contain her excitement. As a lifelong Indiana fan, she couldn't believe she was really going to watch this game in person.
Mitchell waited until 2 p.m. to line up so her friend Calvin Sall could make it to class. Other students decided to skip class altogether by lining up at noon, such as junior Jack Roemer and senior Alec Pieper.
Mike Woodson made his message clear: Indiana wasn't losing at Assembly Hall this year. Students wanted to make sure No. 4 Purdue wasn't an exception.
Unfortunately for the upperclassmen, they'd seen Purdue often be that exception.
"I'm tired of losing to them," senior Alec Pieper said. "I'm tired."
That exhaustion quickly turned to exuberance on Thursday. Fans swarmed Phinisee and his teammates as what was a long day of waiting in frigid temperatures turned into a weekend that will long be remembered in Bloomington.
This is what students watching Indiana beat Purdue for the first time during their college career looks like #iubb pic.twitter.com/NEP3Ck5jVI

— Grace Ybarra (@gnybarra) January 21, 2022
Filed to: Purdue Boilermakers