Five takeaways from Indiana's win at Nebraska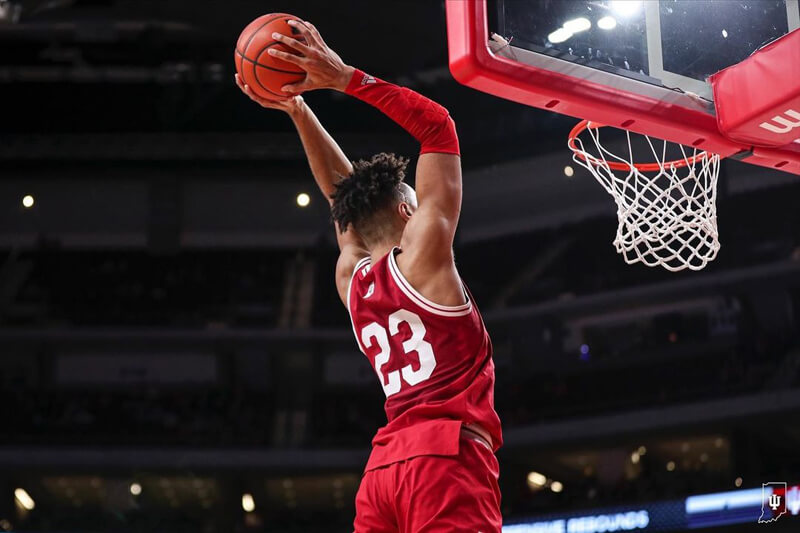 Indiana finally captured its first win on the road in a 78-71 victory over Nebraska on Monday evening. Not only did it give the Hoosiers their second win over the Cornhuskers this season, but it also helped them surpass their win total from last season — bringing their overall record up to 13-4.
While Indiana never gave up its lead, the team still let Nebraska hang around for the full 40 minutes. The Hoosiers were forced to close out the game without Trayce Jackson-Davis — who put up 23 points and 12 rebounds — after he left the game with four fouls and a hip injury with over seven minutes to go.
Here are five takeaways from Indiana's win over Nebraska:
Second unit steps up
Mike Woodson wasn't happy with his bench following Indiana's loss at Iowa. He said he'll play them as long as they play well, but they didn't — giving up a 10-0 upon first checking into the game.
The game against Nebraska was a different story. The second unit was ready to go. Woodson said they were productive and helped secure the win.
"Our bench has been struggling a little bit. And I thought tonight, they came in with the right mindset and we got some good production off the bench," Woodson said.
Trey Galloway said the bench felt responsible for the way it underperformed against Iowa.
"We're supposed to be able to lift those guys up when they come out," Galloway said Saturday.
When the starters got into foul trouble early, they did just that. Galloway and Jordan Geronimo played 21 minutes, combining for 19 points.
Jordan Geronimo continues to establish himself
Geronimo has stepped up in many games this season. His performance against Nebraska was no different.
The sophomore nearly posted a double-double with 10 points and eight rebounds in 21 minutes off the bench. He shot a perfect 4-4 from the field and 100 percent from the free throw line.
"Geronimo was huge," Mike Woodson said. "He rebounds and he was great defensively, probably the most minutes I've played him, but he's probably earning some more."
But what Geronimo brings to the table for the Hoosiers can't just be illustrated through his stat line. It's his hustle plays and the ways he's figured out how to control his athleticism.
He provided a great number of sequences down the floor, including a dribble penetration drive for a jumper from the wing immediately followed up by an athletic block on the other end.
Indiana plays down to Nebraska
Nebraska was never able to take the lead from Indiana. But no matter how much better the Hoosiers looked at times, they could never get up by more than 10 points.
The Cornhuskers are the worst team in the conference and are winless in league play. Yet, Nebraska continued to hang around.
While Indiana managed to keep Nebraska an arm's length away, it was never enough to feel comfortable down the stretch — especially when Jackson-Davis left the game.
The Huskers scored just two fewer points than the Hoosiers in the paint with 34 total. Alonzo Verge Jr. and Bryce McGowens put up a combined 39 points, too.
Indiana's effort was good enough to secure the win, but the Hoosiers caught a break with the Husker's poor shooting down the stretch.
Closing out without Trayce Jackson-Davis
After posting a double-double through 31 minutes, Jackson-Davis left the game with 7:36 to play following a hard fall he took that caused some obvious discomfort around his hip.
It was a first for the Hoosiers. They had to figure out how to finish out a game without their best player. And they did — on the road, nonetheless.
Indiana led by 10 when Jackson-Davis took a seat and only let Nebraska come within five points before putting the game away.
"Our mentality is next man up," Woodson said.
During that time on the floor without Jackson-Davis, Xavier Johnson connected from 3-point range and Race Thompson took over in the paint.
The Hoosiers locked in at the free throw line and closed out without their All-American.
Turnovers down the stretch
Indiana turned the ball over 14 times total, giving up 14 points off of those mistakes. While that number isn't terribly uncommon for Indiana, the concern was how half of those turnovers came in the final seven minutes.
From bad passes to travels and even just losing control of the ball, the Hoosiers gave the Cornhuskers every chance to earn their first lead of the game.
Thanks to Indiana's defense and Nebraska's inability to hit a shot, the Huskers didn't make the Hoosiers pay for those mistakes.
But if any of those shots did fall for Nebraska down the stretch, it would've been a very different ball game and turnovers would've been a sure cause.
(Photo credit: IU Athletics)
Filed to: Jordan Geronimo, Nebraska Cornhuskers, Trayce Jackson-Davis