Indiana is still a work in progress, but it finally broke through on the road in win over Nebraska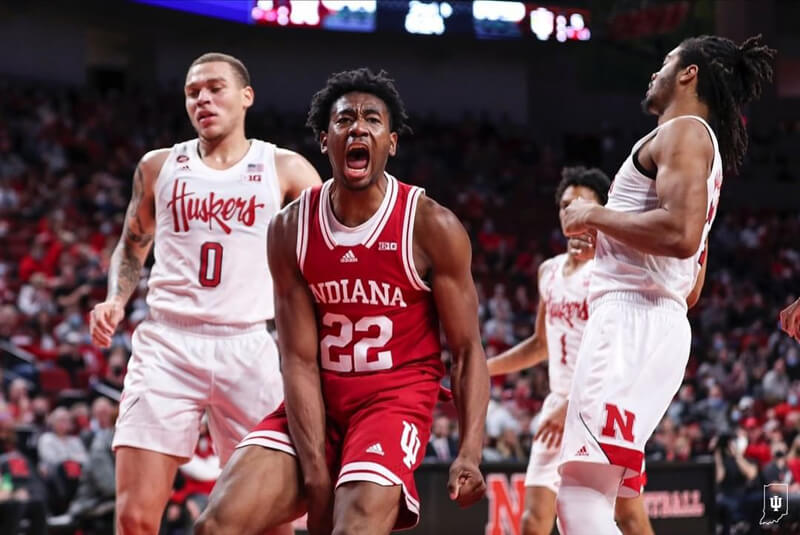 If there was a way to symbolize Indiana's imperfect yet much-needed 78-71 road win over Nebraska, it would probably be how the final seven minutes and 36 seconds transpired.
At that mark in the second half, Trayce Jackson-Davis, Indiana's third team All-American last season, picked up his fourth foul. The centerpiece of Indiana's success thus far this season headed to the bench. Indiana led by 10. The final stretch wouldn't be easy to close out without him.
You can look at those final minutes through two different lenses. One of which was concerning and one of which was redeeming. On one hand, Indiana committed seven turnovers in that final stretch without Jackson-Davis on the court. With under three minutes remaining, Nebraska has cut the deficit to just six. But also, there were enough plays made to keep Indiana from letting the game get away, something it hasn't done on the road this season. Xavier Johnson hit a huge 3-pointer. Race Thompson hit a 2-pointer. In the final 28 seconds, Indiana made five of six free throws, including four from Johnson.
Whether it was more a matter of Indiana holding on more than convincingly slamming the door, the Hoosiers found a way to pick up their first true road win of the season. The Hoosiers entered the day 0-4 on the road. And it is not easy to win on the road in the Big Ten. Indiana did it without Jackson-Davis in the last 7:36.
There have been road games this season that Indiana should've won. But thus far, just because Indiana should've won, doesn't mean that they did, in fact, win. This team still very much appears to be a work in progress, but on Monday, in a foul fest of a contest, Indiana finally escaped a road game that they should've won.
"It's a great team effort man, good team win," Indiana head coach Mike Woodson said after the game. "We needed it in the worst way to just trying to stay in the hunt of this Big Ten."
What has made Indiana's road losses so frustrating this season is the manner in which they've lost. There were the 26 turnovers at the Carrier Dome that held Indiana back against Syracuse. There was a blown 22-point first-half lead in Madison against Wisconsin. There was a disheartening road loss to Penn State, where the Hoosiers allowed the Nittany Lions to hit 50 percent from three. Most recently, Indiana fell on the road to Iowa despite leading by seven at halftime.
"We're in it at the end of all of these games," Thompson said. "In the end, we just have to find a way to execute on defense and on offense, rebounding the ball. And just get the win. That's really all it's about. Just find a way to get the win."
At halftime on Monday, the Hoosiers seemed to be in a similar position as the game against Iowa. Indiana controlled the half, but let Nebraska stick around. It continued throughout the second half. Indiana would extend the lead, but then Nebraska would come firing back cut the deficit to a couple of possessions.
Indiana's defense, which has been the most reliable aspect of the team this season, wasn't terrible, but also wasn't great on Monday. The Hoosiers got beat on pick and rolls multiple times and allowed Nebraska to open the game scorching from three. Nebraska's backcourt of Alonzo Verge Jr. and Bryce McGowens combined for 39 points.
As much as Nebraska's guard hit shots, Indiana's guards had their share of inconsistencies again. Johnson had nine points and five assists, but also had five turnovers and four fouls. Rob Phinisee was held scoreless. Miller Kopp shot 2-of-7 from the field. That left a brunt of the pressure on Jackson-Davis and Thompson, who both delivered. They combined for 35 points on 13-of-22 from the field and 19 rebounds.
Perhaps the difference, though, was Indiana's production off of the bench, which helped lift Indiana to victory on Monday. It was a key performance for a group that has been riddled with inconsistencies throughout the season. On Monday, Indiana's bench finished with 21 points. Jordan Geronimo, who may have the most potential on the team, finished with 10 points and eight rebounds. Trey Galloway committed four turnovers, but also had nine points and two assists. Tamar Bates, who has been in a slump the last month, played solid minutes, contributing two points and one assist.
"I thought our bench was great tonight," Woodson told Don Fischer after the game. "…I thought Tamar gave us some positive minutes. Trey was great. Geronimo was fantastic."
It's clear that Indiana hasn't hit its stride yet, and it's unknown whether they will. The win over Nebraska isn't an indication that this team has turned the corner by any means. At this moment, Indiana is still flawed. But the Hoosiers finally won on the road against an opponent they were expected to beat. This is something they will have to do again as the season continues if they want to make a run in March.
Indiana is now 13-4 overall and 4-3 in the Big Ten. The Hoosiers have won three of their last four games, including a top-25 win over Ohio State. Now the team's attention turns to Purdue, where the rivals will face off in a highly anticipated matchup on Thursday in Assembly Hall.
"They're next on our schedule and we can't lose at home," Woodson told Fischer. "I mean that's just my message. I can't say it loud enough."
(Photo credit: IU Athletics)
Filed to: Mike Woodson