The Minute After: Nebraska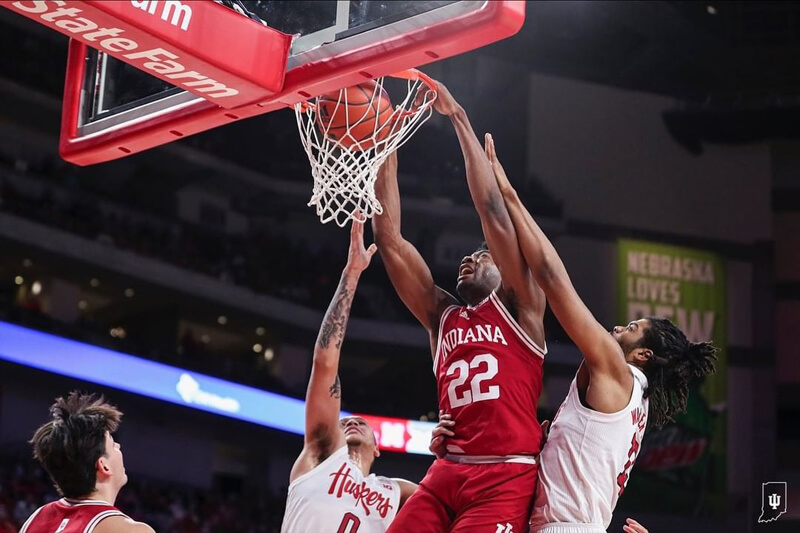 Thoughts on a 78-71 win against the Cornhuskers:
Indiana found itself in a familiar spot as the first-half buzzer sounded.
It held a solid lead (45-39) on the road after a strong offensive first half (1.32 points per possession), putting itself in a position to win. But as we know, such leads have faded fast for the Hoosiers in the second half. They have crumbled. They have collapsed. They have failed to do what's needed to close out road games so far this season. It's been a major issue for a team with NCAA tournament aspirations.
But tonight, despite it not being the most aesthetically-pleasing affair, the Hoosiers got it done and emerged victorious for the first time on the road this season. It wasn't a blowout. Nebraska didn't go away. Yet, Indiana didn't shoot itself in the foot and did enough to keep distance, even without Trayce Jackson-Davis over the final 7:36 of the contest due to an apparent hip injury. (Jackson-Davis tweeted after the game he'll be back for Indiana's next game, a matchup with Purdue at home on Thursday.)
Indiana's bench contributed in this one, a big key to victory. Tamar Bates took just one shot, a deep two from the left corner in the first half, but splashed it home. It's been quite some time since he's hit a jumper. Bates also pushed the tempo up the court in the first half and found Jackson-Davis on an alley-oop in transition. He looked more like the player he's capable of being tonight, even if the stat line doesn't jump out at you.
Jordan Geronimo had a near double-double, scoring 10 points (4-of-4) and snagging eight boards in 21 minutes. Geronimo had an emphatic putback dunk in the second half and also scored on some smooth mid-range jumpers. Despite four turnovers, Trey Galloway continues to bring energy and movement to the floor since his return. The sophomore scored nine points (3-of-3), dished out three assists and recorded a steal.
Indiana turned the ball over just once in the second half before Jackson-Davis left the contest for good at the 7:36 mark. From there, though, things got a little dicey. Xavier Johnson turned it over three times. So did Galloway. Parker Stewart had a giveaway as well. It was about a turnover a minute and ballooned Indiana's turnover percentage up to 21 for the contest. While Nebraska did get seven points off those late-in-the-game miscues, the Cornhuskers missed when it really mattered, failing to hit two 3-pointers and a lay-up off Indiana turnovers in the final two minutes of the contest.
Beyond Indiana's turnover issues late, the Hoosiers also failed to get much of anything going on offense. But Race Thompson hit a huge shot in the paint with 3:16 to go and Indiana hit 5-of-6 from the line in the final 30 seconds of the contest to keep Nebraska at arm's length.
"We played well enough on the road to have won some games by now," Mike Woodson said after the contest on the Big Ten Network. "This was a big win for us."
Not the prettiest one. But one Indiana needed in a big way. You take what you can get on the road in the Big Ten. And Indiana will more than take this one after a season of disappointments thus far.
(Photo credit: IU Athletics)
Filed to: Nebraska Cornhuskers