Five takeaways from Indiana's win over Purdue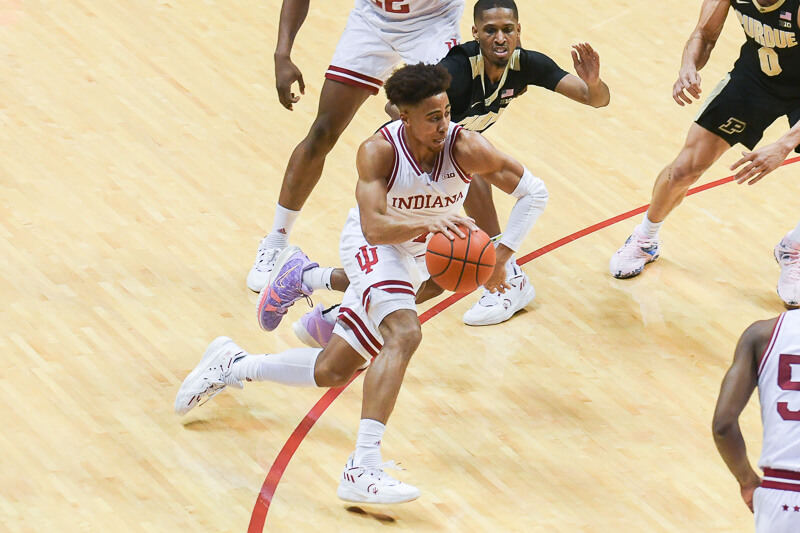 Indiana snapped its nine-game losing streak to Purdue with a 68-65 win against the Boilermakers on Thursday night at Simon Skjodt Assembly Hall.
The victory improved Indiana to 14-4 overall and 5-3 in Big Ten play. Here are five takeaways from the win:
Phinisee carries Indiana early and comes up big late
Rob Phinisee's offensive struggles throughout his Indiana career are well documented.
At McCutcheon, Phinisee was a prolific scorer and even had a 50-point game in his senior year. But in Bloomington, the senior guard has been a below-average perimeter shooter who has often lacked confidence.
Phinisee showed signs of being more assertive in Indiana's 73-60 win against Minnesota earlier this month. As the Golden Gophers dared him to shoot from the perimeter, Phinisee obliged and knocked down four of his nine 3-point attempts.
Thursday's circumstances – and stakes – were much different than the Minnesota game. With Trayce Jackson-Davis benched with foul trouble and his team trailing by eight points against its archrival, Phinisee knew he needed to make something happen.
And that's exactly what he did.
The senior from Lafayette scored 17 points on 7-of-10 shooting in 13 first-half minutes. Phinisee's performance helped Indiana go into the locker room with a 37-28 lead.
Phinisee was quiet in the second half until the game's final minute. With the Hoosiers stuck on 63 points and in desperate need of a bucket, Phinisee took an inbound pass in the right corner and buried a 3-pointer to give Indiana a 66-65 lead and its first victory against the Boilermakers since Feb. 20, 2016.
Indiana's defense stifles the nation's top offense
Purdue entered Thursday's game against Indiana with the nation's top offense according to Ken Pomeroy's adjusted offensive efficiency ratings.
The Boilermakers had scored over a point per possession in each of their first 17 games. That streak ended in Assembly Hall as Indiana held Purdue to just .98 points per possession.
Turnovers and missed free throws were a big part of Purdue's below-average performance offensively in Thursday's loss. The Boilermakers turned it over 12 times for a turnover percentage of 18.2 and shot just 7-of-17 from the free-throw line.
But there were also several individual defensive performances that deserve a mention.
Trey Galloway frustrated Jaden Ivey for a good part of the first half. Miller Kopp stuck with Sasha Stefanovic and helped hold him to only one made 3-pointer in seven attempts. Indiana's post defenders frustrated Trevion Williams, who scored only two points and committed four turnovers in 15 minutes.
Hoosiers overcome foul trouble for Jackson-Davis
For the first time this season, Indiana was forced to play without  Jackson-Davis for an extended period of time.
Jackson-Davis picked up his second foul at the 14:24 mark of the first half and went to the bench for its remainder. Indiana was trailing 16-8 when Jackson-Davis committed his second foul and then outscored Purdue 29-13 with their All-American on the bench the rest of the half.
Indiana had Jackson-Davis back on the floor to begin the second half, but couldn't keep him on the floor. He committed his third foul with 17:48 to play and went back to the bench. Jackson-Davis remained on the bench until the 7:59 mark, but committed another foul with 7:08 to play and went back to the bench.
The Center Grove product played the final 2:31 of the game and made two free throws with just over five seconds to play to give Indiana a 3-point lead. Jackson-Davis logged only 11 minutes in the win, a season-low, and also had season-lows of four points and one rebound.
Michael Durr, who scored four points in 24 minutes and Race Thompson, who had nine points and nine rebounds in 32 minutes, were both instrumental for Indiana being able to overcome the absence of Jackson-Davis.
"It's the first time he (Jackson-Davis)has been in foul trouble with me as the coach, and that's kind of a scary thought," Mike Woodson said. "But my mentality is, and I think the players feel the same way, it's next man up. I thought Mike stepped up, and it's the most minutes he has played this year, and he gave us some positive minutes. We're going to need that the rest of the way."
A rivalry is rekindled
Purdue had dominated the series with Indiana dating back to the 2016-17 season.
The streak – nine straight wins – was well documented. The Boilermakers had also won five in a row in Assembly Hall.
It was a mischaracterization to call the game a rivalry over that span as Purdue had completely dominated Indiana.
But the Hoosiers flipped the script in season one of the Woodson era by grinding out a win on Thursday night.
"It's not about me, but any time you can beat Purdue — and they feel the same about us, and it's been a while since we've beaten them — it's special," Woodson explained. "Hell, I didn't dribble one ball or make one shot, man. It was those guys in that locker room that got it done. I couldn't be more proud of a team, boy. They played their hearts out tonight."
As much as Woodson tried to downplay Thursday's game as simply the next on the schedule leading up to tip-off, it was impossible to ignore the importance of the game for the Hoosiers.
Not only was it a signature, Tier 1 win that will look great on the NCAA tournament résumé, it was a sign that Indiana can beat Purdue and compete again in the series.
Indiana's much-maligned bench delivers
Indiana's bench has been criticized for its inconsistencies throughout the season.
On Thursday, Indiana's reserves outplayed its starters.
Phinisee's 20 points were obviously pivotal, but the Hoosiers got 35 points total from its second unit compared to just 33 from the starters. The bench also didn't commit a turnover in the win.
Beyond the 20 points from Phinisee and four from Michael Durr, Galloway also deserves a mention for his eight points on 2-of-3 shooting from the field and 4-of-6 performance from the free-throw line. The Culver Academies product also had four rebounds and two assists in 24 minutes.
"Hell, if the bench is rolling, I'm going to ride them until their tongues fall out," Woodson said. "And I thought tonight they were doing it in the first half, so I stuck with them as long as I could."
Filed to: Purdue Boilermakers, Robert Phinisee, Trayce Jackson-Davis, Trey Galloway