6-Banner Sunday: Disastrous second-half showings doom Indiana in a week full of defeats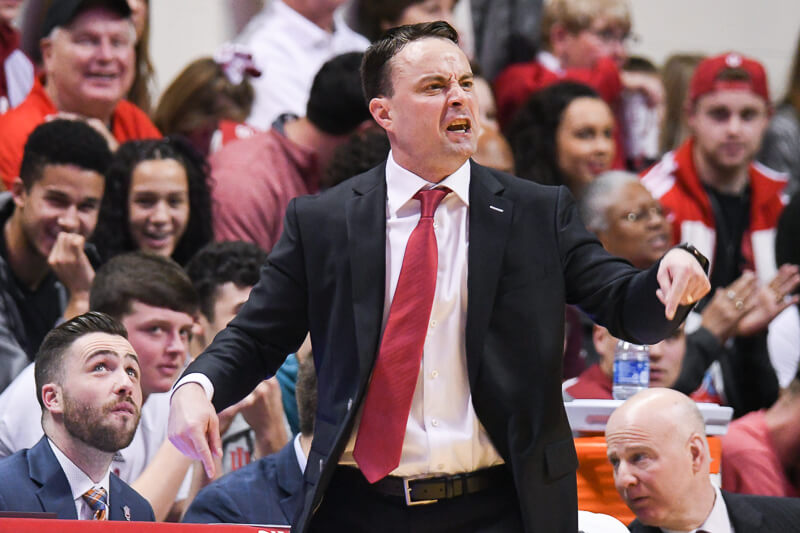 6-Banner Sunday is Inside the Hall's weekly newsletter in partnership with The Assembly Call. Close to 7,000 Indiana fans receive the newsletter each week. In addition to appearing each week on the site, you can also opt to receive 6-Banner Sunday by email. A form to subscribe via email is available at the bottom of this week's 6-Banner Sunday.
Welcome to another edition of 6-Banner Sunday, a joint production between The Assembly Call and Inside the Hall where we highlight the five most essential IU basketball stories of the past week, plus take a look at how the other IU sports programs are doing.
An Indiana basketball season full of optimism, and wins, came crashing back down to Earth this week.
A home loss to Arkansas last Sunday night meant non-conference play ended on a sour note for the Hoosiers. Then Archie Miller's team went on the road to Maryland and suffered another embarrassing loss in conference play.
The losses to the Razorbacks and Terrapins came as those teams torched Indiana offensively down the stretch, while the Hoosiers looked devoid of enthusiasm and ideas when trying to score.
It was a disastrous week that renewed questions about the direction of the Indiana program as the new year and decade starts, especially with a new athletic director set to take over in Bloomington.
Aside from Indiana's on-court troubles, the past week featured discussion about the different tiers of teams in the Big Ten, the similarities between last season and this season for the Hoosiers (which became all the more apparent against Maryland), and a look back at the moments thath defined the 2010s for Indiana basketball.
In this week's edition:
• Second-half surges lift Arkansas and Maryland past Indiana
• How will the Hoosiers adjust offensively?
• Analyzing the tiers of the Big Ten
• Similarities emerge from last season as Indiana restarts Big Ten play
• Decade in Review: 30 moments from the last 10 years of IU basketball
• Hoosier Sports Roundup
Banner #1
Second-half surges lift Arkansas and Maryland past Indiana
A 19-3 scoring run to finish the game by Arkansas last Sunday night turned Indiana's season on its head, quickly.
The Hoosiers didn't make a field goal, and scored only one point, during an eight-minute stretch toward the end of the game, allowing the visiting Razorbacks to steal a road win. The loss goes down as the lone blemish on Indiana's nonconference resume, but the manner in which it occurred was concerning.
Being unable to consistently feed the ball into the post to Trayce Jackson-Davis defined the woeful offensive stretch, and Indiana's inability to even occasionally make a three-pointer was exposed against an Arkansas team which thrived from behind the arc.
More of the same occurred yesterday.
Indiana went 4-18 from behind the arc and shot just 36.1 percent from the field (numbers boosted by a late run against walk-ons) in a 16-point loss at No. 15 Maryland.
Indiana was within three points of Maryland with 14 minutes to go, but the Terrapins went on a run that ended with them leading by 30.
Indiana managed just 22 points in the paint in the loss, a repeated case of Miller's team having its primary scoring option taken away and then being unable to adjust on the fly.
"Not being able to score eventually sort of overwhelmed us a little bit," Miller said postgame. "In this league, you're in a deep ocean. Man, there's a lot of waves, you're gonna have to ride them out and figure out how your group can survive it."
Banner #2
How will the Hoosiers adjust offensively?
So the question has become this: When everybody, opponents included, know how to stop Indiana on offense, how will the Hoosiers score?
It was a topic explored by many following the Maryland loss, including Inside The Hall's Ryan Corazza in The Minute After, Zach Osterman of The Indianapolis Star, and Inside The Hall's Seth Tow (making a temporary return) in his recap of Indiana's offensive struggles.
A soft non-conference schedule let Indiana rack up points in the paint and from the foul line against undersized opponents. More talented teams like Wisconsin, Arkansas, and Maryland have turned the Hoosiers into a jump-shooting team in each of Indiana's three losses.
Indiana's last five games have seen the Hoosiers shoot just 22.3 percent from three-point range (21 of 94), and the Hoosiers haven't gotten to the free-throw line in a similar fashion compared to their November wins.
"I think we just need to stay confident in what we work on day-in, day-out," Joey Brunk said after the Maryland loss. "We don't need to force the issue and try and do things we don't work on."
When Indiana hits adversity offensively, the Hoosiers seem unable to switch from a plan A to a plan B during the flow of a game.
Blame for this shouldn't lie exclusively on one party. Players like Armaan Franklin and Al Durham haven't developed into the consistent, day-in and day-out shooters that would help Indiana keep other teams honest. Archie Miller hasn't done a good job of getting a collection of players in place to punish other teams from the perimeter, a talking point also featured in yesterday's Assembly Call postgame show.
The one positive to all of this is that Indiana's next game (Wednesday night at home against Northwestern) should offer a chance for tinkering when it comes to how the Hoosiers deal with teams who take away inside baskets.
Banner #3
Analyzing the tiers of the Big Ten
Every Big Ten school has now played a couple conference games, and those matchups, along with a completed nonconference body of work, has distinguished certain teams at the bottom, middle, and top of the conference.
Inside The Hall's latest edition of Big Ten Power Rankings sets the Big Ten picture at the start of the new year, and rating the conference's 14 teams was also a topic for this week's edition of Podcast on the Brink.
Alex Bozich of Inside The Hall and Jerod Morris of The Assembly Call separated Michigan State and Ohio State as the two clear favorites to win the regular season Big Ten crown, while a "hopeless tier" was created specifically for Northwestern.
Listen to the episode to learn their opinions on where Indiana lies and what the Hoosiers need to do in order to jump up a tier before the end of the season.
Banner #4
Similarities emerge from last season as Indiana restarts Big Ten play
At the start of 2019, Indiana was 11-2. The Hoosiers had that same record to begin 2020, before the blowout Maryland loss.
The story of what happened once the Hoosiers were fully immersed in conference play a season ago has been told many times. A stretch of losing 12 of 13 games, embarrassing losses at Northwestern and Rutgers and home defeats to Michigan and Nebraska that lacked spark and spunk were all a part of it.
It remains to be seen whether the same disastrous fate will meet the Hoosiers in Big Ten play this season, but the similarities between the 2018-19 and 2019-20 seasons extend beyond that common record.
Dylan Wallace of Inside The Hall studied the patterns that evolved for both teams during nonconference play, as well as the narratives surrounding both squads, offering food for thought as IU fans wait to see if the Hoosiers learned from last year's conference struggles.
Banner #5
Decade in Review: 30 moments from the last 10 years of IU basketball
With the new year and decade now upon us, it seems a fitting opportunity to look back on what the Indiana basketball program accomplished and fell short of during the 2010s.
It was an eventful decade for the Hoosiers, running a gauntlet of emotions that ranged from the insane highs of the Watshot in 2011 and a pair of Big Ten titles in 2013 and 2016, to Tom Crean's firing in 2017 and the continued lack of a win at Wisconsin.
To concisely recount the past 10 years of IU basketball, Dylan and I compiled a list of 30 of the most significant moments from the past decade.
Both good and bad, these moments shaped the Indiana program under Crean and current coach Archie Miller, while outgoing athletic director Fred Glass oversaw a period which included Indiana's return to the national stage, even if the Hoosiers often fell short of expectations.
This week's edition of Assembly Call Radio also thoroughly discussed the past decade for the Hoosiers, and asked this important question: was this a successful decade of Indiana basketball?
Banner #6
Hoosier Sports Roundup
This content was contributed by Aaron Shifron.
Full competition resumed following holiday break with a mixed bag. Football fell off late in their bowl game but Women's Basketball pulled off impressive wins and Wrestling had a strong showing.
• Football collapsed in the Gator Bowl losing a 13 point fourth quarter lead.
• Women's Basketball established itself as a legitimate Big Ten Title with a win over Michigan State at home and on the road at Rutgers. This opened up conference play a perfect 2-0 for the Hoosiers as Mackenzie Holmes was named Big Ten Freshman Of The Week.
• Men's Soccer announced sophomore Jack Maher has signed a Generation Adidas Deal with the MLS forgoing his final two years of eligibility as a Hoosier. Also, freshman Aidan Morris signed a Homegrown MLS deal which gives up his final three years of eligibility at IU.
• Women's Soccer picked up a transfer.
Wrestling competed at the Midlands Champions.
Thanks for your continued support for The Assembly Call. We'll be back next weekend with a new roundup.
Now go enjoy yourself a 6-banner Sunday.
Filed to: