That's A Wrap: Team defense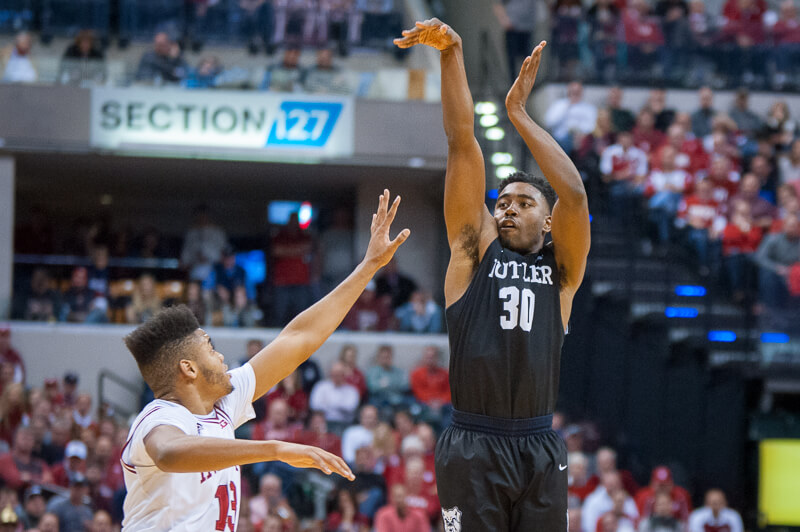 Welcome to "That's A Wrap," our recap of the 2016-2017 Indiana Hoosiers. Today, we conclude the series with a look at the team defense. (Previously: Devonte Green, De'Ron Davis, Grant Gelon, Curtis Jones, Juwan Morgan, Thomas Bryant, OG Anunoby, Freddie McSwain, Josh Newkirk, Tim Priller, James Blackmon Jr., Robert Johnson, Collin Hartman, Zach McRoberts, Team offense)
Final stats (34 games): 73.3 ppg, 42.9 FG%, 48.7 eFG%, 33.7 3PFG%, 15.7 TO%, 36.8% FTR.
Indiana won the 2015-16 Big Ten regular season crown because of an elite offense and an adequate defense.
The Hoosiers regressed to the bottom half of the league in 2016-17 and missed the NCAA tournament because of a turnover problem on offense and an inept defense.
In the preseason, Indiana's defense was expected to be a strength. On paper, Indiana looked primed to roll out a defensive unit with plenty of versatility.
OG Anunoby and Juwan Morgan were going to be Swiss Army knives with their ability to guard multiple positions. Thomas Bryant, with another summer in the weight room, looked like a player with potential to improve as a rim protector. And freshman De'Ron Davis arrived as the all-time leading shot blocker in Colorado high school history.
The perimeter had several question marks entering the season, but returned a reliable defender in Robert Johnson. Josh Newkirk was coming off an injury, but was viewed as a plus-athlete with strength and quickness and the potential to blossom defensively.
The pieces were in place to take another leap forward from the Big Ten championship team that produced the nation's 59th best defensive efficiency, according to KenPom.com.
But with the exception of an early season performance when it held eventual national champion North Carolina to just .93 points per possession, Indiana was a massive disappointment on defense last season.
Indiana's Achilles' heel offensively was an inability to take care of the ball.
And the problem was compounded defensively as the Hoosiers were also unable to force turnovers. Indiana finished the season 325th in the country in defensive turnover percentage (15.7). In Big Ten games, Indiana was 13th in the league in defensive turnover percentage.
In 18 league games, Indiana was outscored in the points off of turnovers statistic by 87 points, a staggering number: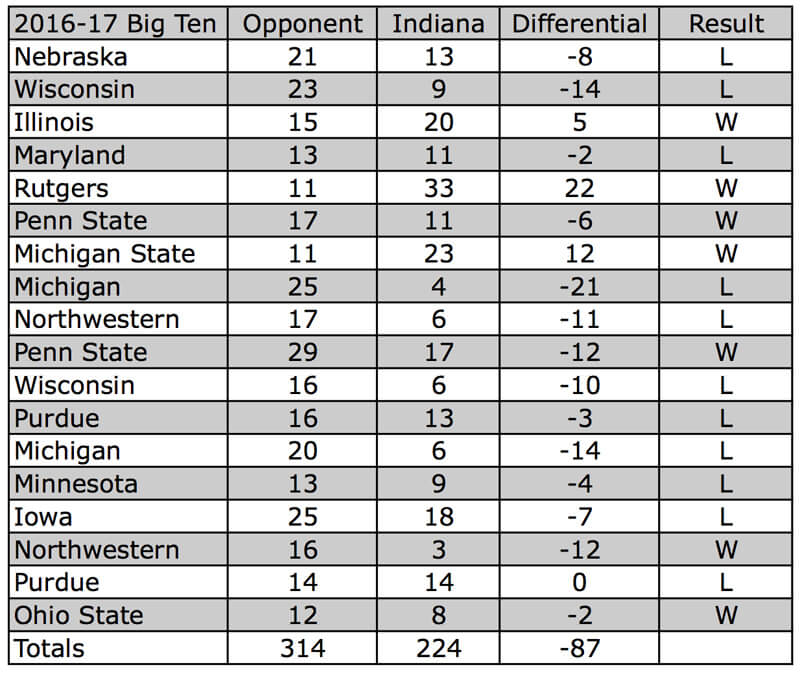 In addition to the turnover issue, Indiana struggled to keep teams off of the foul line in Big Ten games.
Hoosier opponents in Big Ten play posted a free throw rate (FTA/FGA) of 45.6 percent, the highest in the league. No other team in the league had an opponent free throw rate percentage above 37.5.
The frustration from Tom Crean on the free throw discrepancy was apparent throughout the season, but came to a head following a Feb. 21 overtime loss at Iowa when the Hawkeyes took 47 free throws to just 19 for Indiana.
"I'm not going to answer any questions, if anybody has them, on the free throws," Crean said. "I had no idea until I got back in here and saw the stat sheet. Don't waste your time asking because the last thing I want to do is put myself in any situation for any fallback or any pushback. Not doing that."
In addition to not being able to force turnovers or keep opponents off the foul line, Indiana also struggled to defend in the paint and beyond the 3-point arc in conference play.
The Hoosiers finished tenth in the league in both 2-point and 3-point field goal defense, according to KenPom. The shot chart below, via Krossover Insights, shows the Hoosiers were poor at the defending in the paint and also from the corners: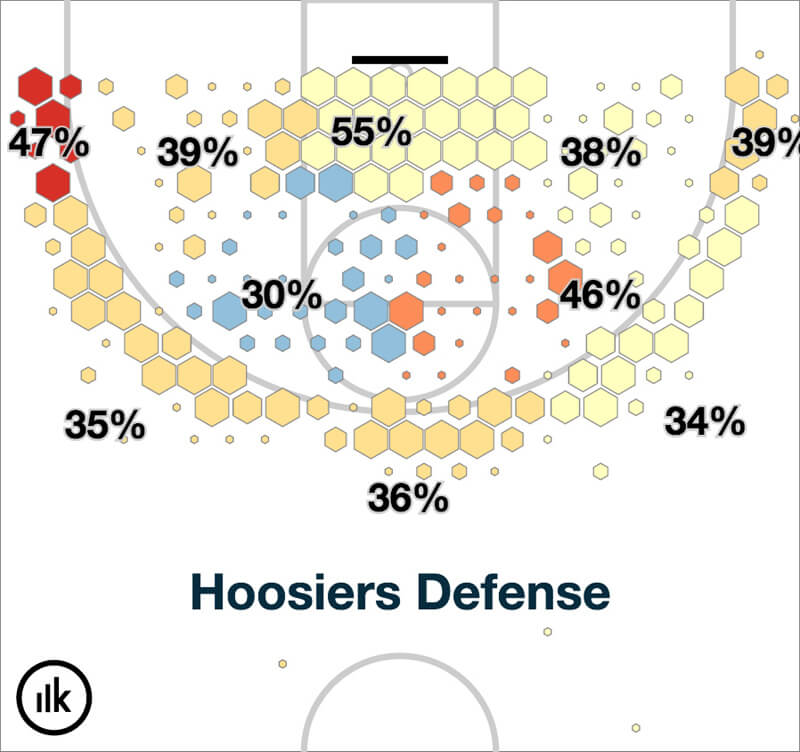 Bottom Line: As much as Crean will be remembered for building strong offensive teams and dragging the program out of the dregs of college hoops, his ultimate undoing was an inability to build a consistent defense. In nine seasons, Indiana finished in the top 50 of KenPom's adjusted defensive efficiency statistic just twice. The 2016-17 campaign was derailed because of IU's turnover problems on offense, a porous defense and injuries. As the program shifts into a new era under Archie Miller, early indications (and Miller's track record from Dayton) suggest that building a defensive identity will be a high priority. That will be a welcome change to fans who grew tired of the program's indifference to defense over the past decade.
Quotable: "They're going to try. I think the hardest thing to do is to instill that defense is important. It didn't happen overnight at Dayton – it took years, and it took winning games. I don't think people are going to look out and immediately say, 'Wow, they're awesome on defense.' But we're going to never deviate from what's important in this program." – Miller to Pat Forde of Yahoo! Sports on IU's defense moving forward.
Filed to: