That's A Wrap: Collin Hartman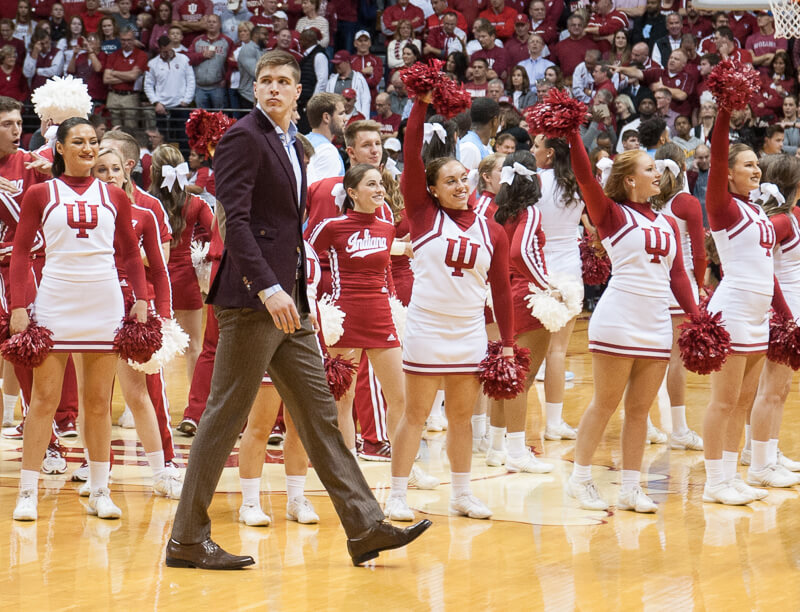 Welcome to "That's A Wrap," our player-by-player recap of the 2016-2017 Indiana Hoosiers. Up next: Collin Hartman. (Previously: Devonte Green, De'Ron Davis, Grant Gelon, Curtis Jones, Juwan Morgan, Thomas Bryant, OG Anunoby, Freddie McSwain, Josh Newkirk, Tim Priller, James Blackmon Jr., Robert Johnson)
Collin Hartman's injury in September was a major storyline in Indiana's 2016-17 season.
Hartman suffered a non-contact left knee injury in a workout on September 20 and had to undergo surgery as a result. Even though it was announced at the time that the timetable for Hartman's return was unknown, the details of the injury were never disclosed.
It wasn't Hartman's first knee injury as a Hoosier. In a workout in the spring of 2014 – following his freshman season – the Cathedral product tore his ACL after planting his knee wrong in a drill.
In October, Hartman said that he wouldn't rule out a return to the floor during the season, but that never materialized.
And as the season moved along, the losses mounted and the lack of leadership on the floor became apparent, Hartman's absence was cited as a reason for Indiana's struggles.
Hartman's injury became even more devastating when Indiana lost OG Anunoby for the season in January, leaving the Hoosiers without two of its top returnees from the 2015-16 Big Ten championship team. Hartman, a strong voice on the bench for his teammates all season, could only watch from the sidelines as the Hoosiers went 2-6 in February.
At Indiana's final home game, Hartman went through senior night festivities following a thrilling 63-62 win over Northwestern. His speech was capped off by a proposal to his longtime girlfriend on Branch McCracken Court. In many ways, it felt like a moment of finality for Hartman, who offered no clear direction on his future plans at the time.
Tom Crean was fired just two days after Indiana's season ended with an NIT loss to Georgia Tech in Atlanta. The assumption, at that time, was that Hartman would simply move on from basketball and dive into the next phase of his life.
But something changed following the hiring of Archie Miller, who made it a priority to retain as much of Indiana's roster as possible for his first season in Bloomington. On March 30, it was announced that Hartman would return for another year in Bloomington, a major coup for Miller.
"This is something that I had been leaning toward since before the season had ended and I needed to make sure that I could fully dedicate myself both mentally and physically to the process," Hartman said in a statement. "It is important that I am able to come back and perform at the level I was at before the injury occurred."
Bottom Line: With Hartman back in the fold, Indiana's frontcourt for next season will now feature one of the Big Ten's most experienced players. The 6-foot-7 forward has Big Ten championship experience, has played in multiple NCAA tournaments and will be a major contributor that Miller and the new coaching staff will be able to depend on in their first season at Indiana.
Quotable: "We are thrilled that Collin has decided to come back and play next season. Having an individual who has won a Big Ten championship and had success in the NCAA Tournament gives our program a big lift. He brings leadership and intangibles that can do nothing but help us achieve our goals." – Miller on Hartman's decision to return to Bloomington for a fifth season.
Filed to: Collin Hartman