That's A Wrap: Josh Newkirk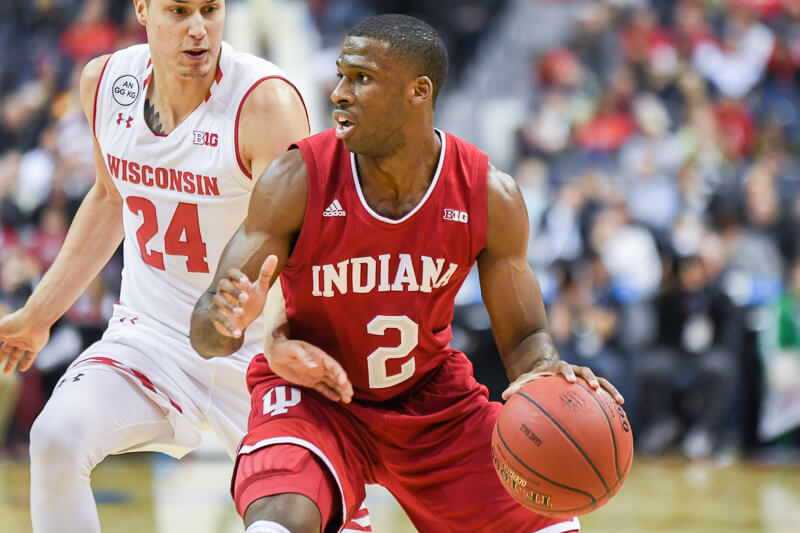 Welcome to "That's A Wrap," our player-by-player recap of the 2016-2017 Indiana Hoosiers. Up next: Josh Newkirk. (Previously: Devonte Green, De'Ron Davis, Grant Gelon, Curtis Jones, Juwan Morgan, Thomas Bryant, OG Anunoby, Freddie McSwain)
Newkirk (34 games): 9.0 points, 3.1 rebounds, 3.1 assists, 50.6% eFG, 69.8% FT, 38.0% 3PFG% in 28.1 minutes per game.
As the only true point guard on the IU roster, Josh Newkirk started the season with big shoes to fill. After losing Yogi Ferrell, the Hoosiers had a huge void to fill in the backcourt. At the beginning of the 2016-17 season, there was talk of a breakout season for Newkirk, who was coming off microfracture surgery.
Newkirk started off trying to understand and get a feel for his role. He struggled at times deciding whether to pass to the main threats with James Blackmon Jr. and Robert Johnson, or take the shot for himself. But with injuries to Blackmon Jr. and OG Anunoby and a shooting slump for Johnson, the door opened for Newkirk to step up and carry more of an offensive load for the Hoosiers.
As a result, Newkirk found confidence in his shot and became more comfortable shooting from the outside or driving into the lane. Although Newkirk didn't match Ferrell's contributions in points scored, Newkirk led the team in assists, dishing out 108 this season.
In conference play, the Raleigh (N.C.) native averaged 10.3 points per game, shooting 38 percent from behind the arc. He scored in double-digits 12 times this season and managed two 20-point performances in back-to-back games. He had a career-high 27 points against Penn State where he kept the Hoosiers alive hitting a layup at the buzzer to send the game into double overtime. Indiana went on to win 110-102 in triple overtime. The next game, Newkirk added 22 points at Wisconsin on 4-of-6 shooting from behind the 3-point line.
As the season went on, Newkirk's consistency also improved. Once he started driving into the lane and shooting more, his turnovers decreased and his offensive efficiency leveled out. Newkirk scored 11 points in three straight games against Michigan, Minnesota and Iowa. In IU's second road win of the season, Newkirk contributed 18 points and five assists to beat Ohio State. In his last 12 games of the season, Newkirk shot 44.6 percent (21-of-47) from behind the 3-point line.
Bottom Line: In his final year of eligibility, Newkirk will need to commit fewer turnovers – he had 76 this season – and make significant improvements on defense. Under new coach Archie Miller, Newkirk will have to fully grow into his role as a senior leader and continue to work on his decision making and shooting.
Quotable: "He's got to take that next step with his feet. We keep showing him film of how much more explosive he can be. The bottom line is that he needs to make better decisions with the ball, he's making some turnovers right now that can't be made but he's shooting the ball better. Newkirk needs to take command of the team." – Tom Crean on Newkirk on his radio show on Dec. 5.
Filed to: Josh Newkirk