That's A Wrap: OG Anunoby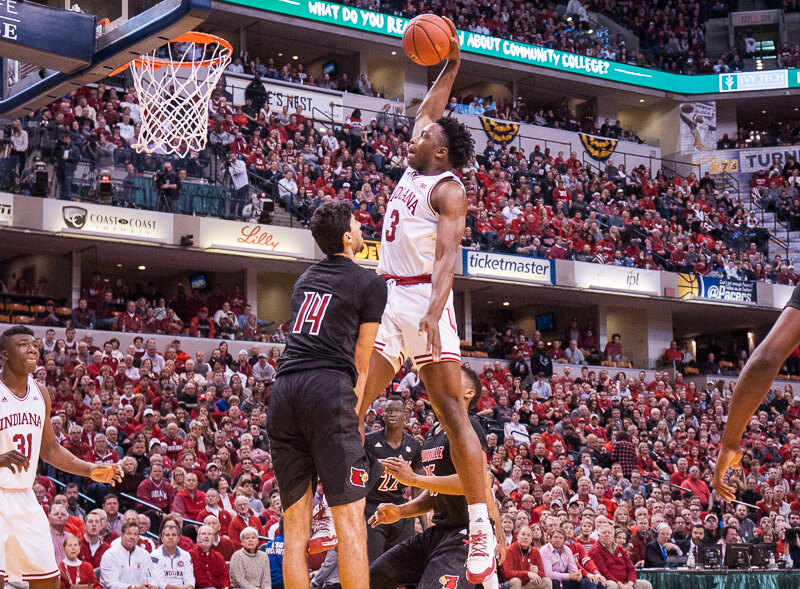 Welcome to "That's A Wrap," our player-by-player recap of the 2016-2017 Indiana Hoosiers. Up next: OG Anunoby. (Previously: Devonte Green, De'Ron Davis, Grant Gelon,Curtis Jones, Juwan Morgan, Thomas Bryant)
Anunoby (16 games): 11.1 points, 5.4 rebounds, 1.4 assists, 1.3 steals, 1.3 blocks, 61.5% eFG, 56.3% FT, 31.1% 3PFG in 25.1 minutes per game.
OG Anunoby entered his sophomore season with enormous expectations.
After his role grew from fringe rotation player to a key sub in IU's turnaround in 2015-16 that included a Big Ten title and a run to the Sweet Sixteen, Anunoby was viewed as a potential All-American.
And with good reason.
His defense in IU's NCAA tournament round of 32 win over Kentucky was a game-changer. He blocked a pair of 3-point attempts by Jamal Murray at crucial times to help the Hoosiers prevail over the Wildcats. His measurements are perfect for a forward – 6-foot-8 and 235 pounds with a 7-foot-6 wingspan. He displayed a shooting touch as a freshman (44.8 percent on 3s) that suggested he was capable of a big leap forward offensively as a sophomore with a larger role.
But a season ending knee injury suffered in IU's 78-75 win over Penn State on Jan. 18 cut Anunoby's final season in Bloomington short.
Prior to his injury, Anunoby's sophomore campaign had its share of ups and downs, much like Indiana's season. Anunoby looked terrific in early season scrimmages and IU's two exhibition games. He outplayed Josh Jackson in IU's season opening win over Kansas in Hawaii. He had 16 points in IU's win over North Carolina in late November and looked like a potential All-American.
But as you might expect from a player short on experience, there were moments where Anunoby showed that his game was still very much a work in progress. His 3-point shooting percentage dipped to the low 30s. His free throw percentage improved from his freshman season, but was still well below average at 56.2 percent. In IU's 3-game losing streak to Nebraska, Louisville and Wisconsin, he had 10 turnovers in three games.
His talent and athleticism, however, was never a question mark. When he was on, Anunoby was a challenge that few had answers for on either end of the floor. He was strong enough to guard post players, but athletic enough to stick with players on the perimeter. And when he had a full head of steam going to the basket, the result usually wasn't pretty for the defense:
Word leaked on Monday that Anunoby's intention is to enter the 2017 NBA draft and hire an agent, which means his Indiana career will end before it was able to hit full stride.
Several mock drafts still list him as a potential late lottery pick and nearly every projection has him going in the first round. Despite his injury, Anunoby is the definition of a "3-and-D" forward in today's NBA and a team will be willing to bet on his upside. It's a bet that could pay off in a major way as Anunoby hasn't even begun to scratch the surface on his long term potential.
Bottom Line: Assuming he makes a complete recovery, which is the expectation, Anunoby's best basketball is ahead of him. He doesn't project as a star offensively, but he's good enough in spot-up situations, in transition and as a straight line driver to be effective. Defensively, his versatility will make him a valuable asset in the NBA as he's able to comfortably guard three or four different positions. As far as his IU legacy goes, he'll be fondly remembered as a player who exhibited a business-like approach and was an instrumental part of the program's turnaround 2015-16 season.
Quotable: "OG has a very strong faith and a courageous spirit. We are going to do everything as a basketball family to help him recover and rehabilitate from this unfortunate situation." – Tom Crean after Anunoby's season ending surgery was announced in late January.
Filed to: O.G. Anunoby