That's A Wrap: Freddie McSwain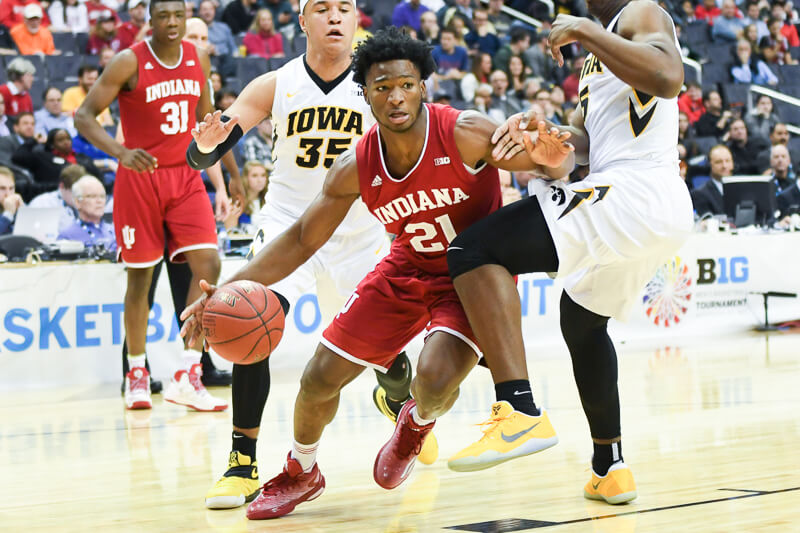 Welcome to "That's A Wrap," our player-by-player recap of the 2016-2017 Indiana Hoosiers. Up next: Freddie McSwain. (Previously: Devonte Green, De'Ron Davis, Grant Gelon, Curtis Jones, Juwan Morgan, Thomas Bryant, OG Anunoby)
McSwain (31 games): 2.7 points, 2.5 rebounds, 55% FG, 62.5% FT in 8.1 minutes per game
A junior college transfer from Hinesville, Georgia, Freddie McSwain didn't play organized basketball until he was a junior in high school. Four years later, McSwain found himself earning consistent minutes for the Hoosiers.
Coming off knee surgery early last fall, McSwain's role increased as his health improved, and so did his play.
McSwain was scoreless in eight of his first 19 games and had difficulty cracking the rotation. The struggles continued into conference play, where he didn't hit a field goal until the Jan. 18 contest at Penn State.
But when the Big Ten schedule neared its conclusion, McSwain began to find his rhythm. Over the last seven games of the regular season, McSwain shot 71 percent from the floor (12-of-17) and grabbed 19 offensive rebounds.
Tom Crean compared McSwain to an NFL tight end, and with the way he threw down alley-oops this past season, it wasn't hard to see why.
The upward trend continued in postseason play. In the blowout win over Iowa, McSwain threw down back-to-back dunks. In the NIT loss at Georgia Tech, McSwain was one of the lone bright spots, scoring four points and grabbing three rebounds in a career-high 19 minutes.
The vast majority of McSwain's work was done in the paint. Of his 32 made field goals on the season, 31 were either dunks (9) or lay-ups (22, of which 4 were tip-ins).
He finished the season with the best offensive and defensive rebounding percentages on the team (17.1 and 18.3 percent of possessions respectively, per KenPom), but was near the bottom in turnover rate (26.3 percent) and assist percentage (2.8 percent).
Foul trouble often prevented McSwain from receiving more minutes. In conference play, McSwain committed one foul every 4.4 minutes. On Feb. 12 vs. Michigan, McSwain fouled out after logging just eight minutes.
Bottom Line: McSwain's athleticism and ability to snag offensive rebounds are his two best assets, which is why he's at his best when he's working in the paint. A full offseason with Indiana should allow McSwain to fully heal and improve his offensive skill set. With just one year of eligibility left, it will be interesting to see how Archie Miller will use him. If remains in the rotation, he'll be relied on to be a workhorse inside.
Quotable: "I don't know if there were ever any days where we would go to the gym and not see him in there, shooting, dribbling, working around the basket, and then he just started dunking everything. Everybody around here kind of saw the transformation of Freddie," – David Linderman, McSwain's AAU coach, to the Indy Star in May 2016.
Filed to: Freddie McSwain