That's A Wrap: James Blackmon Jr.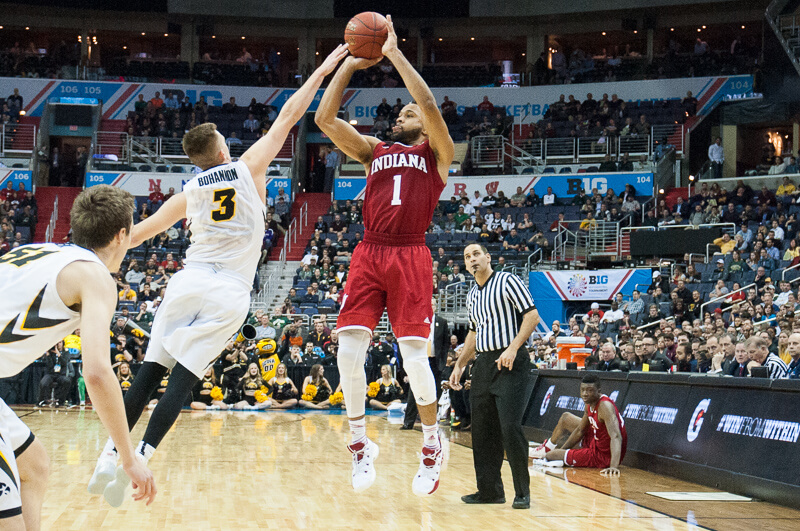 Welcome to "That's A Wrap," our player-by-player recap of the 2016-2017 Indiana Hoosiers. Up next: James Blackmon Jr. (Previously: Devonte Green, De'Ron Davis, Grant Gelon, Curtis Jones, Juwan Morgan, Thomas Bryant, OG Anunoby, Freddie McSwain, Josh Newkirk, Tim Priller)
Blackmon (30 games): 17.0 points, 4.8 rebounds, 1.9 assists, 0.7 steals, 83.7% FT, 60.1% eFG, 42.3% 3PFG in 30.5 minutes per game
Coming off a knee injury that forced him to miss the final 22 games of the 2015-16 season, James Blackmon Jr. had his best collegiate season as a junior.
The shooting guard from Marion, Indiana, has always been known for his prolific scoring ability, and that continued in his junior year.
Blackmon's season began with an impressive performance in Honolulu, where he scored 26 points and knocked down four triples in an overtime win over No. 3 Kansas.
Less than two weeks later, Blackmon suffered a knee injury in the loss at Fort Wayne but missed just one game. In his next appearance against UNC, Blackmon hit the game-sealing trey late in the second half.
The only game that saw Blackmon fail to make a three was on Jan. 15 vs. Rutgers when he missed all eight attempts. Three days later, Blackmon regained his stroke, going 5-for-11 from deep at Penn State, including one at the horn to clinch the victory.
His best game of the season came in the win over Michigan State on Jan. 21. Against the Spartans, Blackmon tied career-highs in points (33) and threes made (6).
The following game, Blackmon didn't attempt a shot in the second half in Ann Arbor and missed the next three games with a lower leg injury. He returned to an Indiana team in freefall and was unable to stem Indiana's losing skid. Blackmon appeared in the final four games of Indiana's five-game losing streak and shot just 32 percent from three (11-for-34).
When the skid came to an end, Blackmon was a large reason why. The Hoosiers would not have beaten Northwestern in their final home game of the season if it wasn't for his late three that cut the deficit to two.
Blackmon posted career-highs in offensive rating (122.7), two-point field goal percentage (55.3) and 3-pointers made (91), earning third team All-Big Ten status from the media and honorable mention from the coaches.
The most improved aspects of Blackmon's game were his ball handling and ability to drive to the basket. When his crossover move was in full form, creating separation became a rudimentary task.
Blackmon is one of three Indiana players to enter the NBA Draft without yet hiring an agent. He'll have until May 24 to decide if he'll stay in the draft or return for his senior season.
Bottom Line: Although Blackmon's defense isn't a strength of his game, his offensive ability is unquestioned. He's proved himself to be one of the best scorers in the Big Ten, and if he returns for his senior season, would provide an enormous boost to Indiana's offense.
Quotable: "(Blackmon) just did it flawlessly. He got the ball out in front, he timed up his dribbles, his footwork was excellent, his follow through was there. A lot of times, what happens in those situations when you're taking a shot at the end of the game, it's very easy not to take a fundamental shot. It's very easy to kick your leg or not follow through or rush the ball. He didn't do any of that and was rewarded with a bucket," Tom Crean on Blackmon's buzzer-beater over Penn State.
Filed to: James Blackmon Jr.