Hartman not ruling out a return this season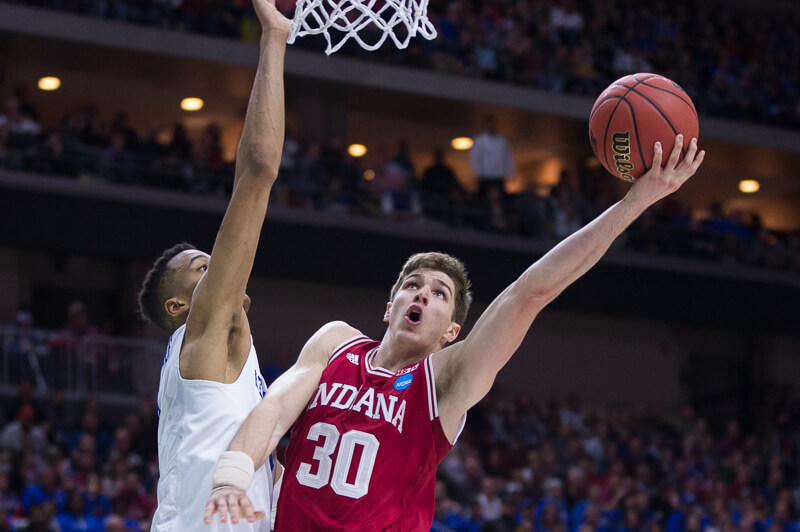 Indiana senior forward Collin Hartman isn't ready to declare that he'll miss the entire 2016-2017 season.
Speaking to the media for the first time since undergoing surgery for a non-contact injury to his left knee, Hartman didn't rule out a return the floor this season.
He wasn't, however, ready to discuss any of the details pertaining to his injury or the procedure he underwent last month.
"Obviously I would love to be back," Hartman said. "Who knows when I'll be back. Early (season), late, middle, I don't know. I just have to stay focused and literally take it day-by-day. If I look too far ahead, I'll get disappointed with where I'm at."
The lone senior on Indiana's roster, Hartman was injured on Tuesday, Sept. 20 during a drill during an individual workout. He underwent surgery on Monday, Sept. 26.
The rehabilitation process is already well underway for Hartman. Indiana coach Tom Crean recently said that he's already been doing some stationary shooting.
"I've been shooting a little bit, not a lot," Hartman said. "I've been slowly working my way back into things. I don't want to rush back because re-injuring, I would hate that obviously. Just stay with what Timmy G (Tim Garl) and all the doctors are saying with rehab and just staying focused."
This isn't the first injury Hartman will have to overcome in his Indiana career.
Following his freshman season, he suffered a torn ACL in his right knee after planting his knee wrong in a drill. He subsequently missed Indiana's trip to Montreal in August of 2014, but returned as a sophomore to play in 32 of Indiana's 34 games.
Hartman's mom, Melissa, recently underwent a seventh knee surgery just a few days prior to his injury occurring.
"We were at home for a few days together (after surgery)," Hartman said. "We would yell between rooms.
"I call her in the morning sometimes just to be like, 'how are you doing? what are you doing in rehab today?' Just keep her spirits up, too, because if I'm focusing on somebody else it makes my process easier."
If Hartman is unable to play this season, Crean said recently that a medical redshirt would be a possibility.
"Long-term if it gets to that, yeah, absolutely, but again, he's a senior," Crean said on Sept. 30. "It's got to be something that down the road he would want — it's too early — it's very — you can speculate the moment it happens, right, but it's too early to put real timeline on exactly how he responds because he is a senior. Let's see how responds to the rehabilitation. But that certainly, that would be on the table for sure down the road."
Filed to: Collin Hartman