That's A Wrap: Zach McRoberts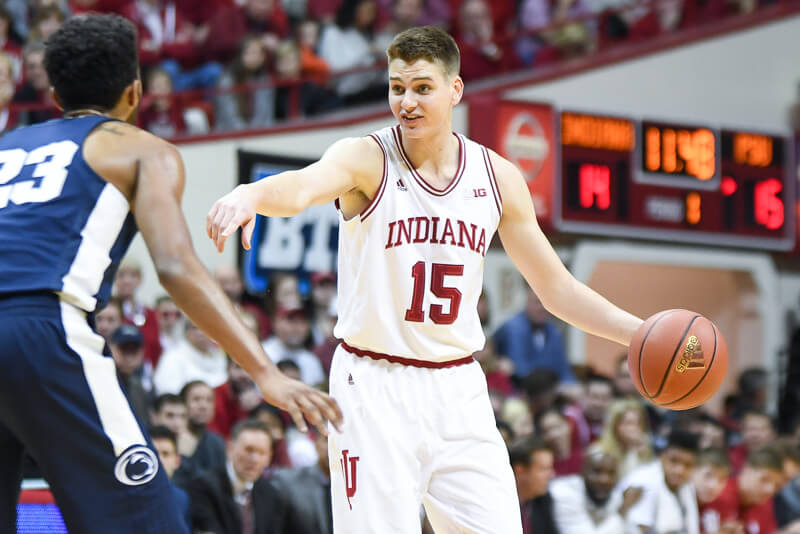 Welcome to "That's A Wrap," our player-by-player recap of the 2016-2017 Indiana Hoosiers. Up next: Zach McRoberts. (Previously: Devonte Green, De'Ron Davis, Grant Gelon, Curtis Jones, Juwan Morgan, Thomas Bryant, OG Anunoby, Freddie McSwain, Josh Newkirk, Tim Priller, James Blackmon Jr., Robert Johnson, Collin Hartman)
McRoberts (31 games): 0.8 points, 1.5 rebounds, 0.9 assists, 100% FT, 40.7% eFG, 33.3% 3PFG in 11.3 minutes per game
Not much was expected of walk-on Zach McRoberts entering his first season in Bloomington.
A former Indiana All-Star from Carmel, McRoberts signed with Vermont as a member of the 2014 class and played one season for the Catamounts. But McRoberts decided to transfer following his freshman season and landed at Indiana as a student during the 2015-16 academic year.
He had no intentions of playing basketball again – and he didn't have tickets to IU games, either – but watching the NCAA tournament drew McRoberts back in. Indiana won two games in the 2016 NCAA tournament and it wasn't long after that McRoberts decided he wanted to give basketball another try.
"I would just watch the games on TV and listen to all of my friends talking about it," he said last summer. "And then just watching the (NCAA) tournament, that competitive spirit, you don't get that anywhere else."
In late April of 2016, McRoberts contacted an IU assistant coach regarding his interest in joining the program as a walk-on and he officially joined the program last June.
An injury to Collin Hartman last fall and a midseason injury to OG Anunoby gave McRoberts an opportunity to crack the rotation as a redshirt sophomore. And for the most part, he filled his role capably.
While not much of a threat to score, McRoberts was a strong defender and a willing passer. He appeared in every Big Ten game but one and scored in five different conference contests.
The younger brother of Josh McRoberts, an NBA veteran, it's clear that McRoberts was well coached at Carmel and he proved to be a valuable addition in his first season in Bloomington.
Bottom Line: Not many walk-ons play the type of minutes McRoberts played last season for the Hoosiers. He averaged more minutes per game than four of IU's scholarship players – Tim Priller, Grant Gelon, Freddie McSwain and Curtis Jones. While his role may not be as major as a junior, McRoberts will be an asset to Archie Miller and the new coaching staff because of his experience and his ability to play defense.
Quotable: "Just pushing my teammates. Being able to make them better. Anything I can do to help the team win is kind of what I've done throughout my career playing. I'm not worried about stats or playing time. It's just doing what I can to help the team win." – McRoberts last summer on what he hoped to bring to the program.
Filed to: Zach McRoberts