2016-2017 Player Profile: Freddie McSwain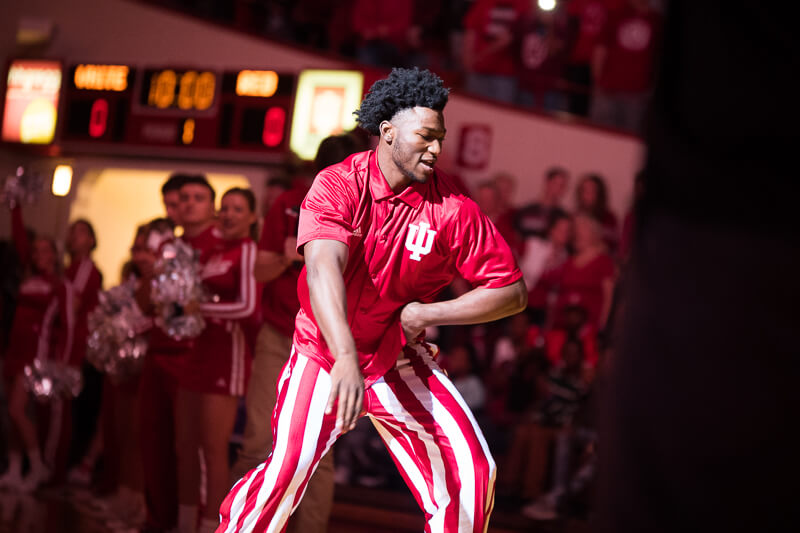 With the start of college basketball season on the horizon, we're taking a long look at the conference at large as well as Indiana's roster this month. Today, we continue our look at Indiana's roster with Freddie McSwain.
A surprise late edition to Indiana's 2016 class, Freddie McSwain is this season's X-factor.
The junior college signee from Neosho County Community College (Kansas) has plenty of upside with his springy athleticism, good hands and strong instincts around the rim. Couple these skills with a 6-6 muscular, broad frame, one Tom Crean compared to an NFL tight end's earlier this month and his potential is easy to see.
But for now, McSwain remains a work in progress. Despite his talents, the Georgia native came to campus this summer as a late-blooming basketball talent who will need time in Crean's proven player development system to get up to Big Ten speed. And his later than expected arrival to Bloomington coupled with knee surgery earlier this fall has taken away valuable on-court learning and development hours.
"It's hard to tell," Crean said about McSwain's recovery timeline from knee surgery earlier this month at Big Ten media day in Washington, D.C. "But being able to be in the full speed mode, it's going to be some time in November I think."
With some uncertainty about McSwain's return to action and Indiana's first exhibition game just one week from today, it could be a while before his impact as part of the Hoosiers' lineup is felt.
Defensively, his physical profile is the cherry on top to perhaps the most intimidating frontcourt of the Crean era, and his coach is bullish on his contributions on that side of the ball.
"He comes in and he makes our defense better," Crean said. " … came in here and set the squat record. Freddie is really strong. He's active and athletic, like he's going to make our defense better."
Offensively, that activity and athleticism could make McSwain a threat on the break to finish with authority at the rim, a nice counter balance to the ball handlers and trailing 3-point shooters. In the half court, McSwain probably won't join the chorus of consistent 3-point shooters the Hoosiers have. Video of him at Neosho County shows a shot that needs improvement.
But he could flourish around the rim. He's shown promise as a paint scorer on both sides of the basket. And his positioning, instincts and leaping ability make him a good offensive and defensive rebounder. It's possible he could also fill the Troy Williams role in IU's halfcourt offense: roaming the baseline and short corners, the defense one rotation away from him using the given space and converting at the basket with athleticism.
Bottom Line: By not participating in Indiana's televised practice or at Hoosier Hysteria, Indiana fans have yet to give McSwain an eye test in the cream and crimson. Collin Hartman's injury does create more minutes in the rotation, but McSwain faces competition against a frontcourt with depth featuring an emerging Juwan Morgan and freshman De'Ron Davis, who despite a late arrival as well, is getting in daily reps against NBA talent Thomas Bryant. All that said, McSwain could very well become a player Crean trusts and uses regularly once the thick of the Big Ten season hits and he gains more experience in the program. Time will tell.
Quotable: "What stands out to me about Indiana is the player development. I worked out with them and saw a lot of things that were new to me, that I hadn't seen before. Coach (Tom) Crean saw a lot of things that I needed to work on in my game and I like that." — McSwain in April
Previously: Devonte Green, Grant Gelon, Curtis Jones, De'Ron Davis, Juwan Morgan, OG Anunoby, Thomas Bryant, Josh Newkirk
Filed to: 2016-2017 season preview, Freddie McSwain