Notes and quotes from Tom Crean's Friday media availability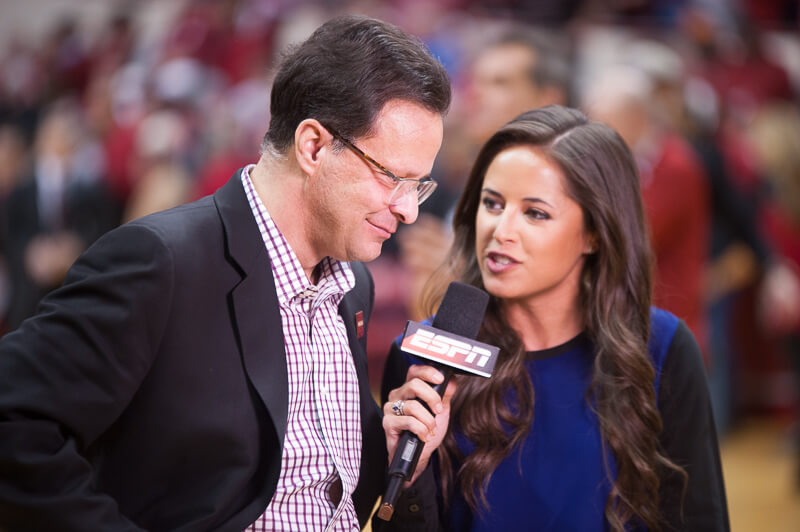 On Friday, Indiana coach Tom Crean addressed the media following prior to the team's first practice of the season at Cook Hall.
The full press conference is available here, but we've summarized the most notable takeaways below:
· Crean offered his condolences to the Hoeppner family following the loss of Allison Hoeppner. "I can't imagine what they're dealing with, but when you look at them, it's hard not to see just incredible strength," Crean said.
· Crean recognized John Laskowski for being selected for the IU athletics Hall of Fame as well as Landon Turner for receiving the Clevenger Award.
· IU football also received a mention as Crean encouraged fans to stay for the entire game in Memorial Stadium: "It pains everybody when people leave early, because that's not what Indiana — it's not what Indiana is about. I mean, when we were really struggling at times, people weren't leaving us; that's why we made so many good comebacks."
· On the Hartman injury: "So now, especially with Collin going down, which is hard — I mean, it's just hard. I just love that kid. He's been through so much, and I know you're going to ask me about timelines. I don't have a timeline, okay, because I'm most concerned right now about his mindset. He just got back here, and that young guy was putting so much into getting ready to be our senior leader, and we're going to need it."
· Health updates: Robert Johnson was cleared last Monday, Juwan Morgan won't be cleared for a few more weeks at the very least. Freddie McSwain recently underwent knee surgery to correct some issues that he had in the past that flared back up again. He's going to be back "fairly soon."
· On McSwain's potential impact: "He comes in and he makes our defense better. He looks like an NFL tight end, came in here and set the squat record. Freddie is really strong. He's active and athletic, like he's going to make our defense better."
· Crean mentioned that OG Anunoby texted him in the offseason asking him to guard point guards this season.
· Freshman De'Ron Davis has missed some time with a "couple injury situations that have shut him down from time to time."
· On the improvement of Thomas Bryant: "He's really gotten better athletically, and in 14 months, 14 and a half months, his vertical has gone up 14 inches, and I've never been around anybody that's done that, and squat has gone up to — it's almost jumped 200 pounds since he got here last June. Again, one of the biggest need areas for him were feet and lower body, right, quicker feet, lift his feet, lower body being stronger, and he's well on the way to doing that. Well, now we've got to apply it to the court where it actually has to go against other people like his size, and certainly no sooner than when we get to Hawaii, he'll be dealing with that."
· A medical redshirt for Hartman could be a possibility if it gets to that, according to Crean.
· Crean expects Indiana to have a tremendous offensive rebounding team.
· On a few areas of emphasis: "We've found some places that we can be a lot better on the offensive and defensive end, and I think it's up to me and the coaches to make sure we're adhering to that constantly in how we set up practice, and we can get way better moving without the ball. We can get way better at using more floor space. We can get way better at going into the post. We can get way better at taking care of the ball. We can get way better at defense. We can get way better at our defensive rebounding, so there's a long list. Hopefully at the end of two weeks we feel like we've made a dent or got the introduction done and made a dent in some of that."
· On James Blackmon Jr. as he prepares for his junior season: "Making the game simple, him getting better at moving without the ball, him being ready to shoot. Not everybody coming out and trying to show how much better they are at the things that they've worked at because they are. I mean, we have added some real skill. I have no doubt. But now we've got to transfer it to live, right, and the best way to do that is to make it as simple as possible."
Filed to: Tom Crean