Injuries leave Hoosiers short-handed as practice begins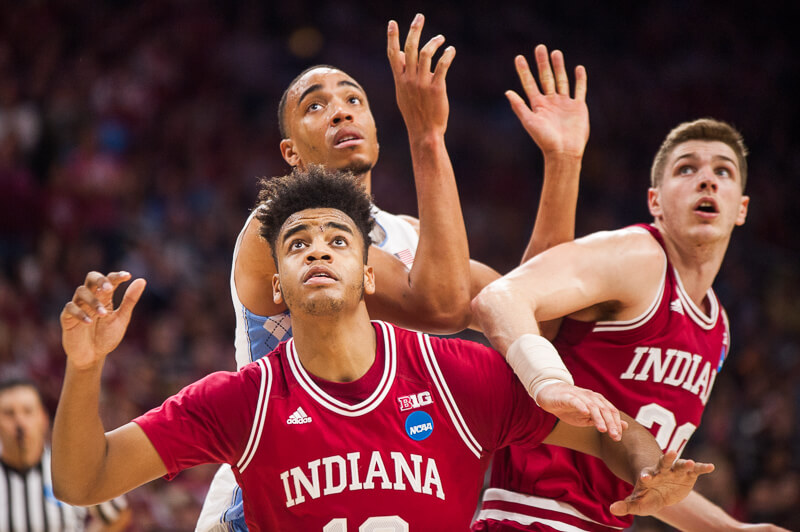 Indiana held its first practice for the 2016-2017 season on Friday afternoon at Cook Hall without its complete roster intact.
A recent knee injury to Collin Hartman that required surgery has sidelined IU's lone senior without a timetable for his return. Junior Freddie McSwain had recent knee surgery and is unable to go for now. Juwan Morgan has not been fully cleared after offseason shoulder surgery. And freshman De'Ron Davis has been shut down at times with various injuries.
It's a challenge that Indiana will have to overcome as the Hoosiers are just a month away from their exhibition opener at Assembly Hall.
"We have not had a healthy team yet," Tom Crean said Friday. "That goes from when the season ended in Philadelphia to when we get started today. We never went up and down the court five-on-five this summer because we didn't have enough healthy guys to do that. We got better, we had great workouts, everybody has improved, but we haven't had that."
The Hartman injury will have the biggest impact on Indiana long term. Crean said the Cathedral product just returned to Bloomington following surgery and social media photos posted by Indiana showed him on crutches with his knee in a brace.
It's the second knee surgery for Hartman in his IU career as he required surgery from a torn ACL in his right knee following his freshman season.
"I just love that kid," Crean said. "He's been through so much, and I know you're going to ask me about timelines. I don't have a timeline because I'm most concerned right now about his mindset. He just got back here, and that young guy was putting so much into getting ready to be our senior leader, and we're going to need it."
The prognosis for McSwain and Morgan sounded as if both will be back and available shortly. The surgery for McSwain, according to Crean, was to repair a previous issue that flared up again.
"He's a couple weeks away from going," Crean explained. And I add that because like that's the kind of guy — he comes in and he makes our defense better. He looks like an NFL tight end, came in here and set the squat record. Freddie is really strong. He's active and athletic, like he's going to make our defense better."
Morgan was named Indiana's "warrior of the summer" for his performances in offseason workouts, but won't be fully cleared for at least a few more weeks.
The Hoosier backcourt is fully cleared as James Blackmon Jr. has been available for a few weeks and Robert Johnson, who had offseason ankle surgery, was cleared on Monday.
With a tough schedule out of the gate that includes a neutral court game in Hawaii against Kansas, Indiana only has six weeks to get ready for an opponent that could be ranked in the preseason top five.
"The exciting part is we get to keep building on that as we go," Crean said. "Have no idea how many steps it's going to take for us to really grow and get to be good, but they're there, and we've just got to take them, as corny as it sounds, one step at a time, not knowing how big one is, not knowing how steep one is, not knowing how long one is."
Filed to: Collin Hartman, Deron Davis, Freddie McSwain, Juwan Morgan, Tom Crean