2016-2017 ITH Season Preview: Ohio State Buckeyes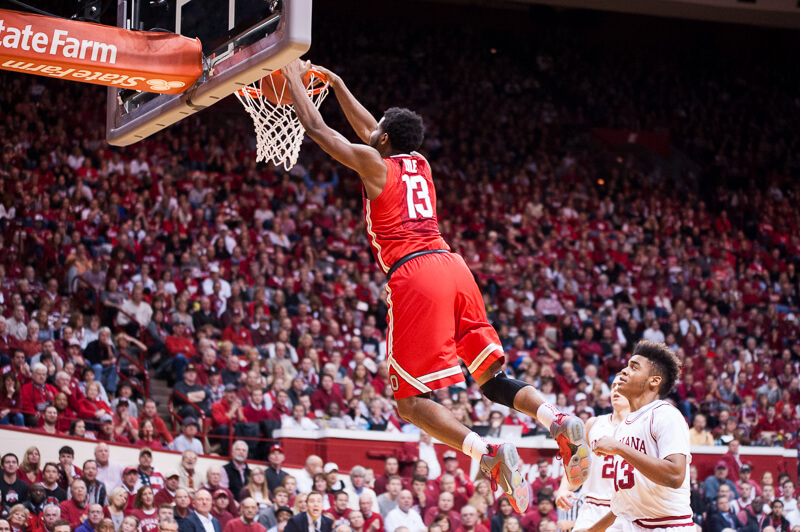 With the start of college basketball season on the horizon, we'll be taking a long look at the conference at large as well as Indiana's roster over the next month. Today, we continue our Big Ten team previews with the Ohio State Buckeyes.
After missing the NCAA tournament for the first time since 2008, there's plenty of uncertainty as Ohio State enters the 2016-2017 season.
Thad Matta's 2015 recruiting class was ranked in the top five nationally by the 247Composite, but only JaQuan Lyle remains from that five-man group as the four others transferred out of Columbus. Still, there's enough talent present in Columbus to suggest that the Buckeyes may be in line for a turnaround this winter.
The primary reason for optimism begins with the fact that Ohio State returns its top six scorers from a team that won 21 games a season ago and made the NIT.
In the backcourt, Lyle returns for his sophomore season after using a team-high 25.7 possessions while on the floor as a freshman. The Evansville native averaged 11.2 points last season and also dished out a team-best 147 assists. Turnovers, however, were a problem as Lyle committed 104 for a turnover percentage of 23.
Joining him in the backcourt/wing rotation will be junior Jae'Sean Tate, who battled injuries last season and redshirt junior Kam Williams. If Tate can stay healthy – a big if – he could be Ohio State's best player. At just 6-foot-4, Tate is undersized for a forward, but can guard multiple positions. He averaged 11.7 points and 6.4 rebounds in 28 games last season. Williams made 43.7 percent of his 3s last season and posted the highest offensive rating on the roster at 117.6.
Junior college signee C.J. Jackson could see minutes in the backcourt after averaging 16.9 points, 4.4 assists and 2.3 steals last season at Eastern Florida State. Jackson was a second team NJCAA All-American.
The Buckeyes also return their two leading scorers in forwards Marc Loving and Keita Bates-Diop. Loving, a 6-foot-7 forward, averaged 14 points last season and did a solid job of drawing fouls. Loving took a team-high 172 free throws last year. His 3-point shooting took a big dip from 46.1 percent as a sophomore to 33.9 as a junior, so a bounce back effort is pivotal for Loving as a senior.
Bates-Diop oozes potential, but needs to put it all together to establish himself as one of the league's best frontcourt players. At 6-foot-7 with length and plenty of ball skills, Bates-Diop can be a matchup problem when he's playing well. He averaged 11.8 points and 6.4 rebounds last season.
Junior Trevor Thompson returns to anchor the paint after testing the NBA draft waters. Thompson ranked in the top 15 last season in the conference in both offensive and defensive rebounding percentage, but needs to finish better. He shot just 52.2 percent from the field as a sophomore.
Freshman forward Derek Funderburk arrives as a 247Composite top 100 recruit and sophomore David Bell also returns and could take over some of the minutes vacated by the transfer of Daniel Giddens. Funderburk is the highest ranked incoming Ohio State recruit.
Bottom Line: Ohio State is talented and perhaps the chemistry will improve this season after the mass exodus of the 2015 recruiting class. Matta has a pretty solid returning nucleus and typically plays a small rotation, so if Funderburk, Jackson and a few others can fill in the gaps in the rotation, the Buckeyes could be in line to surprise. The main thing to watch will be the offense, which ranked just 10th in league play last season. Ohio State must do a better job at taking care of the ball and shoot it better than average in league play to return to the NCAA tournament.
Quotable: "After the Florida game I told the guys two things: No. 1, I said I'm tired of the B.S. I'm going back to coaching basketball. I'm going back to running this program the way we did when we got here. The second thing is some of you are going to transfer. You don't know it yet, but whatever you do don't come see me. Just shoot me a text, because I'm tired of looking at you. And we got rid of some guys that we needed to get rid of. We got rid of problems, but we kept solutions." – Matta in a video released in July.
Media day today! No players around yet to try on our new style uniforms so Coach Matta gave it a shot! #StillGotGame #GoBucks pic.twitter.com/hDfhcC6KYU

— OSU BASKETBALL (@OhioStateHoops) September 29, 2016
Previously: Rutgers, Minnesota, Nebraska, Illinois, Iowa, Northwestern, Penn State
Filed to: 2016-2017 Big Ten preview, Ohio State Buckeyes