2016-2017 ITH Season Preview: Rutgers Scarlet Knights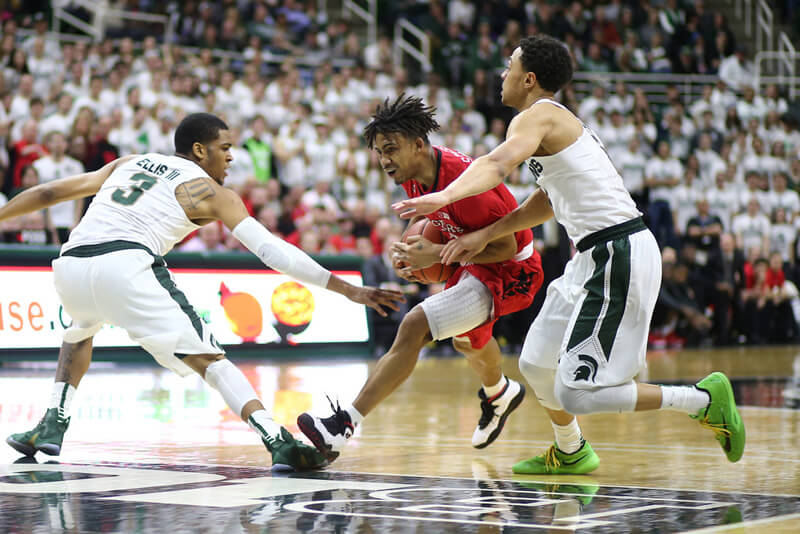 With the start of college basketball season on the horizon, we'll be taking a long look at the conference at large as well as Indiana's roster over the next month. Today, we begin our look at the Big Ten with the Rutgers Scarlet Knights.
After posting just a 3-33 record in Big Ten play over the past two seasons, Rutgers decided it needed new direction for its men's basketball program.
The Scarlet Knights fired Eddie Jordan last March after three seasons and hired Steve Pikiell, who spent the previous 11 seasons building Stony Brook into a power in the America East conference. At Stony Brook, Pikiell reached the NCAA tournament four times. In 2015-16, he led the Seawolves to 26 wins before losing to Kentucky in the first round of the tournament in Des Moines.
The road to building Rutgers into just being respectable in the Big Ten will be daunting for Pikiell. The Scarlet Knights have not reached the NCAA tournament since 1991.
Headlining the group of returnees for Rutgers is sophomore Corey Sanders, who tested the NBA waters before deciding to come back to school. We ranked Sanders among our top 25 players in the conference for the upcoming season after he averaged 15.9 points, 4.3 assists, 3.3 rebounds and 1.8 steals per game as a freshman.
However, there's plenty of work to do for the 6-foot-2 point guard. Sanders shot a dismal 26.3 percent on 3s as a freshman in conference play. He also had the worst efficiency numbers as the ball handler in pick-and-roll situations of any player in the league who had at least 100 possessions.
Joining Sanders in the backcourt rotation are juniors Mike Williams and Nigel Johnson, a Kansas State transfer. Williams attempted a team-high 150 3-pointers last season, but connected on just 32 percent. The 6-foot-1 Johnson averaged 5.2 points in 17.9 minutes per game as a sophomore at Kansas State.
Sophomore Jonathan Laurent, a 6-foot-6 sophomore, is likely to see rotation minutes on the wing. He was solid as a freshman at getting to the foul line with a free throw rate (FTA/FGA) of 44.3 percent. Freshman wing Matt Bullock was described by The New York Post as an "an under-recruited yet tough-minded and multi-talented senior who becomes the first New Jersey player to commit to Rutgers since Myles Mack in 2011." Canadian wing Eugene Omoruyi was an August signee who averaged 17 points and eight rebounds last season at Orangeville Prep.
Up front, 6-foot-7 Deshawn Freeman returns for his junior season after averaging 13.1 points and 5.3 rebounds in 2015-2016. Freeman had the highest effective field goal percentage of any Rutgers frontcourt player last season at 51.7.
A few other names to know up front are 6-foot-10 sophomore Ibrahima Diallo, 7-foot grad transfer C.J. Gettys, 7-foot sophomore Shaquille Doorson, 6-foot-9 junior college signee Candido Sa and 6-foot-9 Issa Thiam. Collectively, this group will be the biggest frontcourt in the Big Ten, but will Pikiell be able to get the production necessary for it to translate to Big Ten wins?
Bottom Line: Rutgers is a unanimous pick to finish last in the Big Ten, but Pikiell has improved the roster in a matter of months. Size up front could be a potential strength and the backcourt should be improved with the return of Sanders and Williams along with the addition of Johnson. The Scarlet Knights are likely to struggle to shoot and score, but Pikiell should be able to move the needle a bit in terms of defense and rebounding.
Quotable: "They've actually made a lot of progress to be honest. The first time we had a workout I can't tell you how, oh my God. … I think we could be really good defensively — that's what I've learned. They want to run and they want to press. It's easy to say that; it's hard to do. So we have to get in better shape. I figured out we could be good defensively, which is a good thing, and we've got the longest way to go in that area. We were a team that didn't defend very well at all. So we could make the biggest gains on that end of the floor." – Pikiell to NJ.com last spring.
(Photo credit: Rey Del Rio/Getty Images North America)
Filed to: 2016-2017 Big Ten preview, Rutgers Scarlet Knights