2016-2017 Player Profile: Josh Newkirk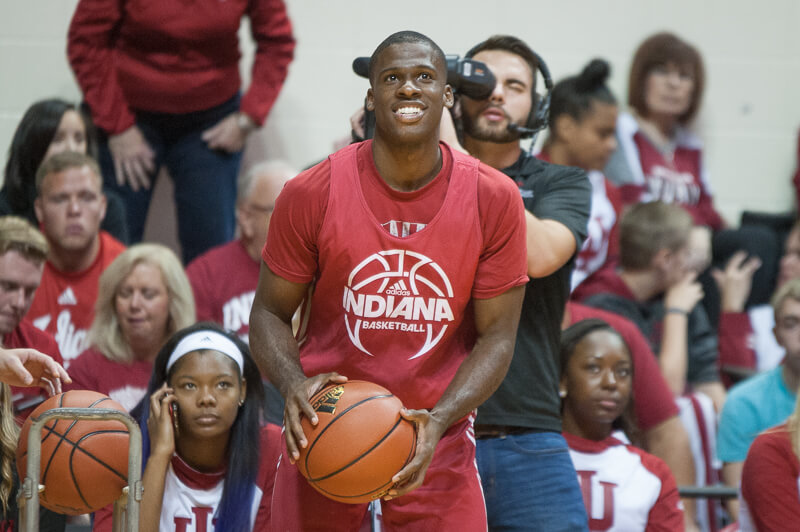 With the start of college basketball season on the horizon, we're taking a long look at the conference at large as well as Indiana's roster this month. Today, we continue our look at Indiana's roster with Josh Newkirk.
Redshirt junior Josh Newkirk is the only true point guard on IU's roster for the 2016-17 season.
Newkirk sat out last season due as a transfer from Pittsburgh. After making a full recovery from microfracture surgery, the 6-foot-1 guard has positioned himself to be an important piece of the IU guard rotation. IU recruited Newkirk during his high school years, but backed off after receiving a commitment from Stanford Robinson. On Saturday at Hoosier Hysteria, Tom Crean said the Hoosiers never should have stopped going after him.
As Crean presented Newkirk with his Big Ten Champions ring, he praised Newkirk's work ethic and competitive energy in practice. The Raleigh (N.C.) native improved behind the scenes last season, pushing the intensity level as hard as he could against Yogi Ferrell in practice. Crean has said multiple times that Newkirk was a driving factor that forced IU's guards to be better everyday.
Even though he sat out a year, Newkirk isn't looking at the time missed as a disadvantage. He spent the time observing Ferrell and the Hoosiers for an entire season. He learned leadership and the IU tradition. He analyzed each player's role and was able to understand how he can best fit into the IU rotation upon his return.
Newkirk's decision to come to Indiana was based largely on Crean's ability to develop players. During his two seasons at Pitt, he averaged 4.5 points and shot just 31.3 percent in 17.7 minutes per game. But he appears to have already made significant improvements at IU, particularly with his shooting.
The first time fans had the chance to see Newkirk on the floor as a Hoosier confirmed these claims. With the assistance of associate head coach Tim Buckley, Newkirk's shot looked promising on Saturday as he finished second in the 3-point shootout at Hoosier Hysteria. In the scrimmage, he looked comfortable and confident on the floor, showing true signs of becoming an offensive threat in the backcourt for the Hoosiers.
Bottom Line: Newkirk has the most experience playing point guard out of anyone on IU's roster. Newkirk will be an immediate part in the IU rotation, whether he's a starter or comes off the bench. He excels in transition and has become accustomed to the Hoosiers style of play. This season he has the potential and talent for a major breakout season after struggling at Pitt, suffering a knee injury. After sitting out last season, he's more than due.
Quotable: "Here is a lot more uptempo than Pittsburgh. So that'll help me get into the open floor, create for the other guys and getting into the lane and getting a lot of transition points." Newkirk last week at preseason availability.
Previously: Devonte Green, Grant Gelon, Curtis Jones, De'Ron Davis, Juwan Morgan, OG Anunoby, Thomas Bryant
Filed to: 2016-2017 season preview, Josh Newkirk