2016-2017 Player Profile: OG Anunoby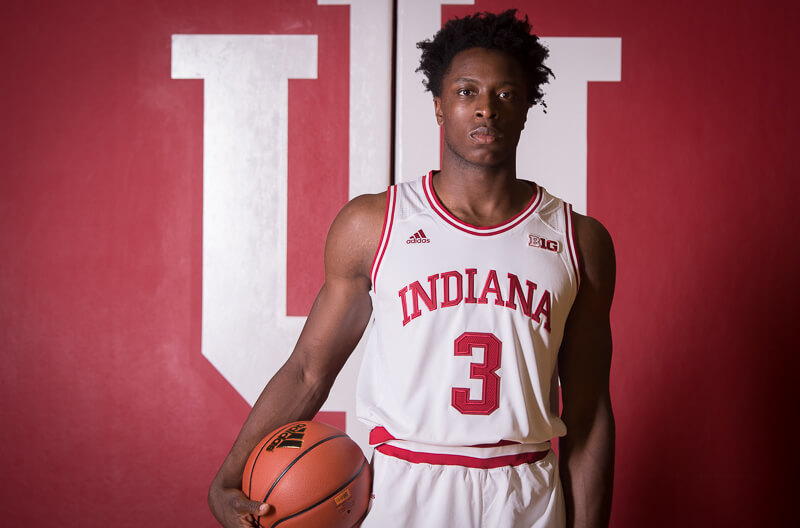 With the start of college basketball season on the horizon, we're taking a long look at the conference at large as well as Indiana's roster this month. Today, we continue our look at Indiana's roster with OG Anunoby.
Heading into his freshman season, few knew of 6-foot-8 wing OG Anunoby. An unheralded recruit from Jefferson City, Missouri, he was widely considered an afterthought in IU's 2015 recruiting class, ranked far lower than both Thomas Bryant and Juwan Morgan.
Through last year's nonconference slate, Anunoby had logged just 100 minutes on the court. In those 13 games, Anunoby never scored more than six points or played more than 17 minutes.
When Big Ten play started, something clicked, and Anunoby began to blossom. He started off the conference schedule posting consecutive career-highs, scoring eight at Rutgers and 11 at Nebraska. In a road game against Michigan State, Anunoby had the Breslin Center awestruck when he dunked over Kenny Goins.
"His work ethic is second to none," Juwan Morgan said of OG Anunoby on Wednesday. "Every time I'm in [Assembly Hall], OG is in here. Before practice, OG is in here. I knew it was just a matter of time before he really understood what he could do and applied it to the court."
In the first round of the NCAA Tournament, Anunoby effortlessly threw down a 360-degree dunk against Chattanooga on his way to a career night, finishing the blowout victory with 14 points on 6-of-7 shooting and adding two steals an assist and a rebound.
Can't. Stop. Watching. RT @MattGlenesk: Here's that OG Anunoby dunk again for you #iubb fans. (via @kelsey_kremer) pic.twitter.com/epNaLMTTBN

— Chronic Hoosier (@ChronicHoosier) March 18, 2016
Two days later, he shut down Kentucky's Jamal Murray, helping the Hoosiers reach the Sweet 16. The nation had taken notice.
Anunoby is now widely regarded as the top NBA prospect in the Big Ten and is one of 20 members of the preseason Julius Erving watch list, an award given annually to the best small forward in college basketball.
"I guess it's nice," Anunoby said. "But it doesn't mean anything. The season hasn't started. We haven't played any games yet."
Anunoby says he's spent the offseason with an increased focus on ball handling, shooting and growing as a leader.
"Just talking everything out," Anunoby said. "Communicating really, that's the big thing. Switches, defensive positioning, offense, who's going to post. All that stuff."
If the comments from his teammates are any indication, OG Anunoby could continue rising up draft boards and piling up accolades.
"People will see when the season starts how much OG has improved." Thomas Bryant said Wednesday. He's a key focal point for our team. He has improved so much since last year. I just can't wait for people to see it."
Bottom Line: Anunoby hasn't come anywhere near reaching his potential yet. His stats per 40 minutes as a freshman were outstanding: 14.2 points, 7.7 rebounds, 2.3 steals and 2.2 blocks while shooting 61 percent from inside the arc and 45 percent from beyond it. The sample size, however, was simply too small to make any declarative statements. But if he continues his upward ascent while maintaining efficient shooting numbers and lockdown defense, the Big Ten better watch out.
Quotable: "He's starting to use his body to his advantage. When he has a smaller player on him, he'll put him down in the post. He'll go down in the post more often. Also, he's more efficient from three-point range. Me and (Anunoby) go head-to-head almost every time we play basketball. Clashing together, iron sharpens iron, and he's getting so much better out there. He's taking full advantage out on the court." – Thomas Bryant at Big Ten media day.
Previously: Devonte Green, Grant Gelon, Curtis Jones, De'Ron Davis, Juwan Morgan
Filed to: 2016-2017 season preview, O.G. Anunoby