2016-2017 Player Profile: Devonte Green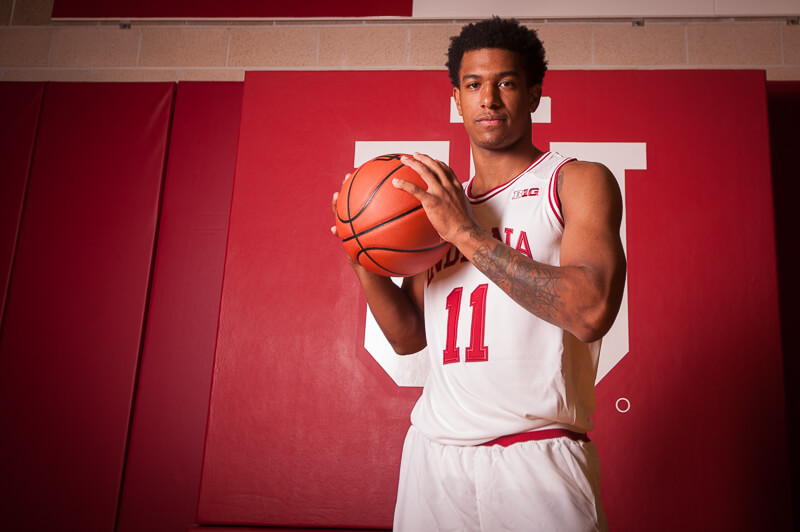 With the start of college basketball season on the horizon, we're taking a long look at the conference at large as well as Indiana's roster this month. Today, we begin our look at Indiana's roster with Devonte Green.
Devonte Green has some big shoes to fill.
The younger brother of San Antonio Spurs guard Danny Green, the 6-foot-3 combo guard will be following in the footsteps of Yogi Ferrell and Isiah Thomas, donning the number 11 while at Indiana.
Green, who has been playing varsity basketball since seventh grade, received offers from nearly 15 schools, including Arizona and Texas, before deciding on committing to Indiana back in January. Green said the biggest factors in his decision were his relationship with the coach and the style of play.
As a senior at Long Island Lutheran, Green was one of four finalists for Mr. Basketball New York. Green led the team in scoring, putting up more than 20 points a game.
"[Devonte]'s just a tremendous athlete and he had a couple of games where he rattled off seven or eight 3s for us," Long Island Lutheran coach John Buck told Inside The Hall back in June. "He's got that ability, he's just got to keep the game very simple and stay very consistent."
Green is known as a scoring guard but has developed an all-around game to match. He averaged 6.1 rebounds and 3.3 assists a game in his senior season while leading the Crusaders in steals and blocks.
"When he's locked in defensively – and everyone talks about him offensively – but defensively was his greatest asset for us," Buck said. "He's really, really good on the ball. He plays very hard. He has the ability to do so many different things just looking at his stat line."
In fact, Crean said at media day last week that Green was second on the team in deflections through the first 10 or 11 practices.
How much playing time Green receives his freshman year remains uncertain. The backcourt is already stacked with upperclassmen James Blackmon, Robert Johnson, and Josh Newkirk, as well as incoming top 60 guard Curtis Jones.
It will be vital for Green to make the most of his early season minutes if he wants to be a significant part of the rotation once conference play comes around.
Quotable: "Devonte just kept getting better and better. He's exactly what we want the program to be about, improvement. It's not just improving when you get to Indiana, it's the improvement you make before that. Devonte was one of those people, as we watched, I wanted to like him, I did like him. But I needed to see more, and by the time we offered him a scholarship, I'd seen plenty and I don't think we're even close to seeing how much we're going to see." – Tom Crean speaking to the media in June.
Filed to: 2016-2017 season preview, Devonte Green