2016-2017 Player Profile: Grant Gelon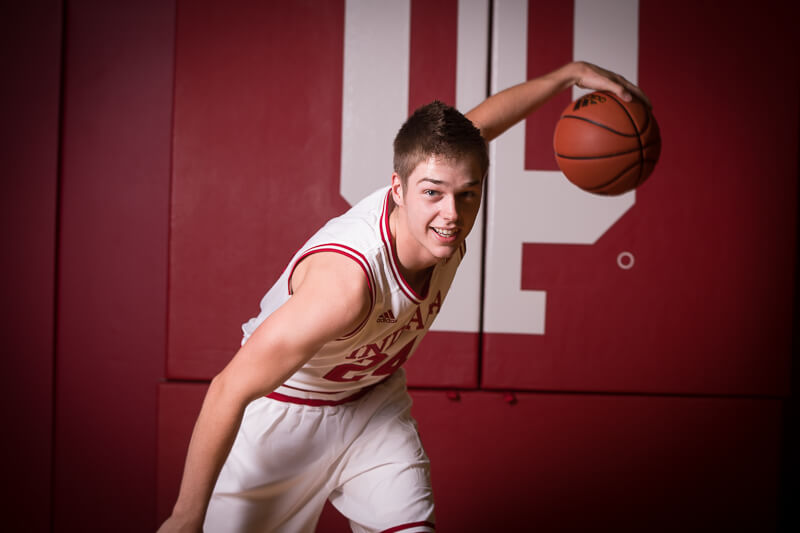 With the start of college basketball season on the horizon, we're taking a long look at the conference at large as well as Indiana's roster this month. Today, we continue our look at Indiana's roster with Grant Gelon.
The least heralded of Indiana's 2016 recruiting class, Crown Point guard Grant Gelon arrives in Bloomington with a reputation as an elite shooter.
As a senior in high school, Gelon averaged 14.5 points and 5.7 rebounds per game and shot nearly 39 percent on 3s. He was named an Indiana All-Star.
"Nobody has worked harder at perfecting that craft than Grant has," Clint Swan, Gelon's high school coach, told Inside the Hall over the summer. "He's worked very hard at making himself into a better shooter and not just relied on his gift as a shooter alone."
The key for Gelon will be to develop a more well rounded game that allows him to be a significant contributor at the Big Ten level.
At 6-foot-5 and 195 pounds, Gelon has excellent size for a guard. His shooting ability is Big Ten ready, but the rest of his game has room to grow. Indiana's guard depth should allow Gelon to be brought along at a slower pace and grow into a role.
"Compare that to Spike Albrecht (also of Crown Point) when he went to Michigan, they had two point guards," Swan said this summer. "They had Trey Burke and Spike Albrecht. He was going to have to play and that kind of scared me a little bit. I thought that was sort of alarming that he was going to be called upon to play immediately. I think Grant is going to be able to get acclimated in summer workouts and practices and fall workouts. He's going to be able to see how those guys carry themselves and see how they play. He'll be able to bring himself along at a comfortable pace."
The Indiana coaching staff has a proven track record of developing shooters into solid rotation players.
The most recent example is Nick Zeisloft, who arrived in Bloomington as an Illinois State graduate transfer. Zeisloft's addition was met with plenty of skepticism from fans, but he is now in training camp with the Pacers and headed for the Fort Wayne Mad Ants of the NBA Development League.
If Gelon is going to follow a similar path, he's going to need to maximize every opportunity to learn from his teammates and the coaching staff.
"I think he can sit and watch and glean from the players that they have there right now and can pick up on not just how to play, but how to carry yourself," Swan said. "He can learn on a day-to-day basis what the expectations are. I think that's going to help him immensely."
Bottom Line: As the lone in-state recruit in IU's 2016 recruiting class, Gelon has plenty to prove. He wasn't impressive in the Indiana All-Star series over the summer and had some games at Crown Point as a senior where he didn't stand out. However, the coaching staff remains high on his long term potential and he'll have the opportunity to ease into a role early in his career.
Quotable: "It's not something he's taking for granted. He knows there's a huge responsibility that comes with it. That's why he's continued to work extremely hard since our season ended. He's done everything he could to get himself ready for these summer workouts that he's going through right now in Bloomington. It's a badge of honor for him. He's excited about it. He's very honored to put on an Indiana uniform." – Clint Swan on Gelon getting the opportunity to play for Indiana.
Previously: Devonte Green
Filed to: 2016-2017 season preview, Grant Gelon