That's A Wrap: Team defense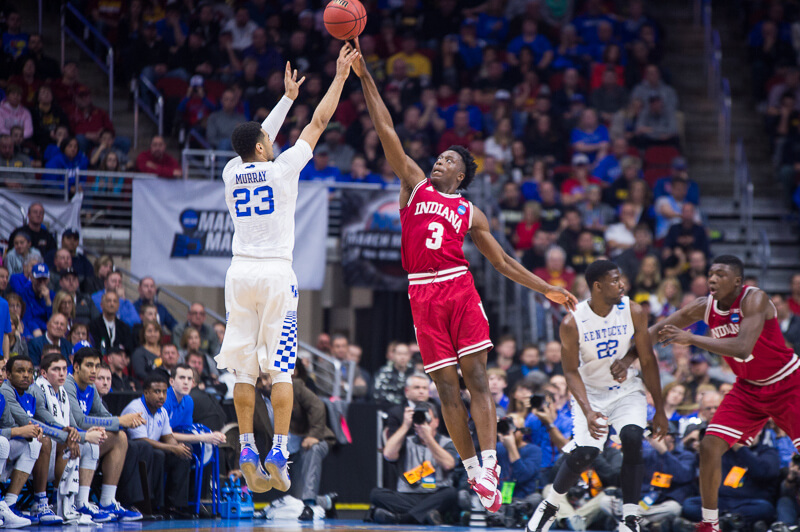 Welcome to "That's A Wrap," our recap of the 2015-2016 Indiana Hoosiers. Today, the series concludes with a look at Indiana's defense.
Final stats (35 games): 69.9 ppg, 44.4 FG%, 49.8 eFG %, 34.3 3PFG%, 18.9 TO%, 30.2% FTR.
Indiana's elite offense set the stage to contend for the Big Ten championship this past season, but it was the defense that won the league outright for the Hoosiers.
In 2014-2015, Indiana's defense was a major problem. In 2015-2016, the defense grew into a strength. A comparison of defensive stats between the two seasons tells the story of improvement (Note: all numbers are what IU's defense allowed):

Indiana had the nation's 214th best defense in 2014-2015 according to KenPom's adjusted defensive efficiency numbers and moved all the way up to No. 73 this season. In league play, the Hoosiers had the Big Ten's 13th best defense a season ago and jumped up to No. 3 this season.
So how did it happen? A renewed focus on fundamentals, better communication, better personnel and a simplification of concepts.
Nick Zeisloft offered some insight into the focus on fundamentals during his appearance on Podcast on the Brink when he revealed that assistant coach Rob Judson took control of the defense in the offseason. It started with drills in June and while the improvement wasn't visible through non-conference play, it began to take hold as the Hoosiers hit Big Ten season.
After allowing Kennesaw State to score 1.08 points per possession in the final non-conference tune-up, Indiana held nine of its first 10 Big Ten opponents under a point per possession. That's an incredible statistic.
The growth in communication came from a variety of places. Yogi Ferrell was much more of a vocal leader as a senior and was an extension of the coaching staff on the floor, which was something that was missing last season. Thomas Bryant arrived and provided energy on the backend of the defense and like Ferrell, was very vocal.
Bryant also figures into the improved personnel, but his struggles in guarding ball screens early in the season were well documented. He improved as the season went along and so did Indiana's defense.
But he was far from the only player who made strides as the season went on.
Juwan Morgan and OG Anunoby grew into defensive stoppers as their roles in the rotation increased. Zeisloft, a liability at times defensively, grew into a player the coaching staff felt comfortable putting on Jamal Murray in the NCAA tournament round of 32. Ferrell was a lockdown perimeter defender and a worthy pick for the league's all-defensive team. Robert Johnson, who was called a "pure junkyard dog" by Bryant, didn't get enough credit for his ability to guard on the perimeter.
After allowing opponents to finish over 62 percent of shots at the rim last season, Indiana put up much better resistance at the rim: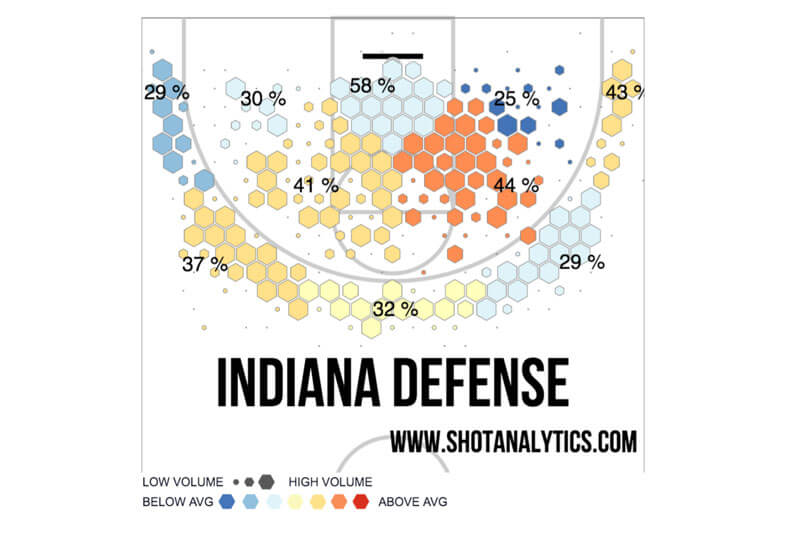 Add it all together and the Hoosiers grew from a team that allowed Duke to score 1.53 points per possession in early December to a team that held the nation's No. 1 offense in Kentucky to .94 points per possession in the NCAA tournament. Indiana beat a major program in the tournament because of its defense, a development that would have been impossible to see coming in late December.
The simplification piece also holds importance as Indiana moved away from switching defenses mid-possession and opted to go straight man-to-man most of the time. With quality depth on the bench, the coaching staff had the ability to keep everyone accountable and use the bench for accountability. Once the Big Ten season started, if you didn't guard, you typically sat on the sidelines.
Bottom Line: Indiana's defense received many of the headlines throughout the season – and rightfully so – but the Hoosiers won the Big Ten with defense. It was a team effort with better coaching, better execution and better personnel to fit what the Hoosiers were trying to accomplish. It was a turnaround that nobody saw coming, but the Hoosiers finished with the third best defense in the Big Ten. In the Crean era, it was Indiana's second best defensive team in conference play from a points per possession allowed perspective. With a strong core returning next winter and more talent arriving, it'll be interesting to see if the Hoosiers can continue to win with defense.
Quotable: "What we learned from that game (Duke) was we need to be more aggressive. What we learned about ourselves is that we control that aggressiveness. We control our ball movement. We control our ability to not only be connected defensively, which we've really become, but to really get out and run. And as poor as our defense was early on in the year, our running game was equally as bad, because we weren't getting enough stops. We weren't getting out and playing fast enough. And really pre-Morehead State, which was December 5th, the one game that we really did it right was in the Creighton game. We played really well that night against a team at home and then we didn't move the ball as well and we weren't as connected defensively.
"But I think everything is continuing to improve because it's — the fact of the matter is the guys continue to get better at Indiana. And they don't just get better through practice and they don't just get better through schemes and Xs and Os. They get better fundamentally. And it doesn't matter if you're Yogi Ferrell, who is a McDonald's All-American, or some of our freshmen like OG and Juwan that were mildly recruited. They were recruited but they were mildly recruited. You get better.
"And eventually you really learn that you're going to have, you are responsible to impact your teammates, and not only in the offensive end but the defensive end. And I think that's been the biggest thing for us, and we've never lost two games in a row. So they're absolutely resilient. They learn from their mistakes, they build on their successes and there's never been a time where I walked into practice or walked out of practice thinking that we had some guys that were full of themselves. We've not had that at all. And I think that's got a lot to do with why we're here today." – Crean on the team's improvement prior to the Sweet Sixteen game against North Carolina
Previously: OG Anunoby, Juwan Morgan, Thomas Bryant, Harrison Niego, James Blackmon Jr., Robert Johnson, Collin Hartman, Troy Williams, Nick Zeisloft, Max Bielfeldt, Ryan Burton, Yogi Ferrell, Tom Crean, Team offense
Filed to: