That's A Wrap: James Blackmon Jr.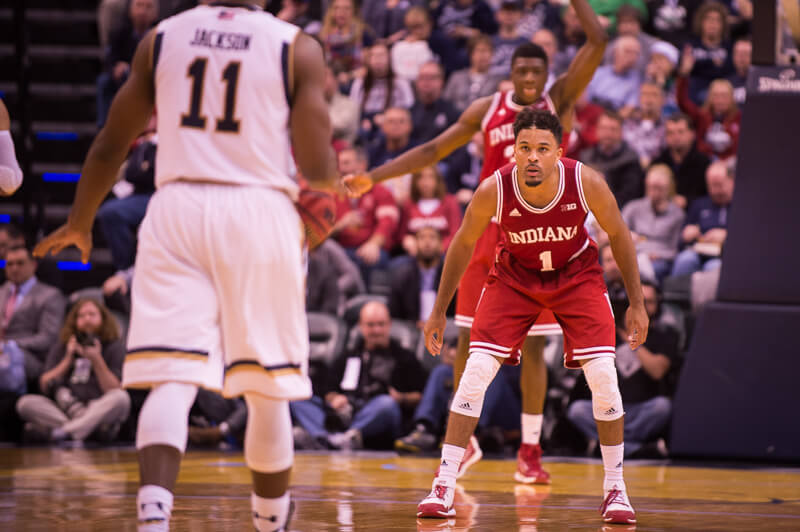 Welcome to "That's A Wrap," our player-by-player recap of the 2015-2016 Indiana Hoosiers. Today: James Blackmon Jr.
Blackmon Jr. (13 games): 15.8 points, 4.2 rebounds, 1.7 assists, 60.2% eFG, 85.2% FT, 46.3 3PFG% in 24.5 minutes per game.
In a non-contact drill during practice on Monday, Dec. 28, James Blackmon Jr. suffered an injury that ended his sophomore season.
Although the extent of the damage wasn't known until several days after the injury occurred and some held out hope that it would be a minor setback, Indiana announced on Jan. 5 that he would have surgery.
"After thorough testing and evaluation, it has been determined that the best solution for James Blackmon Jr., and his immediate and long-term health, is to undergo surgery on his right knee this afternoon that he injured last week in practice," an Indiana release said on that Tuesday afternoon.
At the time of the injury, Blackmon Jr. had been off to a very good start to the season offensively. He was shooting better than 46 percent on 3s and averaging 15.8 points per game, second on the team.
But as the Hoosiers adjusted to life without him and started conference play 7-0, the narrative by some in the media shifted to a notion that IU was better off without its star sophomore. Blackmon Jr., maligned for his defense as a freshman and through 13 games as a sophomore, could only sit and watch as his teammates rebounded from a tough start to win the Big Ten outright and advance to the Sweet Sixteen.
The reality, however, is that while Indiana was a different team without Blackmon Jr., it's not fair to say they were better off. Losing Blackmon Jr. forced other perimeter players into more defined roles and increased the minutes of OG Anunoby and Juwan Morgan, but it also removed a lethal scorer from the rotation. And in different situations throughout the season when Indiana went through stretches where it couldn't store, it certainly could have used Blackmon Jr.
Indiana's defense as a team was poor through 13 non-conference games, but it didn't magically change because of one player being removed from the rotation.
On Thursday's Podcast on the Brink interview with Nick Zeisloft, the outgoing senior offered his rationale for the defensive improvement coming when it did.
"Coach (Rob) Judson really took a hold of the defensive side of the game for us," Zeisloft explained. "We started that in June. It was only a matter of time for it to pay off for all of us. We were doing basically defensive drills, just the fundamentals that might seem boring, but it paid off down the stretch. We all started getting on the same page and staying connected."
To Blackmon Jr.'s credit, he didn't seem to let any of the negativity stop him from being a good teammate. He was engaged on the bench and in the middle of the celebrations following several key wins. And when there was speculation late in the season that he would leave the program, he quickly shot down the rumors with a statement.
In the aftermath of IU's season ending loss to UNC, Blackmon Jr. said he was already looking forward to growing into a leader for the Hoosiers next season.
Bottom Line: It's never easy for any player to lose a season due to injury, but in Blackmon Jr.'s case, it was especially difficult given the fact he has aspirations of playing professionally. As a junior, he'll have to come back from his second major knee injury and third surgery, which won't be easy to do. However, he said said recently that his rehab is ahead of schedule and heading into next season, Indiana will need an engaged and healthy Blackmon Jr. to contend in the Big Ten again. His defense is a clear area where he needs to improve, but given the fact that the Hoosiers have come a long way on that end over the last 12 months, look for Blackmon Jr. to embrace the challenge.
Quotable: "It's (the injury) just hit me the hardest because it's my college career. Sophomore season, trying to have a big year. So it's probably the hardest one for me." – Blackmon Jr. prior to Indiana's NCAA tournament opener against Chattanooga.
Previously: OG Anunoby, Juwan Morgan, Thomas Bryant, Harrison Niego
Filed to: James Blackmon Jr.