That's A Wrap: OG Anunoby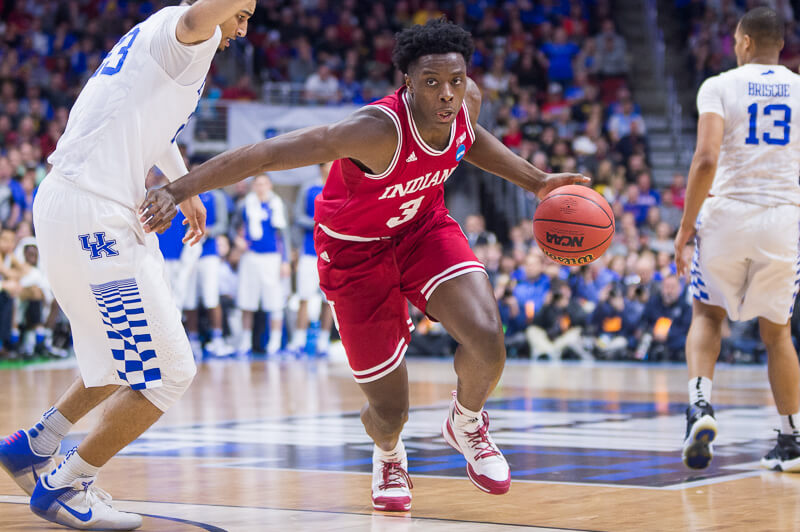 Welcome to "That's A Wrap," our player-by-player recap of the 2015-2016 Indiana Hoosiers. First up: OG Anunoby.
Anunoby (34 games): 4.9 points, 2.6 rebounds, 62.5% eFG, 47.6% FT, 44.8 3PFG% in 13.7 minutes per game.
It didn't take long for OG Anunoby to make his impact felt in a Big Ten game.
After Indiana lost James Blackmon Jr. to a knee injury on the Monday before the conference opener at Rutgers, Anunoby was thrust into a more prominent role in the rotation and began to deliver.
In IU's first three league games, Anunoby scored a total of 30 points, which was more than he scored in all 12 non-conference games he appeared in.
An under the radar find by the Indiana coaching staff, the 6-foot-8 Anunoby helped change the trajectory of the season because of his ability to defend. Once he started to earn minutes, he frequently guarded the opposition's best scorer, regardless of position.
In a home win over Wisconsin early in the Big Ten season, Anunoby spent time on the league's preseason player of the year, Nigel Hayes. And in early February, it was his defense on Michigan's Zak Irvin that was a catalyst in IU's 28-0 run that led to a rout of the Wolverines in Ann Arbor.
Following those performances, it was no surprise that Anunoby got the call to spend time on Kentucky's Jamal Murray in the NCAA tournament second round. It was a team effort for the Hoosiers to limit Murray to just 1-of-9 shooting from behind the 3-point line, but Anunoby blocked two of those attempts at critical points in the game.
His overall play in the Kentucky game earned him recognition from those who cover the NBA draft closely, but at this stage in his development, Anunoby is still very much a work in progress. That was evident in the North Carolina game, when Anunoby scored just two points and committed four fouls in 17 minutes.
From a numbers perspective, there's plenty for Anunoby to build on as he has a full offseason to prepare for what should be a more prominent role on the roster. He was an excellent 3-point shooter as a freshman as he connected on 44.8 percent of his 29 shots from distance. It'll be interesting to see if Anunoby can contain that level of efficiency as a higher usage player down the road. He also finished close to 61 percent of his 2s in his first season and had the team's highest block (5.6) and steal (3.4) percentages.
Improving his free throw shooting should be a main point of emphasis in the offseason as he connected on just 47.6 percent of his attempts from the line as a freshman. Anunoby's turnover percentage (19.7) was also too high, but that was a roster wide problem for this Hoosier team.
For a player who arrived in Bloomington with a 247Sports Composite ranking of No. 280 nationally, Anunoby exceeded expectations in his first season and is arguably the most intriguing player on the roster to watch moving forward.
Bottom Line: How important was Anunoby defensively for Indiana? The Hoosiers would not have won the Big Ten outright by two games without his presence. His length and ability to get in the passing lanes was a game changer and it's no coincidence that as his role grew, Indiana's defensive efficiency improved steadily. He may never be the featured offensive player in Bloomington, but he can certainly take on a bigger role as a sophomore. As unselfish as he is, Anunoby should become more assertive in looking to generate offense as he continues to mature. As that happens, it'll be important for him to improve his free throw shooting. It's easy to see why the NBA will be intrigued by Anunoby when that time comes, but his best days in an Indiana uniform are still to come.
Quotable: "OG is a guy that it's not about positions and it's very little about positions with any of our guys, because if they want to play in the future, it's very little about positions in the NBA. It's very much about being multi-dimensional, versatile, skilled, being able to shoot, being able to defend different people. And OG is fitting that bill. But what happened for him in December is he really learned how to sustain intensity. His work ethic has been strong since the week he arrived at Indiana. And it just continued to get stronger." – Tom Crean on Anunoby
Filed to: O.G. Anunoby