That's A Wrap: Thomas Bryant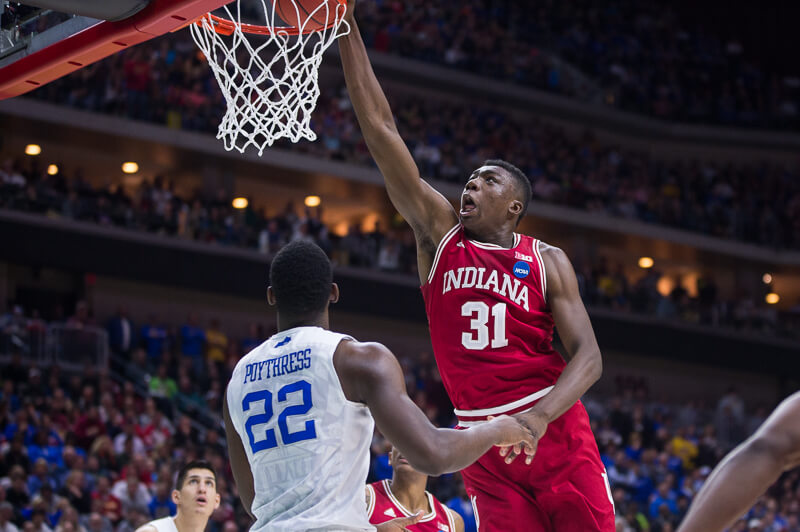 Welcome to "That's A Wrap," our player-by-player recap of the 2015-2016 Indiana Hoosiers. Today: Thomas Bryant.
Bryant (35 games): 11.9 points, 5.8 rebounds, 69.3% eFG, 70.6% FT, 33.3 3PFG% in 22.6 minutes per game.
Remember when Thomas Bryant wasn't supposed to be a Hoosier?
"Really it's down to two," his mother told Syracuse.com in November of 2014. "Syracuse and Indiana. And it might be down to one soon. Thomas has always told me that Syracuse was the leader."
She added about Indiana: "They have a lot going on. It seems like we went down there under false pretenses. They didn't tell us anything about failed drug tests or that type of thing going on. My son doesn't need to be around that stuff."
When you juxtapose her comments with her son leaning on Crean's shoulder after Indiana's loss to North Carolina, a photo of a player and coach forever connected, it seems almost impossible they were ever even uttered. But such was the state of the program at the time.
Things changed. And after it seeming like a long shot, Bryant committed to the Hoosiers a little over four months later — marking the fifth straight season Tom Crean had wrangled in a McDonald's All-American.
It was a big deal.
Bryant's motor, skill and energy gave Indiana a legitimate presence on the interior and he delivered all season long. The center also dispelled the notion — after Cody Zeller and Noah Vonleh before him — that Tom Crean's offense couldn't find and feature big men. The truth is Zeller and Vonleh, despite their size, were not traditional back to the basket big men. It was sometimes a weird fit — square peg in a round hole type thing. With Bryant fully embracing and fitting such a role — though he flashed other offensive skills as well — he worked the block with an outstanding efficiency.
Bryant began the season 16-of-20 from the floor, scoring 39 points in his first three contests. In that third game, a blowout win against Creighton at home, Bryant also posted four blocks to go along with his 17 points. The Huntington Prep product screamed and yelled and celebrated with raw energy on Branch McCracken Court and his teammates appeared to feed off it. Bryant's raw emotion, though, was sometimes an Achilles heel. He'd react too strongly to foul calls against him when he would have been better served to keep his emotions in check. Though as the season went along, he did get better with that.
Bryant ended the year with an effective field goal percentage of 69.3. Such a mark would have landed him third in the country in the category according to KenPom, though him playing less than 60 percent of Indiana's minutes disqualified him from Pomeroy's list. It was a mark that also bested Zeller's 62.3 from his freshman campaign as a Hoosier.
Early in games, Indiana would look to feed Bryant on the right block and let him go to work. Bryant isn't a jump out of the gym athlete, but he has the ability to use both hands and go over both shoulders, making him a tough cover. Bryant also showed he could handle the ball some, though his decision-making was sometimes questionable and led to a turnover. He didn't take many, but Bryant flashed a fluid 3-point stroke and hit 33 percent on the season (5-of-15). After struggling a bit on defense in Maui, Bryant figured out pick and roll coverages better and it was one of the reasons Indiana's defense improved once Big Ten play hit. Bryant's lateral quickness could still use improvement, but his size and length were an asset to Indiana's backline.
Bryant was also huge in Indiana's win over Kentucky in the NCAA Tournament's round of 32, as he scored 17 points in the second half to will Indiana to the victory.
Bottom Line: In terms of a traditional big man, Bryant's freshman season proved he's the best of the Crean era. He's a smart kid with an infectious personality and the type of player you want on your side. The question now becomes: Will he turn pro? It's likely Bryant declares for the draft to head to the combine and see what kind of feedback he receives. He's currently No. 20 on Chad Ford's Big Board, though both DraftExpress and NBADraft.net haven't even slotted him anywhere in this year's draft — instead having him as a first rounder in 2017. Another year in Bloomington of skill development under Crean could turn Bryant into a lottery pick in 2017. And that might be the better play for next-level preparation. But if it looks like he could go in the first round of the 2016 draft, it would be hard to fault him for taking the leap.
Quotable: "This is why I'm here!" – Bryant to the Indiana crowd inside Wells Fargo Arena after his 17-point second half performance and Indiana's win over Kentucky
Previously: OG Anunoby, Juwan Morgan
Filed to: Thomas Bryant