That's A Wrap: Juwan Morgan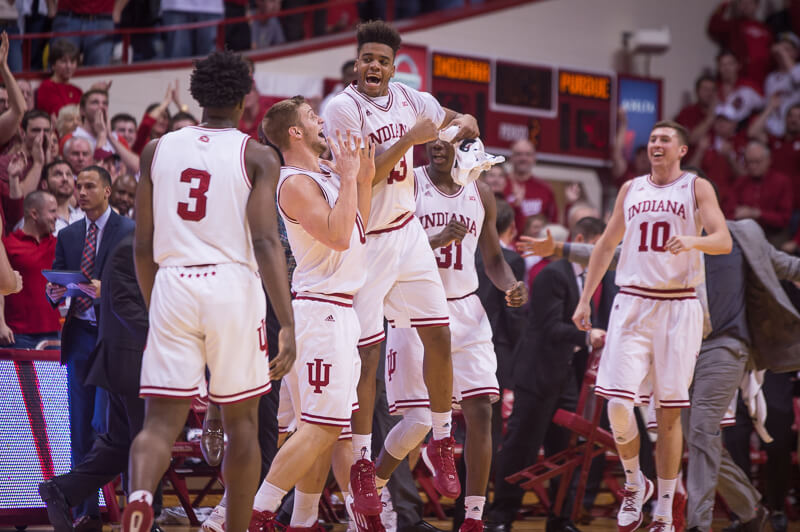 Welcome to "That's A Wrap," our player-by-player recap of the 2015-2016 Indiana Hoosiers. Today: Juwan Morgan.
Morgan (30 games): 2.4 points, 2.1 rebounds, 57.3% eFG, 80.0% FT, 45.5 3PFG% in 9.1 minutes per game.
Before he ever stepped foot on Indiana's campus last summer, Juwan Morgan had already endeared himself to Hoosier fans.
Last spring following a practice for the Derby Festival Basketball Classic in Louisville, Kentucky, Morgan was asked how he would contribute to the team as a freshman.
"The garbage type deal," he told Inside the Hall. "Getting offensive boards, setting screens, loose balls, hustle plays."
Morgan lived up to the description of the role he projected for himself in his first season in Bloomington. After a slow start to the season where he was on the fringe of the rotation and was injured in Maui, he came alive during Big Ten play.
He scored in double figures just once all season (12 points at home against Nebraska), but his defensive ability and selflessness as a teammate contributed to winning in a major way.
During a five-game winning streak late in the season in which the Hoosiers clinched the outright regular season Big Ten crown, Morgan played his best stretch of basketball in an Indiana uniform.
His numbers during that stretch, which included wins over Nebraska, Purdue, Illinois, Iowa and Maryland, were 5.8 points and 3.6 rebounds per game. He hit a 3-pointer in four of those five wins and committed just three turnovers in a total of 69 minutes.
And he did it with an injured left shoulder that will require offseason surgery. That shoulder, according to Tom Crean, popped out in four of IU's final seven games, including in IU's loss to North Carolina to end the season.
Much like his teammate OG Anunoby, Morgan's future in Bloomington appears to be bright provided he continues to develop and make progress like we saw during his first season. He'll miss significant time this offseason because of surgery, but given the severity of the injury and the issues it caused for him all season, it's no surprise that doctors will move to get the issue fixed before next fall when practice begins.
The graduation of Max Bielfeldt should open up more opportunity for Morgan to expand his role in IU's frontcourt next season and his versatility to score from the perimeter and around the basket, combined with his ability to defend multiple positions, make him extremely valuable.
As we've seen in the past with Indiana's player development, assuming he gets healthy enough this offseason to reap the benefits, Morgan should return as a sophomore as a more well rounded player capable of taking on a larger role.
Bottom Line: One of the most unselfish players to ever wear the uniform under Tom Crean, Morgan has a terrific future ahead of him because of his toughness and work ethic. Many guys would have shut it down for the season after going through the shoulder issues that Morgan battled as a freshman, but he didn't even miss a game down the final stretch of the season and played through significant pain. He showed an ability to handle the ball a little bit in his first season as well as shoot from the perimeter, which should make him a strong candidate for a larger role in his second season. Indiana was usually a better team when Morgan was on the floor because of his willingness to defend, which can't be emphasized enough given just how far this group came defensively.
Quotable: "The other night, Sunday night, we're not practicing Sunday. I'm in there working. It's 11:00 at night. The music is going. There's Juwan and OG, they left sometime after 1:00. That's just the level of work ethic that they have, that they want to be in the gym getting better." – Crean last Thursday on Morgan's work ethic.
Previously: OG Anunoby
Filed to: Juwan Morgan