That's A Wrap: Ryan Burton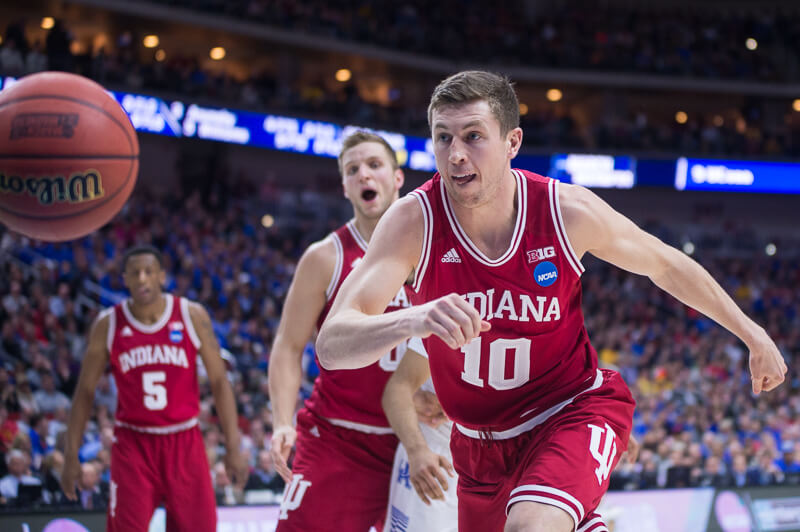 Welcome to "That's A Wrap," our player-by-player recap of the 2015-2016 Indiana Hoosiers. Today: Ryan Burton.
Burton (24 games): 0.6 points, 0.4 rebounds, 77.8% eFG, 57.1 3PFG% in 3.2 minutes per game.
There are moments in every season that may not stand out at the time as meaningful, but when looked back upon later, made a difference between winning and losing.
Senior walk-on Ryan Burton had two of those moments in his final season in Bloomington.
A former Division II player at Bellarmine University in Louisville and a native of Bedford, Burton came to Indiana to focus on being a student in the Kelley School of Business. It was a dream come true for him to play out his final two seasons of eligibility for Indiana. In his final year at IU, he helped the Hoosiers capture a Big Ten championship.
Those two aforementioned moments for Buton came at very different times, but both were absolutely critical to the team's success.
In a Dec. 31 win at Rutgers, Burton came off the bench and hit a pair of 3-pointers in a 79-72 win. It was a game that Indiana was expected to win, but also a game it could not afford to lose. And for a while, the result was very much in doubt. Burton's two 3-pointers were a difference maker in IU's first game without James Blackmon Jr.
The second moment came in arguably the biggest spot of the season as Burton came onto the floor against Kentucky in the NCAA tournament round of 32 in Des Moines.
Trailing 48-47 with 8:40 to play, Tom Crean made the decision to give Yogi Ferrell his final rest and in came Burton. When he went back to the bench with 6:53 to play, the Hoosiers led 56-50. During the stretch, Burton grabbed a rebound and held his own defensively as Indiana took a lead it would not relinquish.
"I don't have the 40-inch vertical or the 7-foot wingspan," Burton said postgame. "But I just want to come in and get stops and rebounds. That's the biggest thing I want to do."
In addition to those two on court moments for Burton, he was an elite student, a leader in the locker room and a valuable asset for the Hoosiers to have in practice every day for two seasons.
A business administration major, he was named academic All-Conference by the Big Ten in March.
Bottom Line: It's hard to ask much more from a walk-on than what Indiana got from Burton. He was always ready to play when called upon and was a capable contributor in several key spots during his two seasons at Indiana. His play against Kentucky in the final 10 minutes in the round of 32 was pivotal and his success as a student should be applauded. Burton made the most of his opportunity to wear the IU uniform for two seasons.
Quotable: "Moving forward, the thing I'll look back on the most is how far this group has come definitely since Maui. I think we've had a great mindset coming through the Big Ten season, winning the Big Ten outright. A lot of people didn't see that coming but we believed in ourselves when a lot of people didn't. That's one thing I'll take with me and I know the other seniors will take with them as well. I know any one of these guys (in this locker room) will be a friend for life." – Burton after IU's loss to North Carolina.
Previously: OG Anunoby, Juwan Morgan, Thomas Bryant, Harrison Niego, James Blackmon Jr., Robert Johnson, Collin Hartman, Troy Williams, Nick Zeisloft, Max Bielfeldt
Filed to: Ryan Burton