That's A Wrap: Max Bielfeldt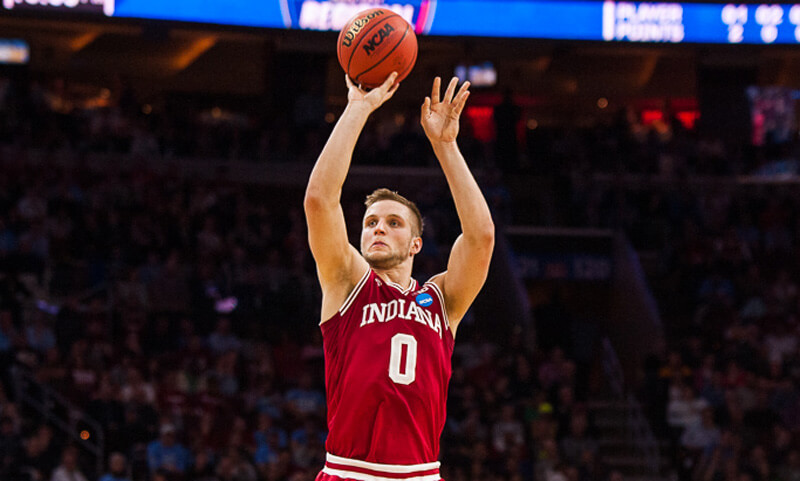 Welcome to "That's A Wrap," our player-by-player recap of the 2015-2016 Indiana Hoosiers. Today: Max Bielfeldt.
Bielfeldt (35 games): 8.2 points, 4.5 rebounds, 58.2% eFG, 70.5% FT, 45.3 3PFG% in 17.5 minutes per game.
When Devin Davis and Hanner Mosquera-Perea were dismissed from the program last May, Indiana's frontcourt depth for the 2015-2016 season appeared to be in major jeopardy.
Fortunately for the Hoosiers, Michigan made the curious decision to not bring Max Bielfeldt back for a fifth season despite having an open scholarship. And after Bielfeldt won an appeal from the Big Ten that allowed him to transfer within the conference and IU parted ways with Davis and Mosquera-Perea, the pursuit of the Michigan big man was on.
Things moved quickly from there as Bielfeldt announced that he would spend his final year of eligibility in Bloomington on June 2. Indiana beat out Iowa State, DePaul and Nebraska to land him and in retrospect, it was a major coup for Tom Crean and the IU coaching staff.
After battling injuries throughout his time in Ann Arbor, Bielfeldt was healthy for his final season and helped lead the Hoosiers to an outright Big Ten regular season championship.
Under the player development program at Indiana, he was given more freedom to be aggressive offensively and he made 29 3-pointers as a senior, more than his combined total in three seasons at Michigan. The differences in his numbers compared to his final season at Michigan are notable:

Some of the rise in numbers can be attributed to playing more minutes on a much better team, but Bielfeldt was certainly a more well-rounded and more efficient player at IU than he was at Michigan.
The result was Bielfeldt being recognized at the end of the regular season by the league's coaches as the best sixth man in the Big Ten.
In addition to the statistical contributions, Bielfeldt also provided experience and leadership that was valuable in the locker room. In our recent interview on Podcast on the Brink, he recalled a text message that he sent to teammates before IU's neutral court win over Notre Dame and also discussed his relationship with Thomas Bryant, who he helped guide through his freshman season.
Ultimately, things couldn't have worked out any better for Bielfeldt, who won his third Big Ten title in his final season and experienced the most on court success of his career in his final season as a Hoosier.
Bottom Line: As much credit as players like Yogi Ferrell, Bryant and Troy Williams deserve for Indiana's success this season, you can't overstate the importance of the role Bielfeldt played for the Hoosiers. A selfless teammate who was well-liked in the locker room, Bielfeldt had several big performances that contributed to Indiana winning the Big Ten. In an early season win at Rutgers, he came off the bench and scored 18 points and grabbed 14 rebounds. In a win at home over Purdue, he had 10 points and six rebounds and was a major reason Indiana was able to combat the Boilermakers size in the paint.
Quotable: "I got a lot better with the coaching. I fit in really well with the guys. You guys saw it, when we were clicking and playing the way that we could play, it was pretty tough to stop. We had just so many weapons on the court at one time that I could get a wide open shot because you've got Yogi penetrating kicking to Nick (Zeisloft) who is wide open in the corner but my guy helps and I hit a 3 in the slot or something. It was real easy to play with these guys because they're all offensive threats and we moved the ball so well. It was fun." – Bielfeldt on his final season on Podcast on the Brink.
Previously: OG Anunoby, Juwan Morgan, Thomas Bryant, Harrison Niego, James Blackmon Jr., Robert Johnson, Collin Hartman, Troy Williams, Nick Zeisloft
Filed to: Max Bielfeldt