That's A Wrap: Troy Williams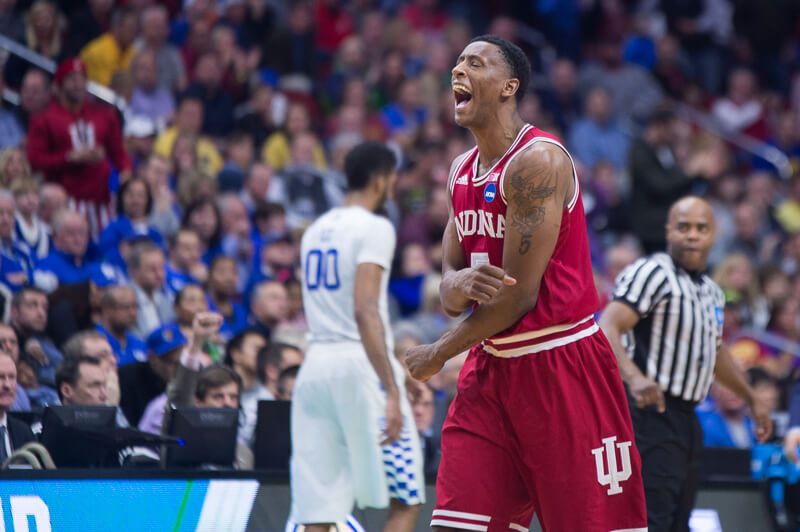 Welcome to "That's A Wrap," our player-by-player recap of the 2015-2016 Indiana Hoosiers. Today: Troy Williams.
Williams (35 games): 13.3 points, 5.8 rebounds, 2.0 assists, 55.4% eFG, 69.1% FT, 34.7 3PFG% in 26.2 minutes per game.
When Troy Williams announced that he would return to Indiana for his junior season in April of 2015, he did so with high hopes for what the Hoosiers could accomplish as a team in his third season.
"I love my teammates and coaches and with continued work, I think we can accomplish so much," he said at the time. "This is a special place and I can't wait to see our team grow over the coming months."
While the path to get there had plenty of bumps in the road, Williams and his teammates accomplished plenty in the 2015-2016 season, including a regular season Big Ten championship. Individually, Williams earned All-Big Ten third team honors.
One of the most athletically gifted players in IU history, Williams showed more growth as a player in his junior season. He was more confident in his perimeter shot, even though his percentage declined from where it was in his second season. After taking just 13 3-pointers as a sophomore, Williams took 75 shots from distance as a junior and hit close to 35 percent.
The arrival of Thomas Bryant, OG Anunoby, Max Bielfeldt and Juwan Morgan allowed Williams to shoulder less of a rebounding load after he led the team in rebounds as a sophomore. Still, he finished the conference season as the Big Ten's 16th best defensive rebounder from a percentage perspective.
When James Blackmon Jr. went down with a season-ending injury, the high-flying junior had the ball in his hands more frequently. As a result, he posted a career-high free throw rate (FTA/FGA) of 50.9 percent and generated 112 points from the foul line. The trade off there, at times, was that Williams became more turnover prone as his turnover rate jumped up three percentage points from his sophomore season.
After failing to score in double figures in seven of IU's first 13 Big Ten games, a loss at Michigan State was a turning point for Williams. On that Valentine's Day in East Lansing, "Bad Troy" showed up and the Hoosiers were run off the floor in the Breslin Center. Williams finished the loss scoreless in 20 minutes.
From that point forward, Williams played arguably his best stretch of basketball in an IU uniform. He averaged 16 points over the final nine games of the season, including a 23-point effort to close out the regular season against Maryland and 19 points in a 77-73 win over Purdue. The win over the Boilermakers included a vicious dunk over Isaac Haas.
"After Michigan State, I didn't come out aggressive," Williams said on February 17. "And I watched — we watched it, and we just — me and Coach Crean had talked and we decided it's time to put on an aggressive mindset. Playing like that, I see the results it gets me."
What the aggressive mindset earned Williams and the Hoosiers won an outright Big Ten championship.
Losses to Penn State and Michigan State in a three-game stretch in mid-February made it look like the wheels might come off for Indiana, but the steady play of Williams was a major reason that never happened.
Bottom Line: The expectation is that Williams will test the NBA draft waters, which will likely include a trip to the combine next month in Chicago, before making a final decision on his future. Most projections have him going in the second round at this point, but an NBA scout recently told Inside the Hall that if he's in the draft, it's unlikely that he slips past the middle of the second round. That might be tough for Williams, who is expected to graduate in May, to pass up. If this season was the last we'll see of Williams in an IU uniform, he's another example of the coaching staff developing and polishing a player with enormous raw talent in Bloomington.
Quotable: "I love this team. I love everybody, the coaches, the administration and the players. This is one of the closest teams I've ever been on. I've never won anything as a team and this (season) was the first time that we actually have an award (winning the Big Ten) as a team." – Williams following IU's loss to North Carolina in Philadelphia
Previously: OG Anunoby, Juwan Morgan, Thomas Bryant, Harrison Niego, James Blackmon Jr., Robert Johnson, Collin Hartman
Filed to: Troy Williams