Troy Williams returning to Indiana for junior season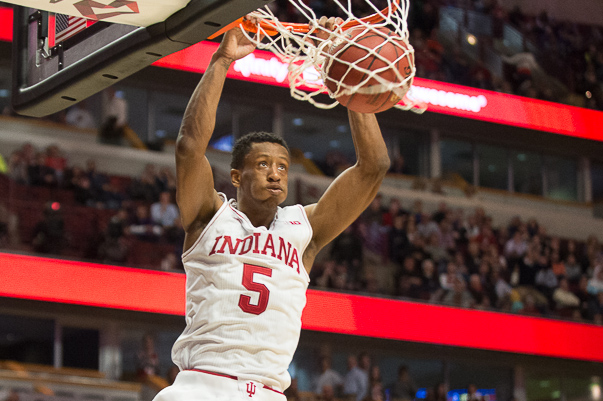 Indiana sophomore forward Troy Williams will return to Indiana for his junior season, according to a post on his Instagram account.
Indiana confirmed that Williams will return in a press release.
"I'm definitely coming back for my junior year at IU," Williams said in the release. "I love my teammates and coaches and with continued work, I think we can accomplish so much. This is a special place and I can't wait to see our team grow over the coming months."
The Hampton, Virginia native was viewed as a potential second round pick in this June's NBA draft, but most projections have him as a solid first round selection with another year of development.
His uncle, Boo Williams, told Inside the Hall that a variety of factors played into his nephew's decision to return including his desire to earn a degree as well as his comfort level with both Indiana and Tom Crean.
"I don't think Troy is anywhere near his ceiling," Boo Williams said. "I think Troy has the potential to get better. There were some teams willing to draft Troy in the first round. Not many, but enough to make you think about it. Most of the interest was in the second round.
"I think he'll be better next year, especially if he has the same improvement he did this year."
In a release issued earlier tonight, Crean said Williams made this decision to return after gathering a significant amount of feedback from the NBA.
"Troy is in the process of making continuous improvement in so many areas and is growing in his personal responsibility to living up to his vast potential and has come to the realization that the path he is on is beneficial to that growth and improvement," Crean said. "After extensive research, official feedback from the NBA and family support and guidance, Troy will remain at Indiana for his junior year. Personally, I am proud of how he has handled all of this as his work in school and on the court has not suffered one bit, in fact he has been even more focused. We have learned a lot through this process that can only help all of us to help his continual improvement."
Williams averaged 13.0 points, 7.4 rebounds and two assists in 27.6 minutes per game as a sophomore. He played in 32 of Indiana's 34 games.
Filed to: Troy Williams