That's A Wrap: Collin Hartman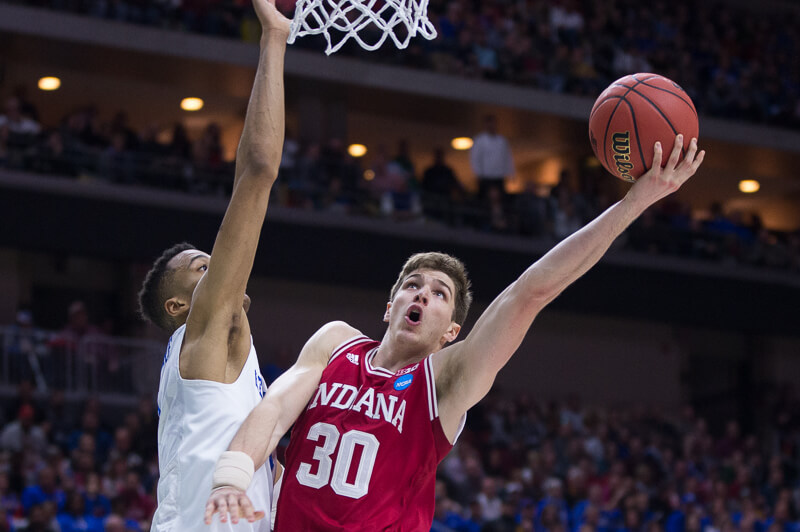 Welcome to "That's A Wrap," our player-by-player recap of the 2015-2016 Indiana Hoosiers. Today: Collin Hartman.
Hartman (35 games): 5.0 points, 3.1 rebounds, 1.7 assists, 55.2% eFG, 84.2% FT, 35.8 3PFG% in 21.9 minutes per game.
A look at the numbers reveals Collin Hartman's junior campaign mirrored his breakout sophomore season in many ways.
Hartman averaged an identical amount of rebounds (3.1) and was close in minutes (19.7 vs 21.9), points (4.8 vs 5.0), possessions used (12.0 percent vs 12.8 percent) and conference-only offensive rating (115.3 vs 115.6). Hartman also made the same amount of 3-point buckets in each season (29). But the big difference in those shots from distance? It took the Cathedral product an extra 20 attempts to hit that 29 mark this season. Which means he fell from a highly efficient and best 3-point shooter on the team a season ago (47.5 percent) to a mere average one in 2015-2016 (35.8 percent).
Some of Hartman's misses late in the season could be attributed to the right wrist fracture he sustained against Michigan in the Big Ten Tournament. Despite the fracture — which he'll have surgery on this offseason — Hartman still played in all three of Indiana's NCAA Tournament games. But it was clear the injury affected his follow through.
Even with Hartman's dip in efficiency, Indiana, of course, still sported a host of strong 3-point shooters and finished fourth in the nation from a percentage standpoint (41.6).
Hartman's role also saw some change this season. When Hanner Mosquera-Perea went down with an injury last season and Indiana's roster was short on capable frontcourt bodies, Hartman faced the tall task of playing a stretch 5 position — guarding the opposition's biggest players and spreading the floor with 3-point shooting on Indiana's end.
With Thomas Bryant, Max Bielfeldt, Juwan Morgan and OG Anunoby in the mix this year, Hartman didn't have to carry as much of a defensive burden. And while Hartman's 3-point shooting slipped, he saw growth in other areas in Indiana's offense. Hartman doubled his assist rate (6.9 percent vs. 12.2 percent) and proved a more capable slasher to the basket, where he used his length to convert over size at the rim. This allowed Hartman to shoot a better 2-point field goal percentage (57.1) than last season (53.7) on 22 more attempts.
Hartman only missed three free throws (16-of-19, 84.2 percent) on the year.
The junior also continued to do what he does best: Make the right pass, the smart play, be in the right place at the right time. His basketball IQ makes him a player you want on the floor in key situations, though some of that was negated at times by a turnover rate of 21.9 percent, fourth worst in terms of the squad's regulars.
Bottom Line: On a team that won an outright Big Ten Championship and advanced to the Sweet 16, Hartman started 24 of 35 games and did a little bit of everything for the Hoosiers. Despite some regression from beyond the arc, Hartman's offensive profile remained strong without a ton of usage. With Yogi Ferrell, Nick Zeisloft and Max Bielfeldt no longer sporting the cream and crimson, Hartman may need to step up and fill a leadership role in his senior season next winter.
Quotable: "I'm really proud of these guys. We were very, very resilient throughout the whole year. We matured very quickly. We never lost two games in a row. We've accomplished a lot. We've been through a lot of adversity. Fought through a lot of scrutiny and just stayed within us. I think that was the biggest thing for us and what we accomplished." – Hartman after Indiana's season-ending loss loss to UNC
Previously: OG Anunoby, Juwan Morgan, Thomas Bryant, Harrison Niego, James Blackmon Jr., Robert Johnson
Filed to: Collin Hartman