Crean says Hartman, Johnson and Morgan will have offseason surgery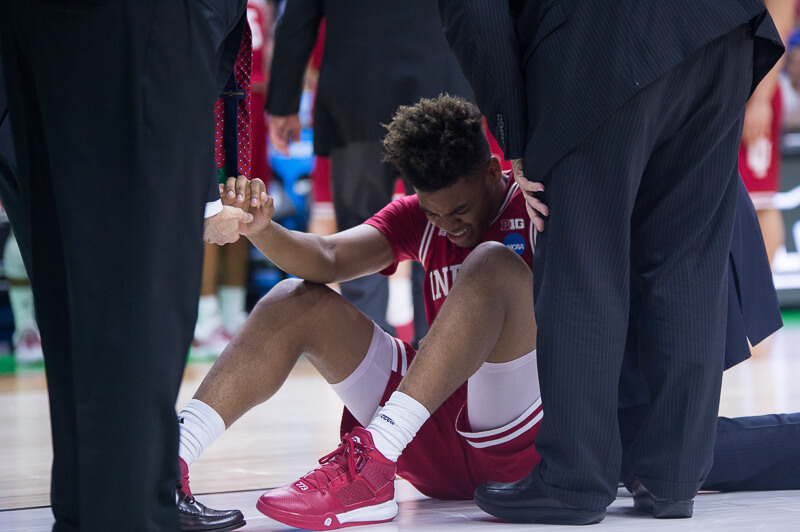 In an interview on The Ride with JMV on 1070 the Fan in Indianapolis on Monday afternoon, Indiana coach Tom Crean said three players will undergo offseason surgery.
Collin Hartman (right wrist), Robert Johnson (left ankle) and Juwan Morgan (left shoulder) will all undergo procedures in the next few weeks, according to Crean.
Crean said that Hartman played in the NCAA tournament with a fractured wrist that he suffered in Indiana's 72-69 loss to Michigan in the Big Ten tournament.
"It was no accident that he was out there working with his left hand the majority of the time," Crean said. "It caught up with us a little bit with the shooting even though he made a 3 the other night."
Johnson was initially injured in IU's 77-73 win over Purdue on Feb. 20 and missed four games before returning for the Kentucky game. Johnson then hurt the ankle again in the win over the Wildcats.
"There was just no way he could really, at the end of the day, push off his foot enough to play any kind of minutes in the game," Crean told JMV.
Crean said the doctors ultimately decided to keep Johnson out in the North Carolina game.
"As much as Robert wanted to play," Crean explained. "There just wasn't enough healing to take that risk. It wasn't a judgement call for me. It was a doctor's call."
Morgan battled a left shoulder injury throughout the season, but was able to bounce back several times in the final weeks of the season. Crean said Morgan's shoulder popped out in four of Indiana's final seven games.
Morgan is expected to be out the longest of the three, according to Crean.
Filed to: Collin Hartman, Juwan Morgan, Robert Johnson