That's A Wrap: Nick Zeisloft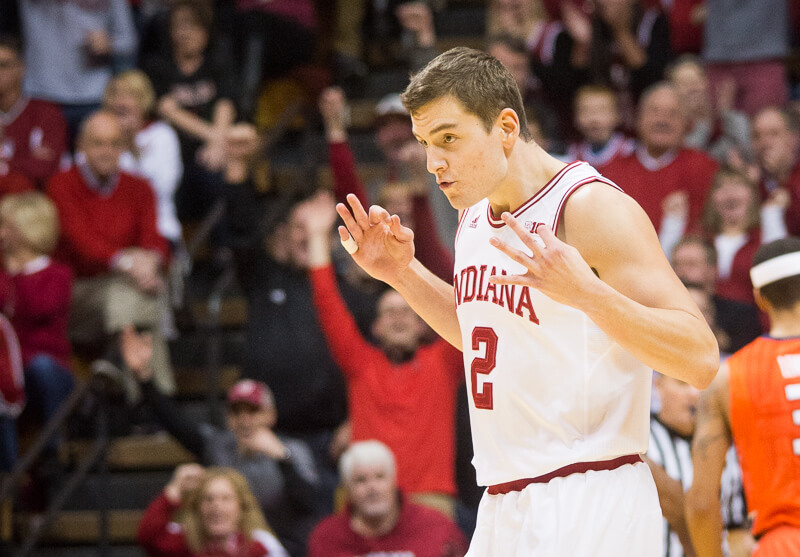 Welcome to "That's A Wrap," our player-by-player recap of the 2015-2016 Indiana Hoosiers. Today: Nick Zeisloft.
Zeisloft (35 games): 6.5 points, 1.6 rebounds, 60.8% eFG, 90.5% FT, 41.7 3PFG% in 20.1 minutes per game.
Nick Zeisloft arrived in Bloomington with a reputation as a shooter.
He'll depart having lived up to that billing, but also as a player who grew into a contributor with the ability to impact the game in other ways.
Any discussion about Zeisloft, however, must start with his prowess from the perimeter. After finishing his first season at Indiana with the second best offensive rating in the country according to KenPom.com, Zeisloft again filled it up from the perimeter as a senior.
His shooting percentages dipped a bit, but that might say more about the ridiculous clip he shot the ball at last season than anything else. Zeisloft hit close to 42 percent of his 3s for the Hoosiers this season and had the highest effective field goal percentage of any perimeter player on the roster. He finished the season with the eighth best offensive rating in the country.
There was perhaps no better representation of just how deadly Zeisloft could be from the perimeter than his performance against Minnesota at Williams Arena when he knocked in four straight 3-pointers, the last of which came as he was falling out of bounds in the right corner:
But as the season moved along, Zeisloft also proved himself a capable contributor on the defensive end. He was never the fastest, strongest or most athletic player on the court for the Hoosiers, but as a guy who played significant minutes on a team that finished with the Big Ten's third best defense, he showed improvement on that end in his second season at IU.
Late in the season when Robert Johnson went out with an ankle injury, Zeisloft started alongside Yogi Ferrell in the backcourt as the Hoosiers reeled off wins against Illinois, Iowa and Maryland to clinch an outright Big Ten title.
In IU's win over Kentucky in the NCAA tournament round of 32, Zeisloft spent significant time on Jamal Murray, who will be a lottery pick in June's NBA draft. It was a move that many – myself included – questioned, but when the dust settled, Murray finished just 7-of-18 from the field and the Hoosiers moved on to the Sweet Sixteen in Philadelphia.
Zeisloft also completed one of the most ridiculous passes in recent IU history in the regular season finale as he intercepted a Melo Trimble pass and flung a 3/4 court pass of his own to a streaking Juwan Morgan for a basket on the other end of the floor.
Bottom Line: Zeisloft was one of Indiana's leaders on and off the court as a senior and while he won't be moving onto an NBA career, was another example of player development in Bloomington. He made tremendous strides as a defender in his final season and will leave with a Big Ten championship and as one of the best pure shooters to ever wear the uniform.
Quotable: "Nick Zeisloft has made so many strides as a defensive player that I can't describe it to you. He's out there guarding Jamal Murray. He's guarding — when Rob — he's done it all year, but when Rob went down, and Rob is one of our premier defenders, when Rob went down in the Purdue game and what Nick had to do to help us get us this (Big Ten) championship and what he's done in this tournament is outstanding, and that's the kind of improvement that we want in the program." – Tom Crean on Zeisloft following IU's win over Kentucky
Previously: OG Anunoby, Juwan Morgan, Thomas Bryant, Harrison Niego, James Blackmon Jr., Robert Johnson, Collin Hartman, Troy Williams
Filed to: Nick Zeisloft